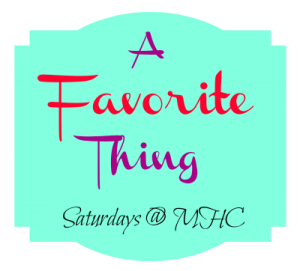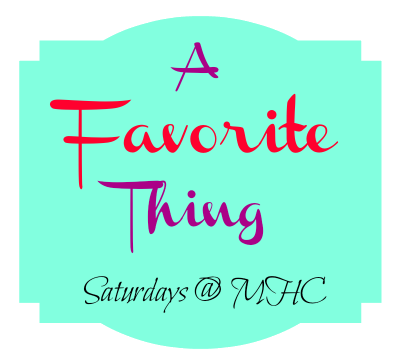 Hello, friends! It's time for another A Favorite Thing Saturday – our fifth! It's a rainy Friday as I write this post, rather dreary and gray, so let's look at some happy highlights of last week's party.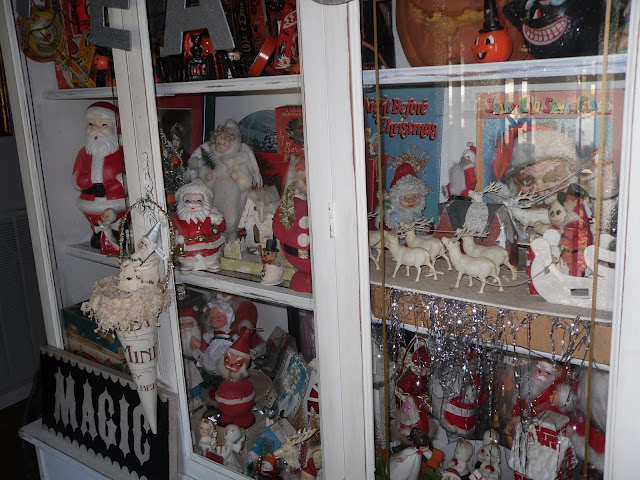 Be still my heart – look at all those deliciously vintage Santas and other Christmas goodies. Dottie, of It's Just Dottie, displays these gems in a cabinet in her entryway. How could you not smile every time you walked past it?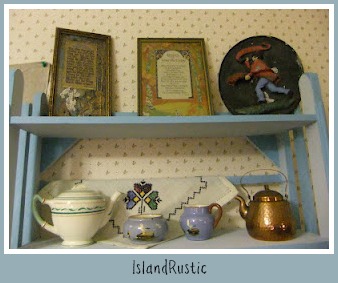 Rob, of Island Rustic, collects mottos. I, too, am drawn to these wonderfully framed vintage mottos, with fabulous graphics and words to live by. I only have one, but Rob has a whole collection!
And look at this dearly loved bear: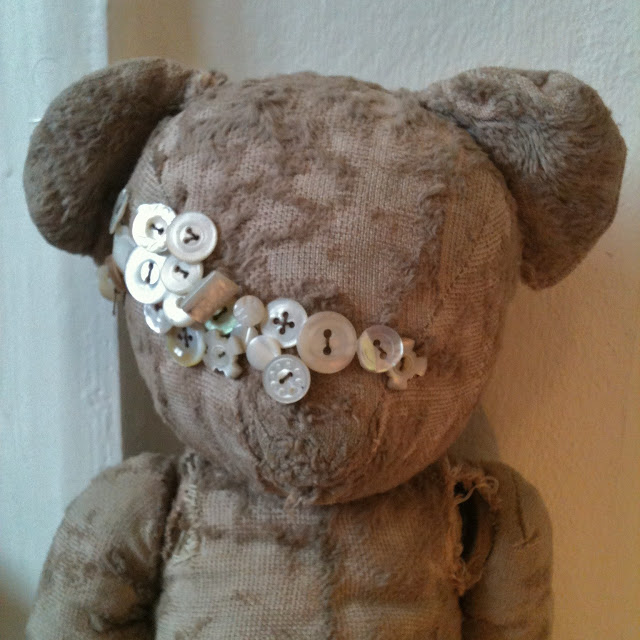 Anikó, of Idle Needle, has had this teddy bear since she was a child. You must read the story to get all the details, but years later, sweet teddy had no more eyes. Eventually, she decided to use all of her mother-of-pearl buttons to create new eyes for him. Or as Anikó says, to make his eyes bright as buttons.
I love seeing everyone's favorite things. And I think I'm not the only one!
Which brings me to my favorite thing: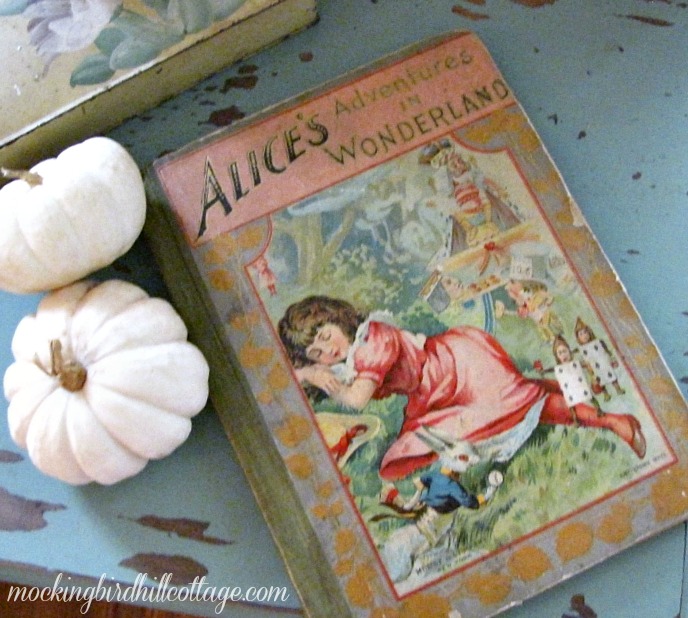 This copy of Alice's Adventures in Wonderland was given to my great-aunt Rhoda by my grandmother. Grandma wrote an inscription inside the cover. I never met Rhoda because she died in 1918, along with another sister, Maggie, from influenza. They died within 10 days of each other during the devastating influenza epidemic that took so many lives in 1918. Rhoda was only 15 and was the apple of my grandmother's eye. I don't think she ever got over the untimely loss of her sisters. The pages of this book are so fragile that I rarely open it. Grandma held on to it all her life and I am honored to have it here at the cottage.
Now it's time for you to share your favorite things.
You can link up anytime from this evening through Sunday. Make sure you enter the URL of your post. If you're unsure how to do that, just click on your post title after you've published it and copy the information in your browser address window. Come back here, paste the URL into your link entry and there you go! If you have any problems, drop me an email and I'll help you out. Please link back to this blog on your post. That way, those that read your post and are interested in reading more can do so.

One of my concerns about link parties is that the very reason for them has somewhat gone by the wayside. They've become so big and there are so many of them that many bloggers don't take the time to visit any of the other participants. Link parties are a way to meet new bloggers and share with each other and the only way to do that is to visit each other. So, please, take some time to visit everyone over the next few days. No rush. Stop by, introduce yourself, and leave a comment. It's the neighborly thing to do.
Have fun!