Hair. I don't know about yours, but mine has its own mind. I have oily hair, but for some reason summertime dries it out. It's baby fine, so I have to be careful about what conditioner I use. Too heavy a conditioner weighs it down. Not enough conditioner and I get tangles. Add to this the fact that I have two kinds of hair now: my still-brown, baby fine hair and the more wiry gray hair that has sprung up in the last several years. That adds up to a bit of a split-hair personality.
I need a good conditioner.
Enter Dove®. Dove kindly sent me a bottle of their Intensive Repair Daily Treatment Conditioner.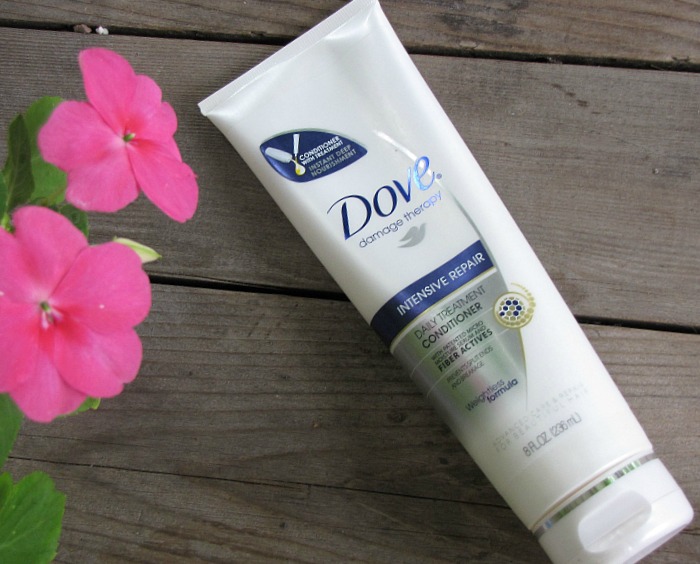 Dove has a line of these Advanced Conditioners that includes:
Nourishing Oil Care Daily Treatment Conditioner
Intensive Repair Daily Treatment Conditioner
Nourishing Oil Care Conditioner
Intensive Repair Conditioner
Daily Moisture Conditioner
Color Repair Conditioner
They all aim to help your hair in its battle with damage, sun, chlorine, humidity, and hereditary damage using their patented technology to repair and nourish dry hair. In the case of my Intensive Repair Daily Treatment Conditioner, that technology "penetrates deep inside the hair strand, helping rebind damaged proteins."
To tell you the truth, I usually slap on some conditioner after shampooing, leave it on my hair for a few minutes, rinse it out and go on with my day. So I thought this new conditioner would probably do the same old thing any conditioner does.
You know I'm always honest with you. I can't imagine being anything but honest on this blog, especially about a product that I'm reviewing. I have to tell you that, much to my surprise, this conditioner really made a difference in the look and feel of my hair. It's smooth to the touch. That includes both my gray and brown hair. The frizzies are under control. It's soft.
It's true.
I like the handy tube. It's much easier to pick up in the shower than a bottle. And I love the scent.
Dove has another contest where you can earn a $1000 SpaFinder Gift Certificate. Would you like a SpaFinder Gift Certificate? I would! Here are the rules:
Enter to win a $1,000 Spafinder gift certificate!
NO PURCHASE NECESSARY
COMMENTS TO THIS POST ARE NOT SWEEPSTAKES ENTRIES. PLEASE SEE BELOW FOR ENTRY METHODS FOR THIS SWEEPSTAKES.
You may receive (2) total entries by selecting from the following entry methods:
a) Follow this link, and provide your email address and your response to the Promotion prompt
b) Tweet (public message) about this promotion; including exactly the following unique term in your tweet message: "#SweepstakesEntry"; and then visit this link to provide your email address and the URL to that Tweet.
c) Blog about this promotion, including a disclosure that you are receiving a sweepstakes entry in exchange for writing the blog post, and then visit this link to provide your email address and the URL to that post.
This giveaway is open to US Residents age 18 or older. Winners will be selected via random draw, and will be notified by e-mail. Winners will have 72 hours to claim the prize, or an alternative winner will be selected.
The Official Rules are available here.
This sweepstakes runs from 9/4/2012 – 9/30/2012
Be sure to visit Dove®Hair.com to get a coupon for $1.50 off Dove Hair Therapy products.