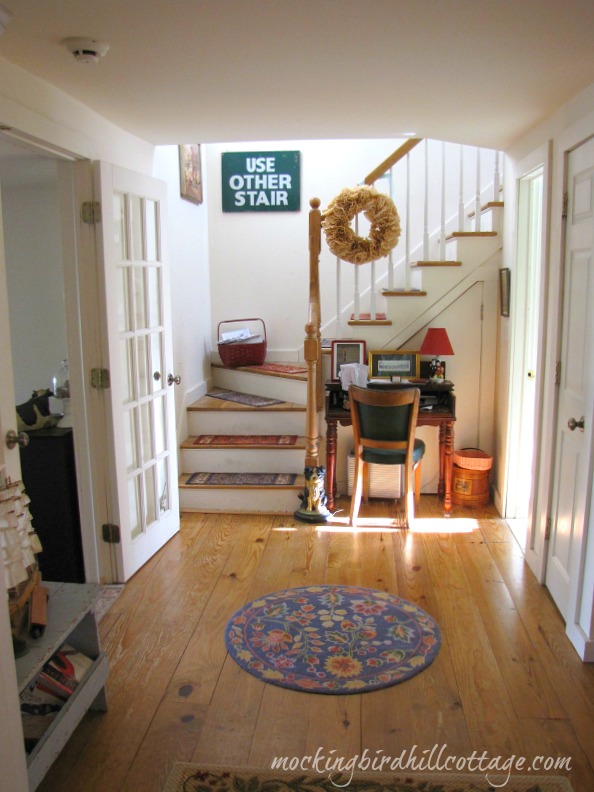 Is it time to take down that coffee filter wreath? I'm thinking it is.
I want a real stair runner for those stairs – something from, say, Dash & Albert. When Riley and Scout were still sleeping upstairs with us and Riley began to be a bit unsure about his footing, we hastily tacked down those mini carpets for the treads. I tried to make them colorful yet funky by alternating a red one with a blue one.
I'm sick of them.
And every year, I look at the walls in this house, which were given only one coat of paint when this house was flipped, and get the urge to paint all of it. There are lots of dings and cracks and paint marks from furniture being moved up the stairs. I just never show them to you. When fall comes around and I see the amount of moths and bugs coming into the house lessen (we live in the country), I think now's the time.
Then I get overwhelmed. Because I will be the painter. And there are a lot of walls. And the kitchen cupboards need to be painted. Even the kitchen island needs to be touched up.
I hate painting walls.
Maybe if I just start in one little area and do a little bit each day?
Still overwhelmed.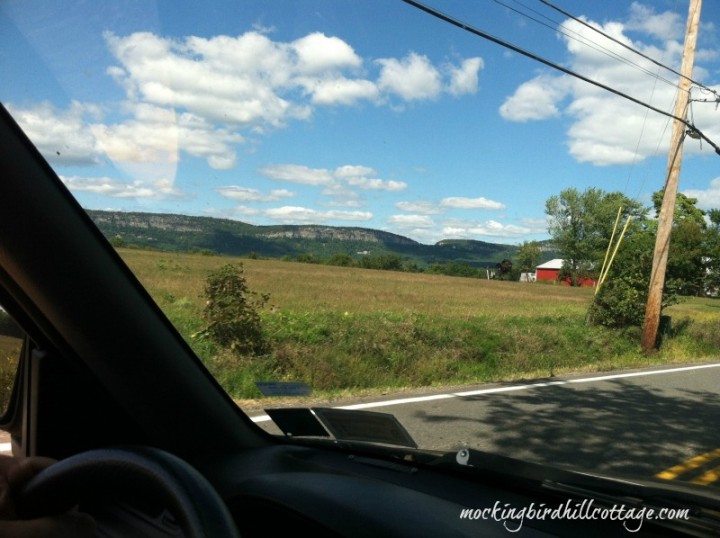 The view out our car window as we drove into town the other day – the day we found my Featherweight. Don't we have  pretty mountains?
So many of you are flannel pajamas lovers. That makes me smile. And yes, flannel nighties count as well. Someone mentioned flannel sheets, but the funny thing is though I love my flannel pajamas, wear them in the morning and in the evening and other times of the day, I don't wear them to bed. I tend to run hot. And it's not due to menopause, which is, thankfully, over. Flannel sheets make me hot. Flannel pajamas while sleeping would send me up the wall. Don, on the other hand, runs cold and always has piles of covers over him.
By the way, I'm trying to reply to any questions that you've asked in your comments – right there under your comment. Since I have threaded comments now, it's so much easier to do that. So, if you ask a question, check back. Maybe we can eventually get a dialogue going and I will respond to more than just questions. I see that on other blogs and I like the back-and-forth. I've not found a plug-in that I like that will allow subscribing to comments, so for the time being, if you are so inclined, check back.
Speaking of plug-ins, Brenda and I found one that will show the latest blog posts on our blogrolls (like Blogger has.) I like it so much more because I often read your blogs that way. It shows the post title and the amount of time that has elapsed since the blog was updated. The only problem? All Typepad blogs show that update as '42 years ago.' I'm not kidding. I don't know why. It makes me laugh. So if you have a Typepad blog and you're on my blogroll, my apologies.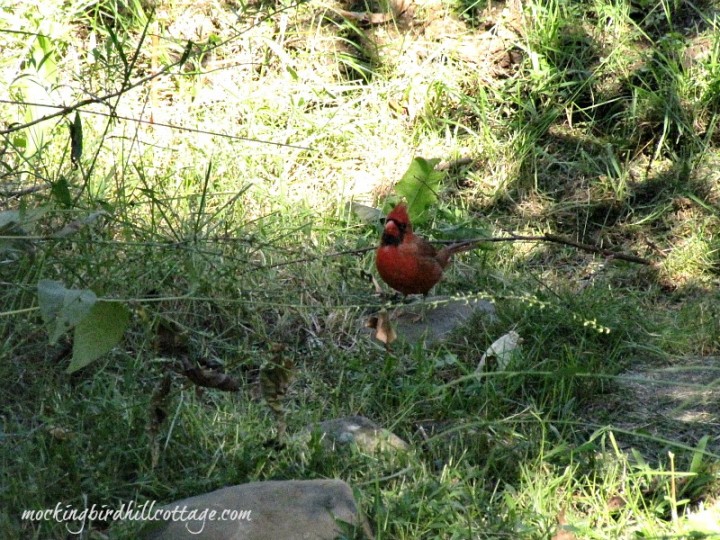 Our elusive male cardinal made an appearance and I ran for my camera. I would have been able to get an even better picture had Miss Scout not decided to start barking at that moment. I love our cardinals.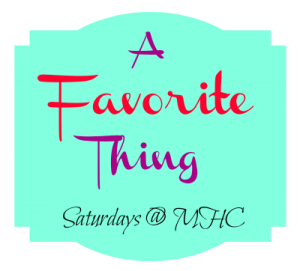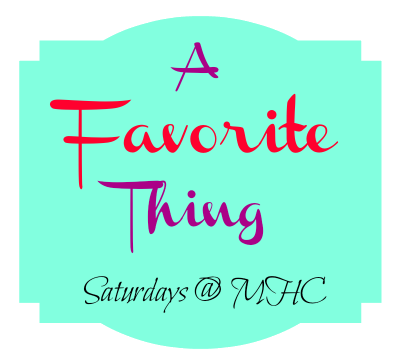 Okay. That's all for now. Stay tuned. I will post A Favorite Thing tonight at 8:00 pm EST.
Happy Friday.