Oh, goodie! I get to share another wonderful book with you. Today I'm reviewing Princess Elizabeth's Spy by Susan Elia MacNeal for TLC Book Tours. As always, I am provided with a copy of the book in exchange for my honest review.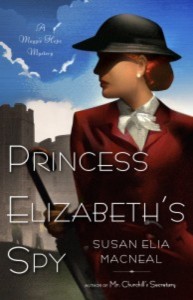 From the publisher: Susan Elia MacNeal introduced the remarkable Maggie Hope in her acclaimed debut, Mr. Churchill's Secretary. Now Maggie returns to protect Britain's beloved royals against an international plot – one that could change the course of history.
My review: Set against the background of World War II in England, the heroine, Maggie Hope, has just finished her training to be a spy for MI-5. After all the grueling training, she hopes to be sent abroad to work undercover. She has a sharp, analytical mind, and an amazing ability to crack codes. But, much to her disappointment, she is sent instead to Windsor Castle where she is indeed to work undercover but as a math tutor to Princess Elizabeth. There are threats against the royal family and it is hoped that Maggie's presence and her training will help to ensure the safety of the Princesses.
And then the plot, as they say, thickens. Untimely deaths, the stealing of secret coded transmissions, possible plots and suspicious characters all come together and Maggie has her work cut out for her. (Remember, I never give away too much plot!)
This book is what I would call a historical mystery. There are real-life historical characters within its pages; obviously, the Royals and several members of their household, Winston Churchill and others. The details as to life in London during a terrifying time of rationing, daily air raids and  warning sirens, underground shelters and the bombing of England's cities are very vividly and realistically presented. Maggie, our heroine, is fictional. She is spunky, plucky, smart and aggressive when necessary. MacNeal has managed to weave a complicated plot using both real-life and fictional characters that makes sense and seems utterly natural.
It's both charming and a real page turner. I think MacNeal has a wonderful writing style and Maggie Hope is the perfect protagonist – smart, a spy, and not about to be trifled with. I would recommend this book highly.
Lucky me, I was also sent the first book in this series, Mr. Churchill's Secretary, and I look forward to reading the beginnings of Maggie's story. If you love history and mysteries, this is the book for you.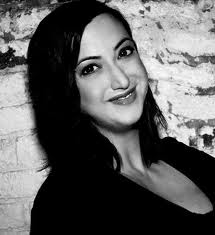 About the author: Susan Elia MacNeal is the author of the Maggie Hope mystery series, including her debut novel, Mr. Churchill's Secretary, Princess Elizabeth's Spy and the upcoming Hitler's Nightingale. She lives in Brooklyn, NY with her husband and child.
One of you will be the lucky winner of a copy of Princess Elizabeth's Spy. Just leave a comment on this post and I will pick a winner on Friday evening. Good luck!