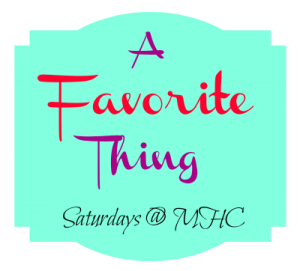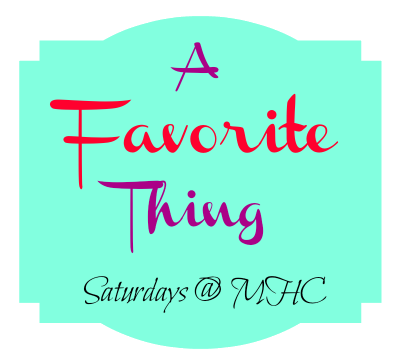 Welcome, friends, to A Favorite Thing #11. I hope you've had a good week  – it's certainly been an exciting one. As I write this 3 guys are down in my basement putting in a new boiler/furnace. The smell of solvents is so bad I had to take a walk outside for a while. So, though we are heating our home with portable heaters, we've had to resort to opening the windows, which sort of cancels out the heat, don't you think?
Let's look at some of last week's highlights: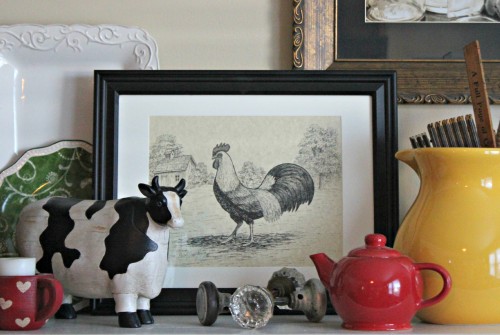 Brenda, of Cozy Little House, shared her new Strutting Rooster drawing. Brenda has a barnyard theme going on her mantel and this $6 find added another fun layer. Very nice, Brenda!
Pat, of Corn in my Coffee Pot, shared the Green Monster – her beloved computer, now all spiffily upgraded by her computer whiz brother. Same outside, all new inside. Don't you love that green color?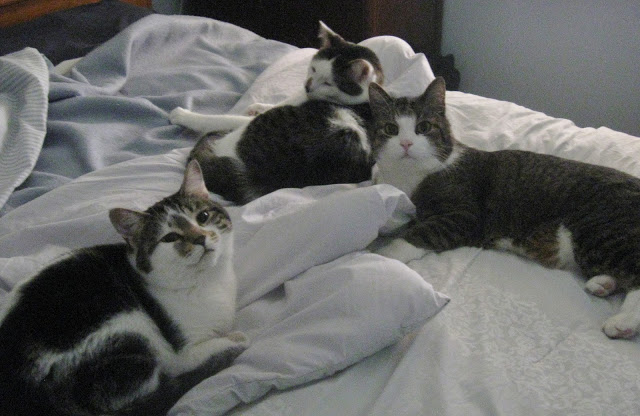 Melanie, of Comfy House, shared her 3 babies with us – her rescued cats. Zippo arrived first and a pregnant Clementine arrived years later. Both of them showed up on their doorstep. Monkey was one of Clementine's kittens. Aren't they adorable?
Thanks so much for sharing your favorite things each week.
______________________________________________________________________________________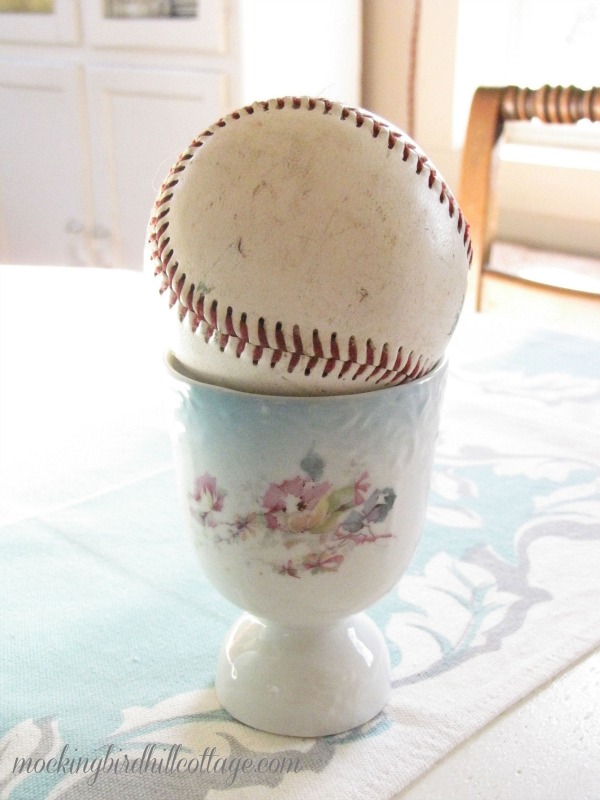 This week, my favorite thing is Baseball. Perhaps it's because I'm in mourning now that the baseball season is over. I didn't really fall in love with baseball until I was married, though I had attended some games in the past. When Don and I were living in San Diego, we started to watch the San Diego Padres. The ballpark was fairly close to our house so we went to see some games. Soon we were hooked. After we moved to the East Coast, we became Boston Red Sox fans. (I think I initiated that since I had lived and worked in Boston for several years.) We subscribed to MLB Extra Innings so that we wouldn't miss a game. Through it all, we've also cheered for the Detroit Tigers (my hometown) the San Francisco Giants, the Rays and even the Mets. But never the Yankees! (Although we did go to a Yankees game in the old Yankee Stadium and had a great time.) Last year, for Don's big birthday, I gave him tickets to a Red Sox/Yankees game at Fenway Park and we spent a wonderful day in Boston.
I miss you, baseball. I can't wait for Spring Training. What the heck am I going to watch on television in the meantime?
Now it's your turn! Share a favorite thing with us. By the way, some of you have asked about the red X that appears on your photo. It's there so that you can delete your entry if you need to for some reason. It eliminates you having to contact me to edit your entry.
You can link up anytime from this evening through Sunday. Make sure you enter the URL of your post. If you're unsure how to do that, just click on your post title after you've published it and copy the information in your browser address window. Come back here, paste the URL into your link entry and there you go! If you have any problems, drop me an email and I'll help you out. Please link back to this blog on your post. That way, those that read your post and are interested in reading more can do so.

One of my concerns about link parties is that the very reason for them has somewhat gone by the wayside. They've become so big and there are so many of them that many bloggers don't take the time to visit any of the other participants. Link parties are a way to meet new bloggers and share with each other and the only way to do that is to visit each other. So, please, take some time to visit everyone over the next few days. No rush. Stop by, introduce yourself, and leave a comment. It's the neighborly thing to do. It's also nice if you leave a comment here, as well.