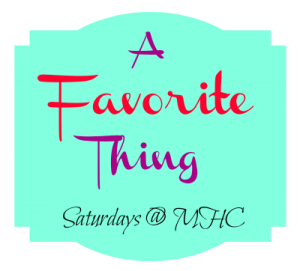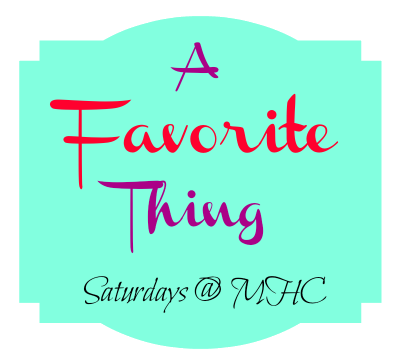 What the heck? It's already the 13th week of A Favorite Thing? How can that be?
Welcome. I hope you all had the loveliest of Thanksgivings and are happily full of leftovers and pie! (I am.) Let's look at some highlights from last week: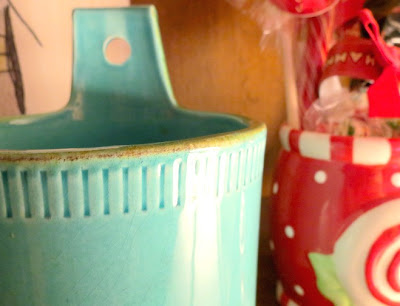 Ms. Redo wrote about her love of thrift stores. She found a Better Homes & Gardens book on Color at a Goodwill store  and  discovered that her favorite colors are those that are Warm – red, yellow, pink and orange. Of course, she simply had to go out to the thrift stores so stock up on treasures in those colors! (I love that shade of green.)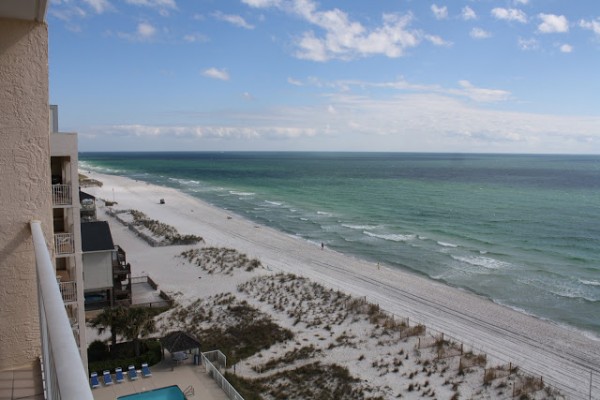 Linda of Coastal Charm shared some new things she bought for her home at the beach. Linda has a home on the Gulf Coast and look at that view! Oh, I'm more than a wee bit jealous. It's getting colder and grayer here and that beach looks heavenly.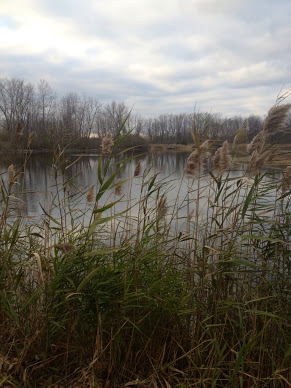 Vicki, of Life In My Empty Nest, decided to take her daily walk in a different place. She chose a nearby nature park and shared the lovely views with us.
______________________________________________________________________________________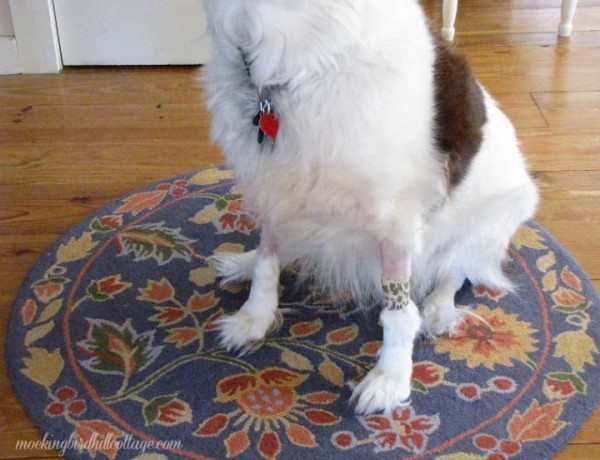 I'm cheating just a wee bit by re-posting a photo that I used in my Friday post. My favorite thing this week is the stylish, trend setting look on my girl, Scout. Scout was in the hospital for 2 days this week and had to have some IVs inserted, resulting in shaved legs – poodle style – and a very cool animal print bandage was added. I'm loving the look. And I'm so grateful that my girl is back home where she belongs, getting better all the time.
Now it's your turn!
You can link up anytime from this evening through Sunday. Make sure you enter the URL of your post. If you're unsure how to do that, just click on your post title after you've published it and copy the information in your browser address window. Come back here, paste the URL into your link entry and there you go! If you have any problems, drop me an email and I'll help you out. Please link back to this blog on your post. That way, those that read your post and are interested in reading more can do so.

One of my concerns about link parties is that the very reason for them has somewhat gone by the wayside. They've become so big and there are so many of them that many bloggers don't take the time to visit any of the other participants. Link parties are a way to meet new bloggers and share with each other and the only way to do that is to visit each other. So, please, take some time to visit everyone over the next few days. No rush. Stop by, introduce yourself, and leave a comment. It's the neighborly thing to do. It's also nice if you leave a comment here, as well.
Have fun!