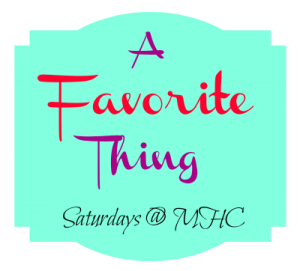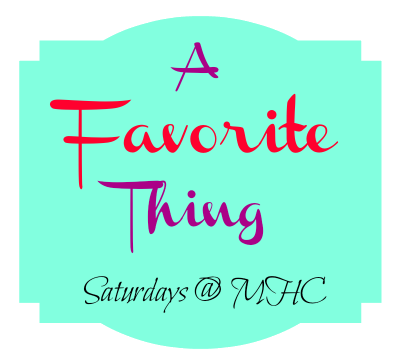 Welcome to the fourteenth week of A Favorite Thing! I'm writing this as fast as I can because we've been having trouble with the internet all day long and I'm afraid to wait until the last minute to write this! I was so flummoxed by my slow connection – especially when trying to do anything with this blog – that I called my server (all was okay there) and finally my cable company. They said there were problems with the internet in my area so, though I can get online, I don't have 100% of it working. Okay. Hopefully, all will be fixed soon.
Let's look at some highlights from last week.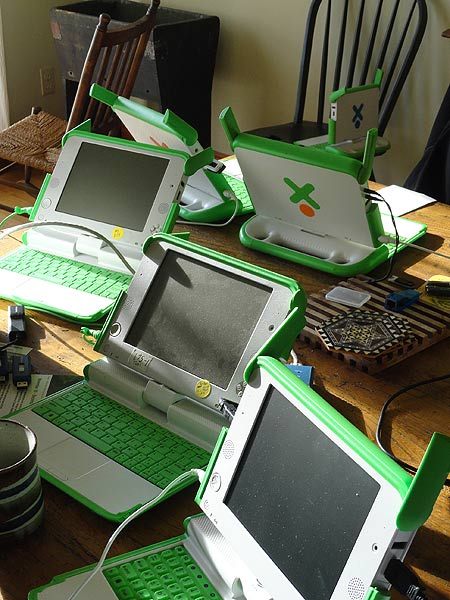 Gardenbug World's son had returned home with his friends to spend some time working on enhancing the software on the One Laptop Per Child computers that are used all over the world. How neat! This is such an honorable endeavor and they are to be applauded.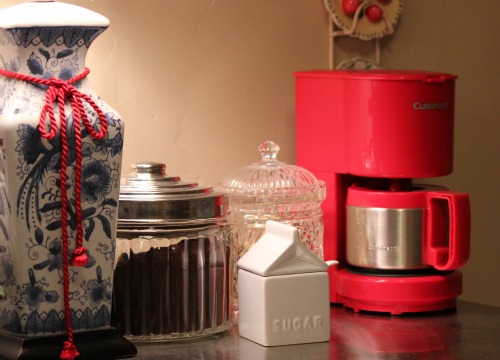 Cozy Little House shared the little Sugar House she found at Pier One – for $5. It looks right at home near her coffeemaker.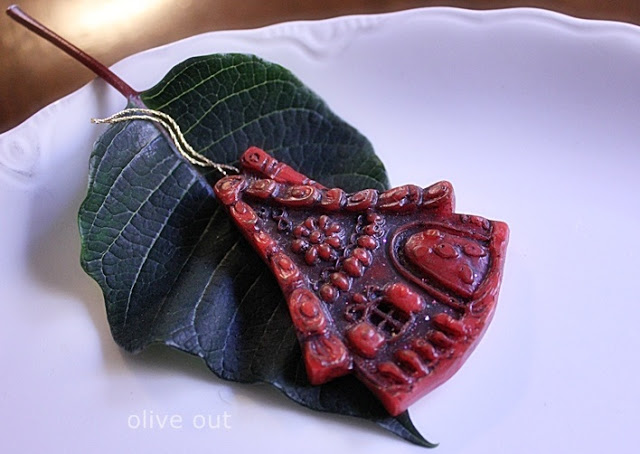 Olive Out shared her beautiful wax ornaments made from German molds. They are truly lovely and remind me of some wax ornaments that were on our Christmas tree when I was a child.
____________________________________________________________________________________
My favorite thing this week is: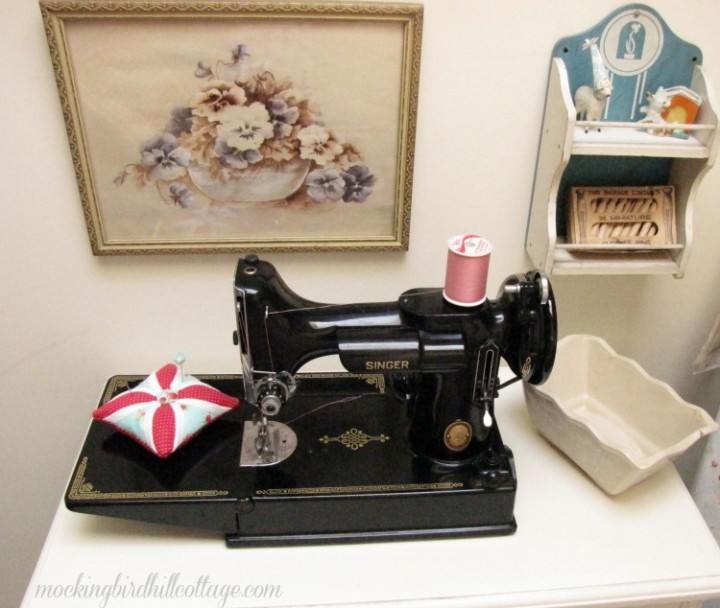 Mabel, my gorgeous Featherweight. Mabel was my birthday present this year, delivered two months before the actual day. One day I was antiquing with my husband and, recognizing the familiar Featherweight case, zeroed in on her. After careful examination and several minutes of  'should we?' Don and I decided timing is everything and that she should be my 60th birthday present. I love her. I have waited many years for my own Featherweight. The only frustration is that with all my necessary crocheting, I haven't had much time to spend with her yet. Soon, Mabel, soon.
Now it's your turn! Share a favorite thing of yours with us!
By the way, the December 21/22 edition of A Favorite Thing will be all about favorite Holiday (Christmas or Hannukah) things. I'll remind you again as we draw nearer to that date.
You can link up anytime from this evening through Sunday. Make sure you enter the URL of your post. If you're unsure how to do that, just click on your post title after you've published it and copy the information in your browser address window. Come back here, paste the URL into your link entry and there you go! If you have any problems, drop me an email and I'll help you out. Please link back to this blog on your post. That way, those that read your post and are interested in reading more can do so.

One of my concerns about link parties is that the very reason for them has somewhat gone by the wayside. They've become so big and there are so many of them that many bloggers don't take the time to visit any of the other participants. Link parties are a way to meet new bloggers and share with each other and the only way to do that is to visit each other. So, please, take some time to visit everyone over the next few days. No rush. Stop by, introduce yourself, and leave a comment. It's the neighborly thing to do. It's also nice if you leave a comment here, as well.
I'm sorry but I had to remove a link from this post as every time I tried to visit it came up as a Web Threat in my Virus Protection software. I want this party to be safe for all those involved.
Have fun!