Not long after Don and I moved into the cottage, we went to a local auction. We saw this: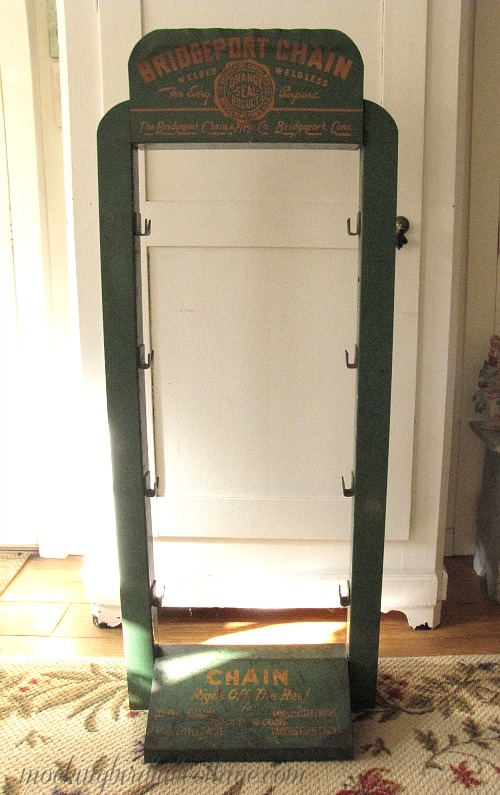 A wonderfully vintage and battered display rack for, of all things, chains. Both of us are drawn to things with interesting graphics and a touch of the industrial.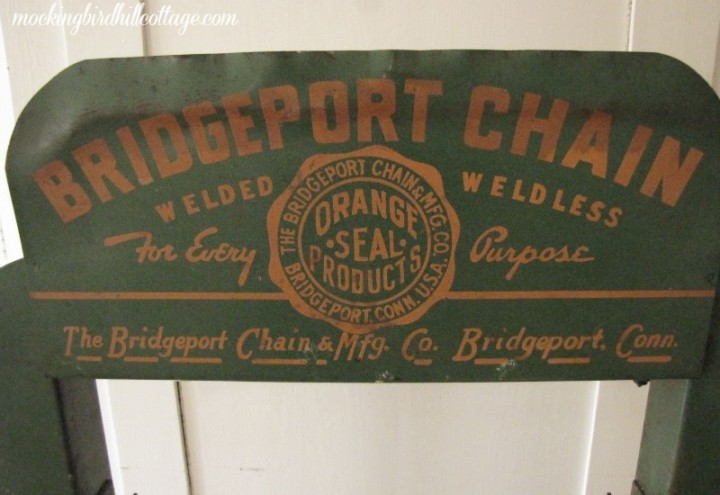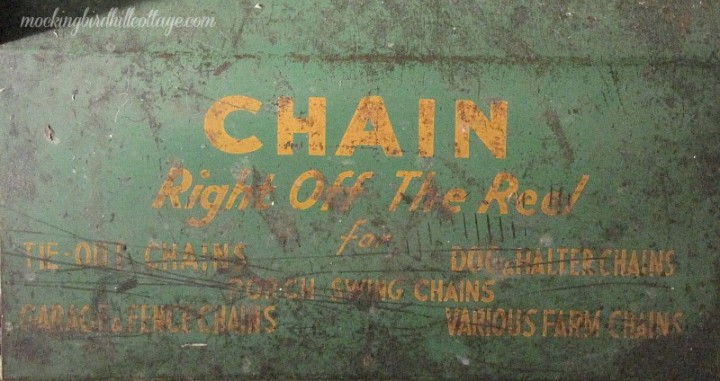 This large piece had graphics, all right. We looked at each other and bid on it. Why? Who knows. No one else was bidding on it with any degree of enthusiasm. We had no idea what the heck we would do with it.  It was one of those moments where we threw caution to the winds. We got it for $20.
Immediately, my mind started whirring. What could we do with it? We had to do something.
I call my decorating style Christmas in Connecticut for a reason. I like vintage, eclectic, overstuffed and cozy, just like the furnishings in all those wonderful old 1940s-era movies. But, to be perfectly accurate, it is Christmas in Connecticut – with a dash of funky. 
I like surprises in my home. The unexpected. I want visitors to think they've figured it all out and then discover something totally offbeat.
I had an idea. I trotted off to the store, bought a length of wooden dowel. I measured. I cut. Couldn't have been simpler, really.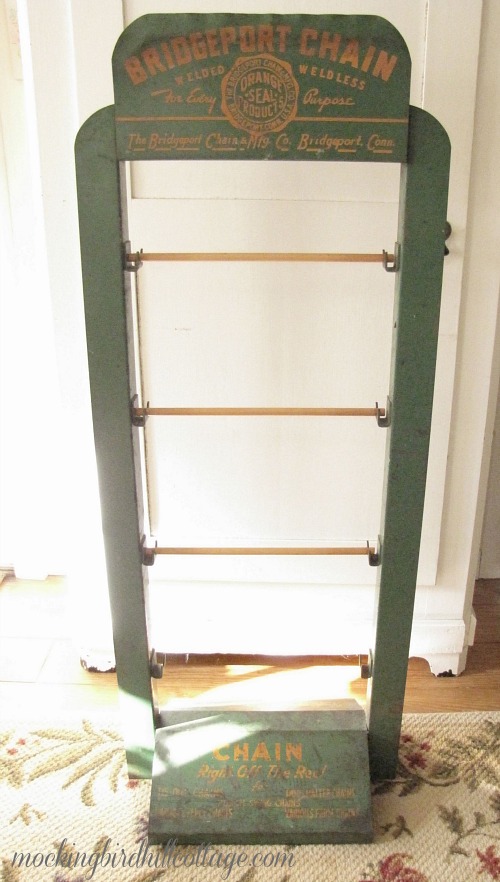 Then I added these: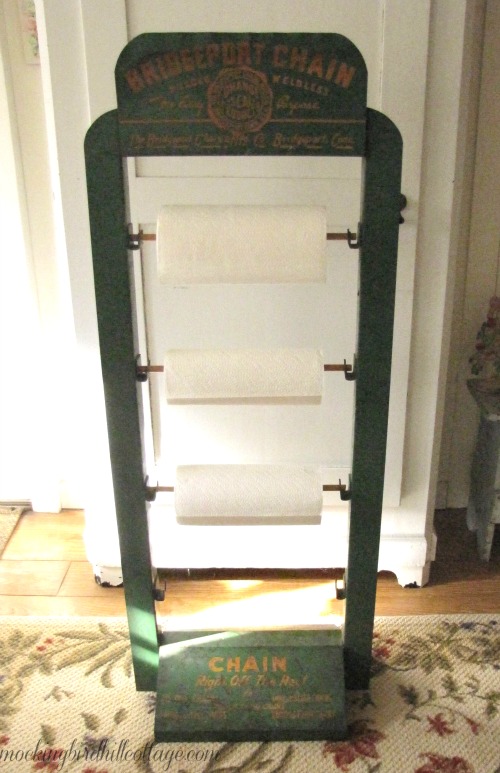 And we had our funky paper towel holder.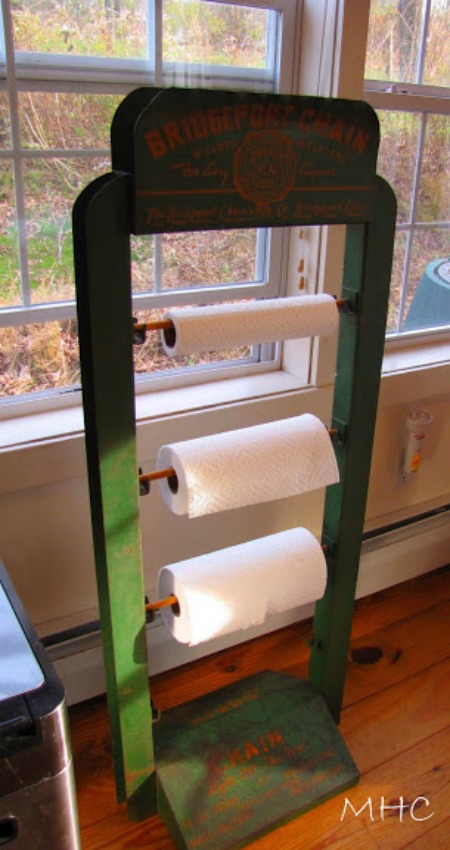 Here it is in the kitchen. Now, I understand it is not everyone's cup of tea. But we like it a lot. And we use it all the time.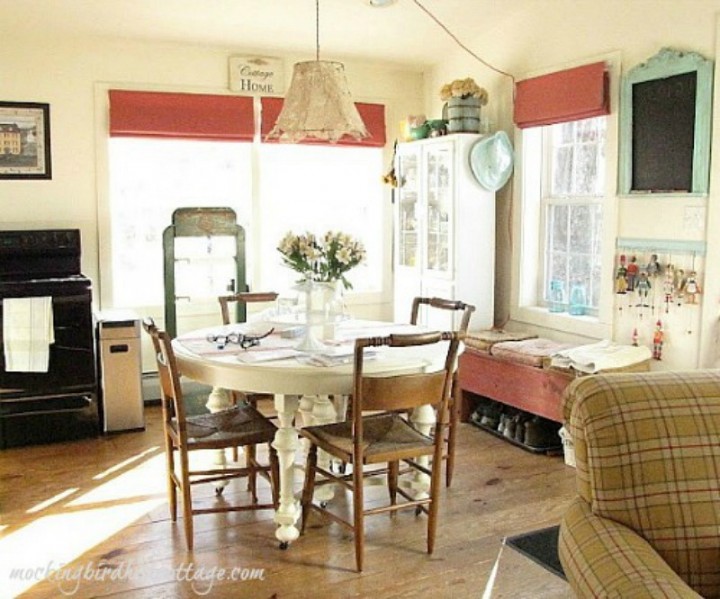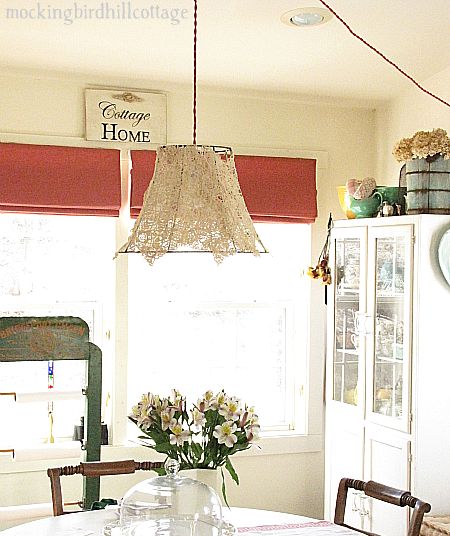 These two photos show it in the context of the whole kitchen. I love the contrast between the cream colored table, the wooden chairs, the white of the hutch, red shades, doily swag lamp and the metal/industrial look of the paper towel holder.
It's a surprise. A cozy cottage kitchen with a sudden dash of hard-edged/metal/industrial. And, I don't know about you, but I love a happy surprise. I like to be kept on my toes.
Have you added a dash of the unexpected in your home?
Happy Tuesday.