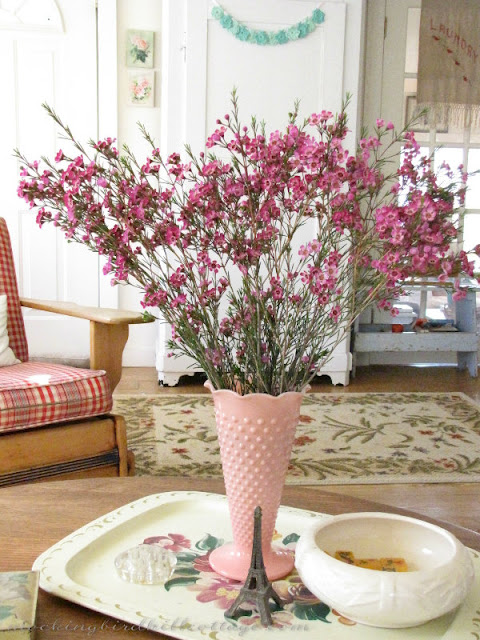 Today is Election Day.
I am very political. You may not know that about me. I have strong beliefs that I have held since I first started voting. In my non-blogging life, I am very active and very vocal and fight for what I feel is right. However, I don't write about my political leanings on this blog. If you're a longtime reader, you might have been able to figure them out as I'm sure I've left clues along the way during these 4 ½ years of blogging. But, no matter. Because, in the end, I don't think this blog about nesting, decorating, gardening, pets, creativity and everything else I post is an appropriate place for politics. Politics can be divisive. And we have arrived at a time in our country when it is more divisive than ever. It's not an appropriate place for religion, either. Equally divisive.
What did my parents say? Don't ever discuss religion or politics at a party. I'd add: or on your blog. Of course, if your blog is predominately about politics or religion, that's a different matter. But here? No. You won't see me put a political banner on my sidebar. You won't hear me preaching about my religious beliefs. I'll talk about them elsewhere, and do. But not here.
I know that readers of this blog have their own strongly held political beliefs. They might be very different than mine. I respect that. I also know that everyone has their own spiritual path, their own set of beliefs – or non-belief – and I respect that, as well. I would never assume that you, dear readers, who come here to share in my life at the cottage, would want to hear my thoughts on politics or religion – topics that arouse strong emotional responses from nearly everyone – and ultimately have not a whole lot to do with what I write about on this blog.
Maybe I'm old-fashioned. My parents believed that you never told anyone who you voted for. They believed that was a sacred, private decision. Likewise with religion. Those who came to our door trying to convert us were turned away. Quietly living your life in a way that reflected your values and your beliefs was the important thing. That certainly influences the decisions I make about what to post on this blog.
Why would I assume that you believe and think the way that I do? And why would I ever dream of imposing that upon you? To be honest, when I read a blog that starts to become too preachy, I click out of there. Thank you, but no. While I respect your beliefs and your right to talk about anything you want to on your blog, I will most likely not be reading it. It turns me off. If I know a blog is a religious blog or a political blog going into it, then that's a different story. Then I've chosen to click on it and read further. But when I click on a design or shelter or nesting blog and I suddenly start reading about politics or religion, I feel uncomfortable. Because if I don't share those beliefs, if I feel very differently, then I feel like a party guest who finds out she's at a much different kind of party than she expected, and who can only think of one thing: how to get out the door gracefully and as quickly as possible.
When someone tells me that they and they alone have the answer, that their religion is the only path, that if I don't believe a certain way, I'm doomed – whether it concerns religion or politics – I'm out of there. Because you know what? There is room for all of us in this world. I respect that diversity. And it's for precisely that reason that I won't write about politics or religion here on this blog that I love so. I respect you too much.
I will urge you, however, to vote today. Make your voice heard. Stand in line and if the line's too long, stay there. Take a book with you. Play a game on your smartphone. Chat with your neighbors in line. But vote.
Happy Tuesday.