As someone who is very musical – I play the piano, I have sung professionally onstage and off – I sometimes find myself missing music. Since I seem to like quiet more and more as I get older, I often work in a fairly silent atmosphere (save for the sound of traffic outside my window and Scout breathing heavily as she sleeps.) The sound on my laptop is muted. I don't like being greeted by music when I click on a blog because it is usually not my taste and I find the sudden intrusion of someone else's choice of music jarring. All this is to say I like quiet.
But I love music. And sometimes, in the midst of stress and worry and things to do and errands to run and bills to pay, I realize that I haven't been listening to my favorite music lately. And that ain't good. So I get out my earbuds and listen to my playlist, either on my iPhone or laptop.
And I feel better.
Music Hath Charms to Soothe the Savage Breast – William Congreve
It does, indeed. Why do I forget to treat myself to music's restorative powers? Does that ever happen to you, my friends?
iTunes has a category that lists the "Top 25 Most Played." I thought I'd share 20 of them with you.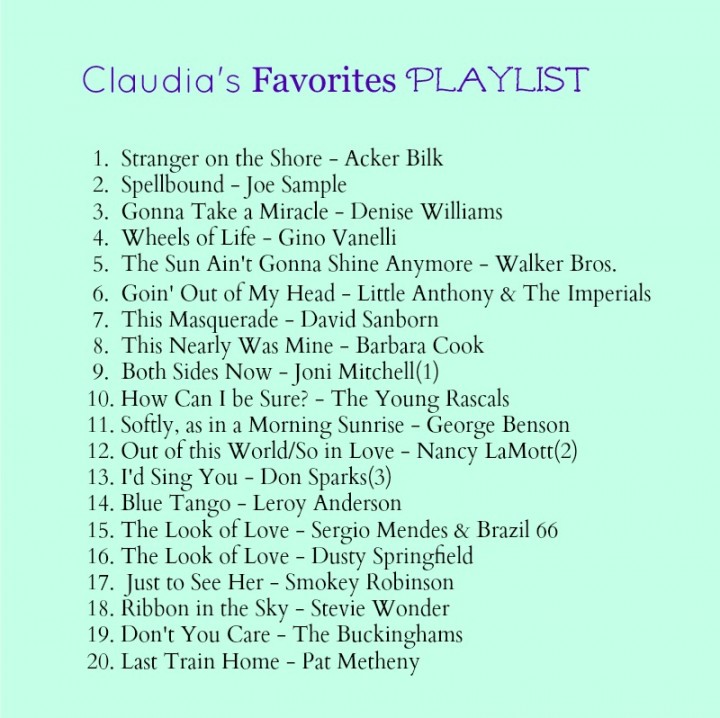 Some of these you may be familiar with, others may be new to you. At the very least, it shows that I like a bit of everything.
A few notes: (1) the version of Both Sides Now I am referencing is the newest version, which you can find on YouTube. It is simply breathtaking. An older, wiser Mitchell who has lived a long life since she first recorded this song, sings from her gut in her now husky, cigarette-smoky voice. I cannot listen to this without crying. (2) Nancy LaMott was a cabaret singer who had one of the most beautiful voices I have ever heard – crystal clear, beautifully nuanced. She died much too young from cancer at the age of 43. This particular version of Out of This World by Harold Arlen and So in Love by Cole Porter is stunningly beautiful. Here is a live version of her singing this at the Algonquin. (3) Yes, that Don Sparks. My husband. This is my favorite of all the wonderful songs he's written. Here's his ReverbNation website and if you scroll down the list of songs (all worth listening to) you'll see I'd Sing You. It makes me swoon. While you're there, check out Dreams (written about my parents), I've Got a Love, Don't Tell Me Heart and Say It Twice.
What music is on your 'playlist' – whether it is online, on your CD player, or your iPod? What changes your mood, what gives you peace or joy? What do you find yourself playing most often?
One other note: Singer Fiona Apple just wrote a letter to her fans explaining her reason for postponing the South American part of her tour. She wants to stay home with her beloved dog, who is dying. This is one beautiful letter.
Happy Wednesday.