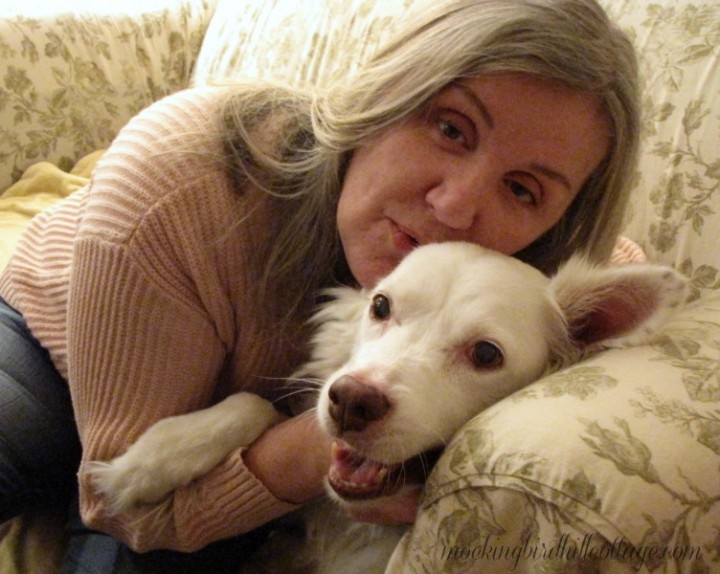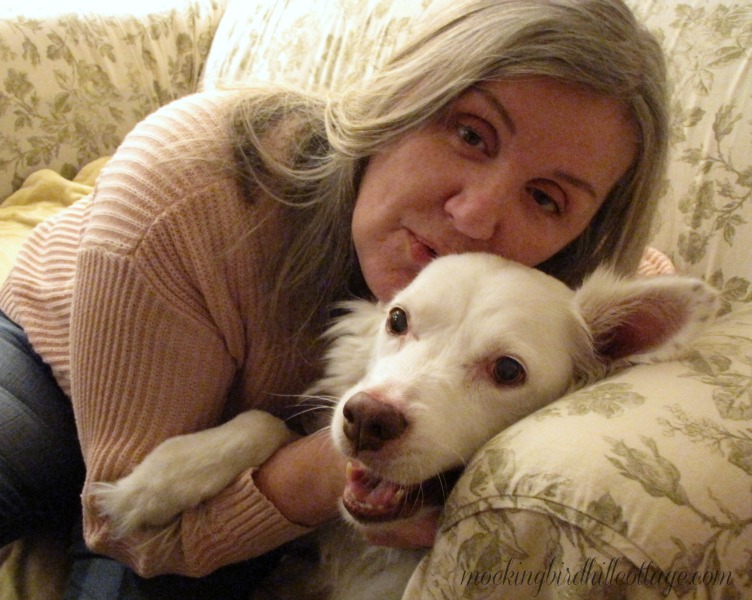 We got the word yesterday around 6:00 pm that we could bring Scout home. Her fever was down and she'd been given fluids and antibiotics. Her chest X-ray was clear. Her bloodwork was fine except for some elevated levels in the liver, most likely due to Lyme disease. Her heart looks good. She has a very bad case of Lyme but it hasn't affected her kidneys, which is a relief.  She was feisty as ever last night when we brought her home, and we were so grateful that she was back when she belonged, with her family.
She's a bit more subdued this morning and may be running a slight fever, but that's the way it is with an infection. She's a fighter and so are we. Seeing her sweet face was the best birthday present ever.
Our local animal hospital is filled with the most wonderful caregivers – loving and caring, compassionate and kind. I am grateful they are here in my little town, available any time we need them. As you can imagine, our bill is shockingly high, but we are grateful that we can make payments. Another plus of living in a small town where everyone is your neighbor.
We're rather tired but managed to stop at the store yesterday and buy the makings of a vegetarian Thanksgiving dinner. And we will have our little celebration here at the cottage, grateful for the kindness of doctors, techs and nurses, grateful that our little girl is home with us, grateful that I have been given the gift of 60 years here on earth, grateful for all of you. Thank you for all of your kind messages and prayers for Scout. I know they made a difference. Thank you for all the birthday greetings; they warmed my heart.
I'll share more about my birthday tomorrow. Have a Happy Thanksgiving.