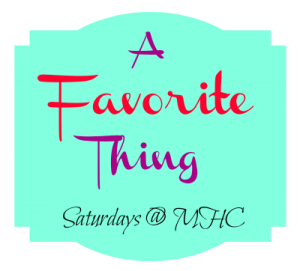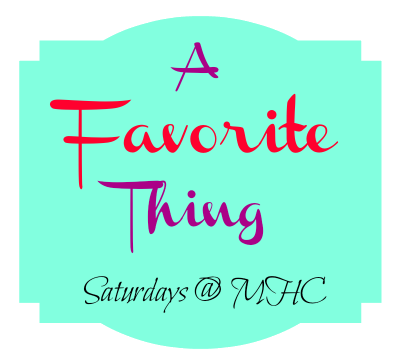 Welcome, friends! It's time for another A Favorite Thing – this is week number 15! I so look forward to this part of the week and the chance to read about and see your favorite things. I thank you so much for taking the time to post and share a little of yourself each week. Let's look at some highlights from last week: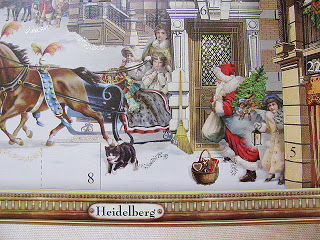 Diane of Lydia's Post, shared the details of her Advent Calendar. Her mother started that tradition and Diane has happily carried it on every year. I love the illustration/graphics. She got it from Bronner's –  a famous Christmas store in Frankenmuth, Michigan and one I used to love to visit when I was living in my home state.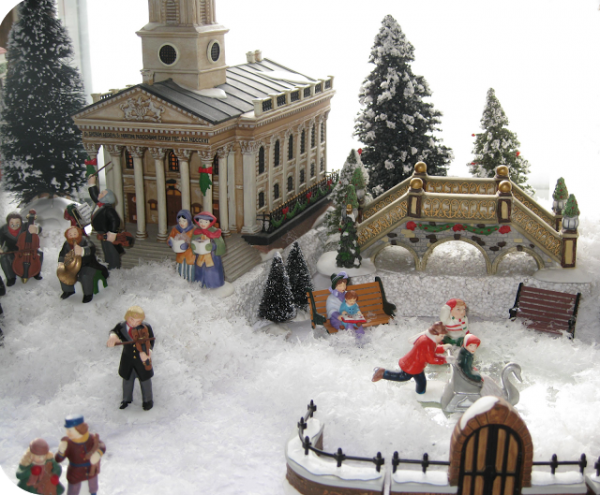 Martha, of Poetry and a Cup of Tea, shared some of her Dicken's Village with us. She has collected these pieces over the years and lovingly sets up her display every Christmas season. (We have several DV buildings here at the cottage, but alas, they are stored in the shed as we have no room to display them. So I will enjoy Martha's!) In fact we have that very gate and stone wall. Martha's display is magical and wonderful.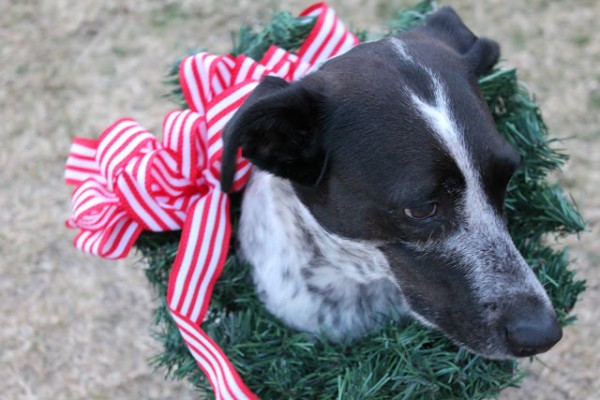 I had to add this photo. Judy, of 20 North Ora, shared this photo of her dog Bella wearing (not very happily) a Christmas wreath! Love, love this! The things we do to our dogs! You look beautiful, Bella.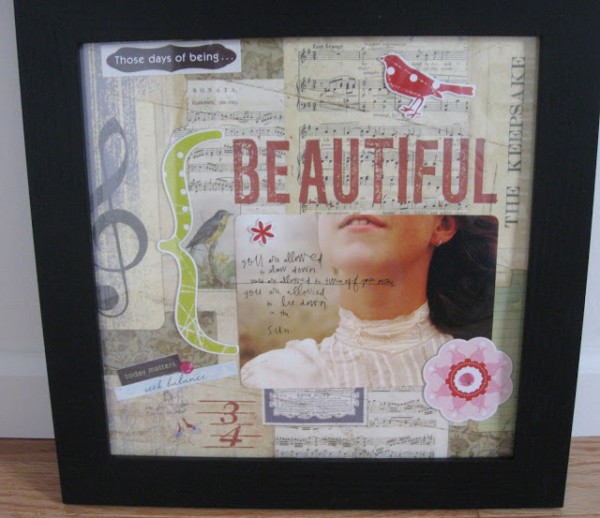 And Melanie, of Comfy House, shared her love of paper crafting and mixed media, a skill I am sadly lacking in. Isn't this lovely? You are very talented, Melanie!
Thank you one and all.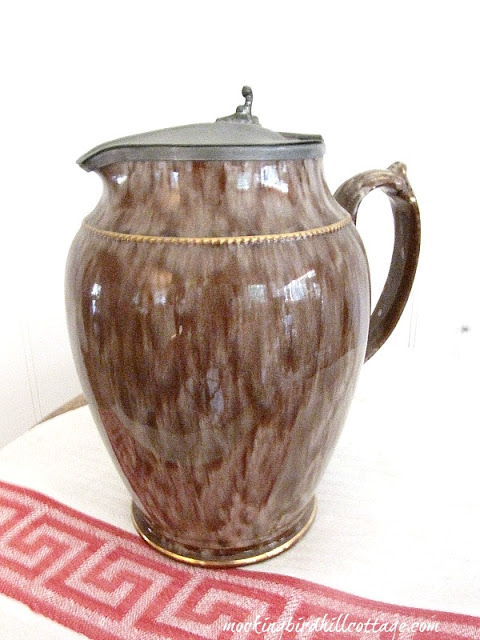 My favorite thing for this week is my great-grandmother's syrup jug. This was used on the family farm in Orillia, Ontario. It was passed down to my grandmother, then to my mother, who gave it to me several years ago. This piece is in immaculate condition and I've admired it since I was a little girl. The top is made of pewter. I'm happy it now has a home here at the cottage.
Now it's your turn!
You can link up anytime from this evening through Sunday. Make sure you enter the URL of your post. If you're unsure how to do that, just click on your post title after you've published it and copy the information in your browser address window. Come back here, paste the URL into your link entry and there you go! If you have any problems, drop me an email and I'll help you out. Please link back to this blog on your post. That way, those that read your post and are interested in reading more can do so.

One of my concerns about link parties is that the very reason for them has somewhat gone by the wayside. They've become so big and there are so many of them that many bloggers don't take the time to visit any of the other participants. Link parties are a way to meet new bloggers and share with each other and the only way to do that is to visit each other. So, please, take some time to visit everyone over the next few days. No rush. Stop by, introduce yourself, and leave a comment. It's the neighborly thing to do. It's also nice if you leave a comment here, as well.
Have fun!