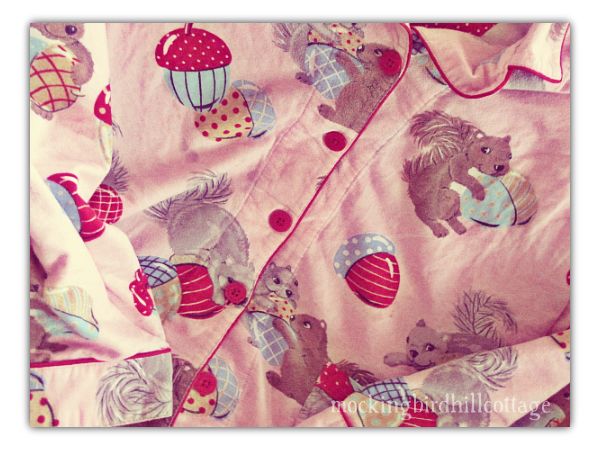 A weekend devoted to flannel pajamas. Yes, that's what we've had here at the cottage. Yesterday a very rare thing happened. Don and I stayed in our pajamas all day long. It just happened. I got obsessed with deleting lots of old emails that were clogging up my in box, so I sat in my chair in the den for hours, reading each email and hitting 'delete.' Before I knew it, mid-afternoon had arrived and I looked at Don, who was also still in his pajamas (not flannel), and we made the decision to wear our pajamas all day long. Oh, rest assured, we took showers and brushed our teeth, but afterwards it was right back into our pajamas.
This morning? Another adventure.
I am not a morning person. When I come downstairs in the morning, I greet Scout while thinking the whole time that I must have some coffee and walk toward the kitchen door where I let her out into the 'dog corral' to do her thing. This morning, I let her out, watched her walk outside and then suddenly tear off in the direction of the back corral fence. Usually when she does this, there is something (rabbit, deer, squirrel) on the other side of the fence. I quickly realized, however, that this time that 'something' (a squirrel) was on the inside of the fence. And Scout was chasing after him, as Mr. Squirrel frantically and unsuccessfully tried to climb up the chicken wire to freedom. I was out there in a flash in my white socks and flannel pajamas screaming at Scout to stop. Of course, she was obsessed and not at all interested in listening to me and the squirrel was more and more panicked. Finally, I was able to wrestle Scout to the muddy ground and turn her back toward the house and, amazingly, she docilely went inside. I then put my muck shoes on over my wet and muddy socks and tried to help the squirrel escape. In the meantime, Don was shouting out the  bedroom window, "What's wrong?!?"  Perhaps he was alerted by my shrill screams? After the squirrel made many frantic attempts to run up the side of the chicken wire, I managed to steer him toward a narrow opening between the fence and the house. He squeezed through the opening and stopped for a moment trying to catch his breath. I could see the panic in his eyes, poor thing. Wanting to make sure he exited all the way out of the corral to freedom, I walked toward him and he took off like a bat out of hell.
Lord knows what the neighbors thought. Thankfully, we don't live right on top of our neighbors, so I'm hoping this little madcap adventure went unnoticed.
And, believe me, I am fully aware of the irony that my pjs have squirrels on them.
Mr. Squirrel was safe. Scout was muddy. My socks were ruined. All three of us were exhausted. And all I could think about was that I really needed that first cup of coffee.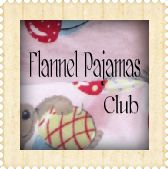 Have you had any madcap adventures in your flannel pajamas? Or in your nightgown or non-flannel pajamas? Please share.
I'm still catching my breath.
Happy Sunday.