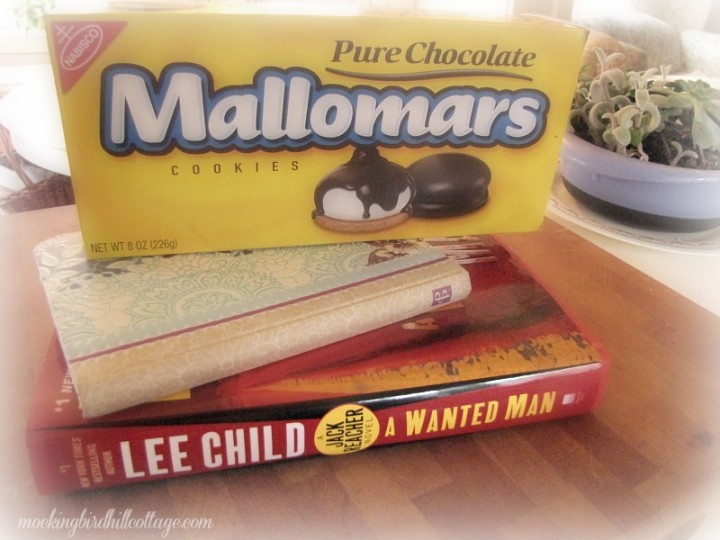 Need I say more?
It's that time of the year again. Mallomars, only in stores from October until April, are back. Oh, what a delightful surprise when I spy them in a display at my local grocery store. After completely forgetting about their existence from May through September, suddenly, there they are. And I have to buy them. When we run out, I have to send Don to the store on an emergency Mallomars mission.
The perfect combination of marshmallow, chocolate and graham cracker crust. Light as air. Gone in one bite, or two if I'm being ladylike.  Oh. my. goodness. Little bits of fluffy, chocolatey heaven on earth.
Moving on.
Do I want to decorate for Christmas? I have to be honest here, I'm not feeling inspired. Do I want to get a tree (we always get a real tree) when Don is leaving over a week before Christmas? Do I want to go through all of that for just me? I'm seriously debating this subject. Trees are beautiful, but do I want to spend the money on one when money is tight?
I love my Christmas decorations but I may take the year off. Perhaps I'll just put up the little white tree that I usually have in the living room. And maybe some lights on the porch. Christmas is going to be celebrated via a Skype call with Don. We've decided we'll send each other a present or two and open them while Skyping. That will be our little celebration.
If I'm not inspired, why should I feel as if I must decorate? As it is, I don't join in on the blogland decorating bandwagon since I never decorate before the second week of December. And if you're interested in how I usually decorate, you could easily visit my archives.
I'm leaning toward very little to no decorating. Maybe just a smidgen.
And moving on.
I am woefully behind in leaving comments on your blogs. Please forgive me. I try to leave a few each day. I'm trying to catch up. Between crocheting for the shop, helping Don through his illness, trying to find work and other pressing needs, I've been a bad blogging friend. I hope you understand. Though I do my best to respond to all your comments here on this blog and I love the conversation that we have. That makes me feel a bit better about the whole thing. Because we are communicating. But it doesn't take the place of me visiting you on your piece of blog real estate. Believe me, I know that. I'll be around. I promise.
Okay. I'll be back tonight for A Favorite Thing. 8:00 EST.
The winner of Judy's lovely Christmas pillow is Leann from The Old Parsonage. That's just perfect, because Leann loves Christmas! She even has a Christmas countdown on her blog. Leann, send me your mailing address and I will forward it on to Judy.
Happy Friday.