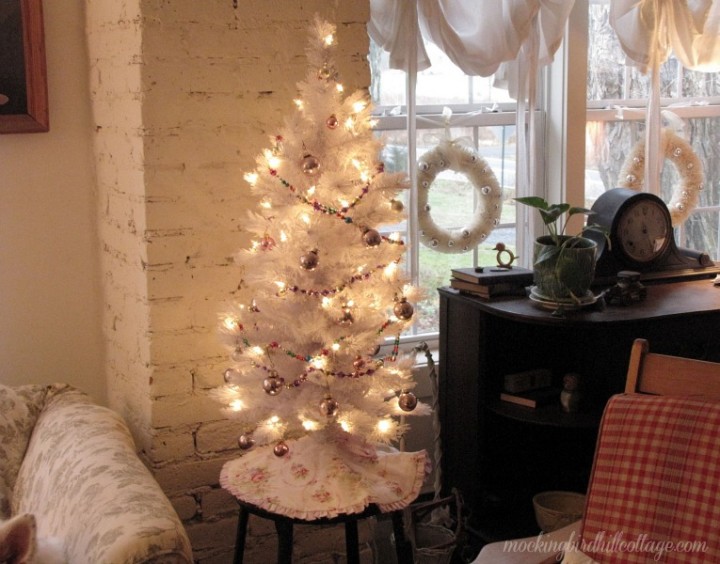 My little white tree is the cottage's Official Christmas Tree this year. I wonder how it feels? Usually, the little white tree is the runner-up; loved, of course, but slightly overshadowed by a bigger, green and fragrant tree in the den.
This year? It's a whole new world.
(Note tip of Scout's ear in lower left hand corner.)
I've really only decorated one room, the living room. The den has been left as is. So has the kitchen.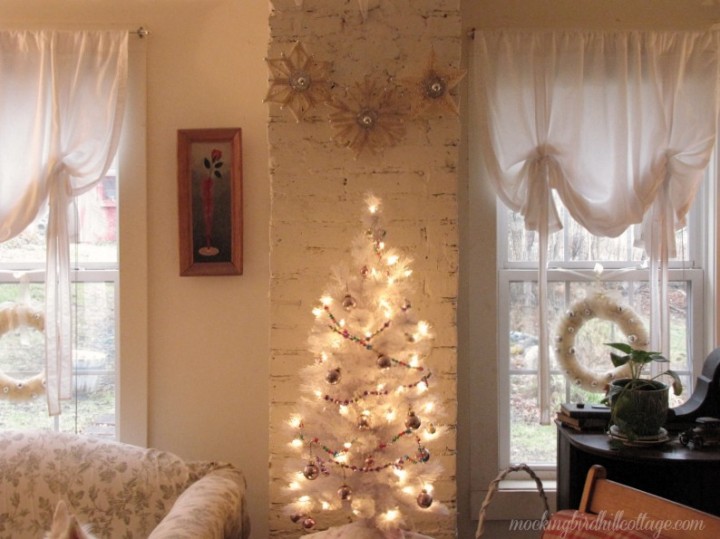 (Again, the ear. This time, two of them.)
This has been an interesting experiment. What is the bare minimum I can use to decorate for Christmas?
A wreath for the door. Check.
Lights on the porch. Check.
My bottlebrush wreaths because I love them so. Three of them are hanging in the living room windows. The fourth is hanging above the piano. Check.
My little white tree. Check.
Some of my bottlebrush ornaments. Check.
My Necco Snow Globe. It's on display year round. Check.
The lights on top of the big white cabinet in the living room. (They are there year round, too.) Check.
And the dollhouse, of course. Check.
That's it.
I find I'm liking it.
If Don was going to be here, of course we'd have a big tree in the den. I'm a fan of real, green, fragrant trees. So is Don. But he's not going to be here and a large tree just seems like a lot of work. I have a lot of ornaments and decorations in my bins. Lots and lots of vintage Shiny Brites. And I love them all. But, surprisingly, I'm not missing them this year.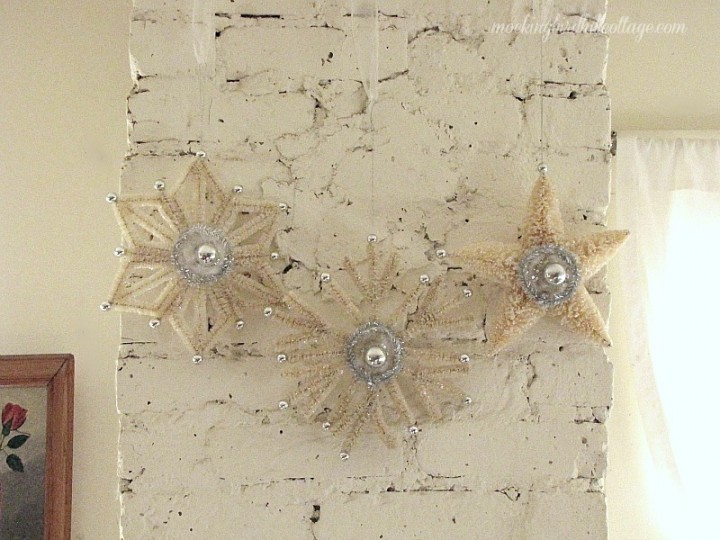 Normally, I have about ten of these large bottlebrush ornaments on the tree. This year, I hung three of them on the chimney. I have to fight the urge to hang even more. I think three is enough.
I bought this tree from Michael's a few years back because I won a beautiful handmade mini tree skirt in a giveaway. So I had to have a tree to go with it. I'm so very glad I bought it.
The bottlebrush wreaths were first glimpsed on Dawn's blog a few years back, where she shared the fact that she found them at Big Lots. Off I went to Big Lots, where I somehow managed to dig through everything and find 4 of them.
The bottlebrush ornaments were accumulated over time from Heidi's shop.
Can you tell I like all things bottlebrush?
Back to the tree. No special ornaments were used, just tiny glass balls and some glass garlands that I've had for a long time.
I don't like a lot of clutter and in a small house like this one, clutter is an ongoing problem. My usual amount of Christmas decorating, though lovely, can add to that. A bit of cozy clutter? That's fine. Lots of stuff?  Not so fine.
For this year, at this time, this seems like the perfect level of decorating.
Simple. Heartfelt. And – surprisingly – more effective.
Happy Wednesday.