I often get requests for a custom scarf order. One of these, from a reader in Texas, was for a scarf in the deep purple silk and bamboo yarn I've used in the past.  I had some on hand but, as it turns out, not enough, so the scarf I was crocheting ended up being half again as long as it should be. Off I went to the yarn store to buy some more of the luscious yarn in a new dye lot and that scarf was completed and sent off the other day.
What to do with the short version? An idea.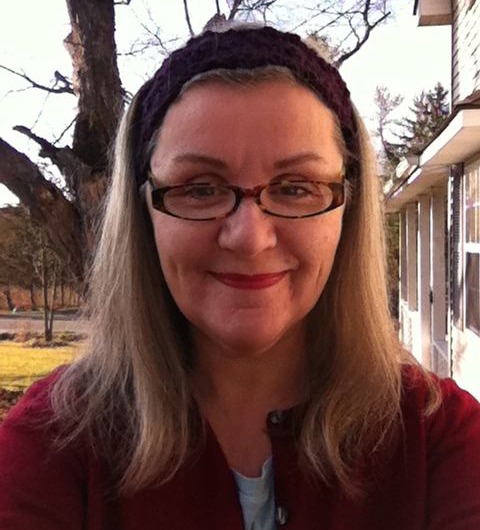 A head band. A unexpected surprise.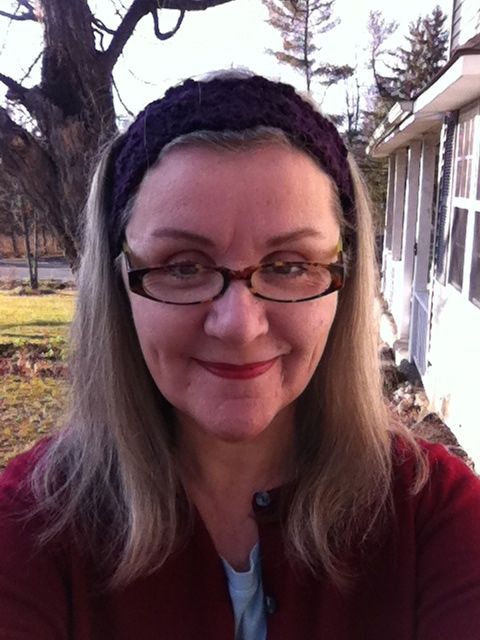 There. You can see it a bit better in this photo – taken by me with my iPhone, which always ends up being a somewhat surreal experience.
I think I might make some more. I wore it all day long and it took me right back to my childhood, where a stretchy cotton headband was worn daily. I'll find a photo someday and show you. Or not.
On another note, I have been spoiled lately. I've received a couple of surprises in the mail. Remember Judy's giveaway? In that post, I said I'd had my eye on one of Judy's pillows for a long time. Look what arrived on my doorstep: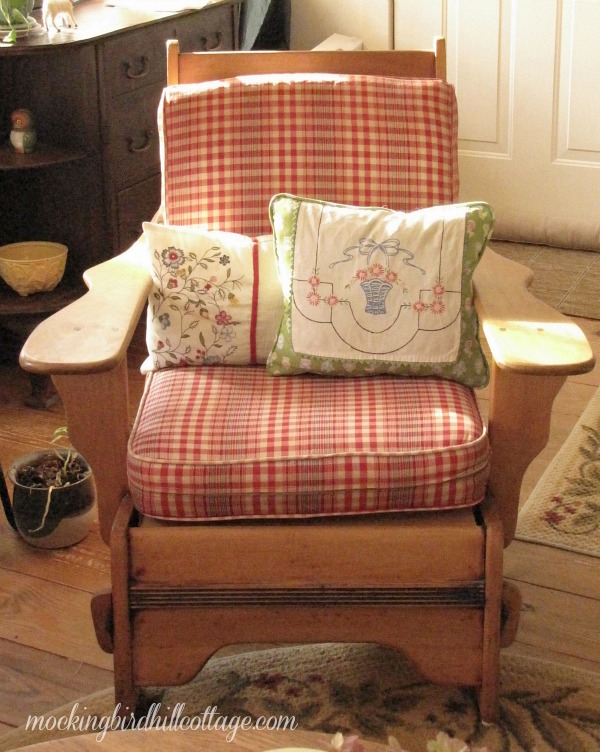 The pillow I'd had my eye on, that sweet green pillow with the piece of vintage embroidery, was sent to my by Gail, a longtime reader of the blog. Gail is a Veterinarian with a kind and loving heart.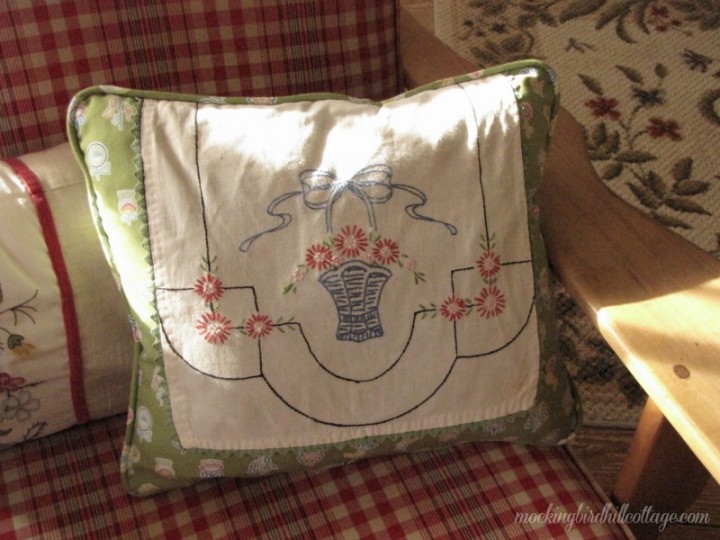 Isn't it lovely? I was delighted with Gail's lovely surprise. Thank you, Gail. (I've sent you an email.) It looks so pretty here in the living room. And thank you, Judy, for your beautiful creation.
My friend Sheila told me to look for a box that was coming in the mail.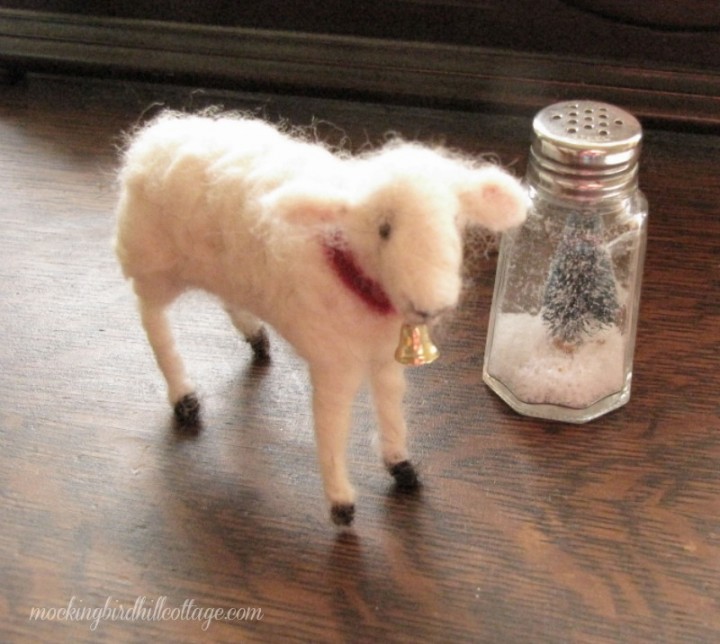 In it was this adorable sheep. Handmade out of wool. Oh my. You know I love sheep. I have a couple of Putz sheep in my studio (one of which is in this blog's header) and this one is a perfect addition to my sheep 'family.'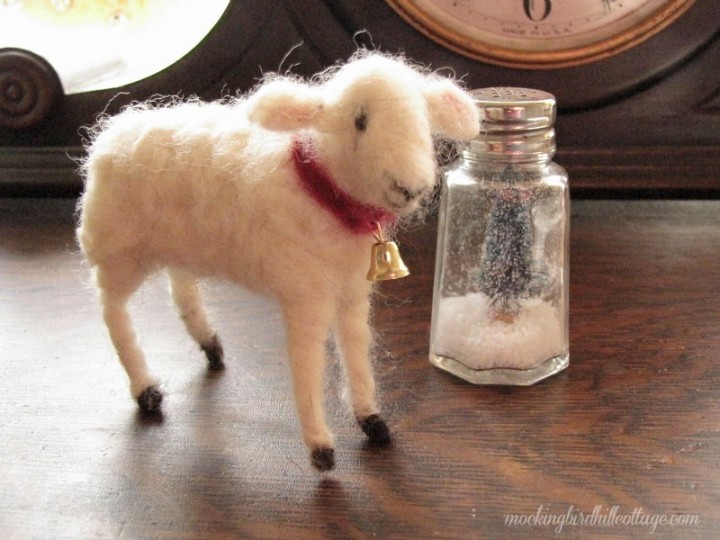 Isn't it amazing? A name will be forthcoming. Thank you, Sheila!
The salt shaker snow globe came in the same box as the pillow. From ever generous Judy. She also included an adorable wooden angel made from a domino and a key.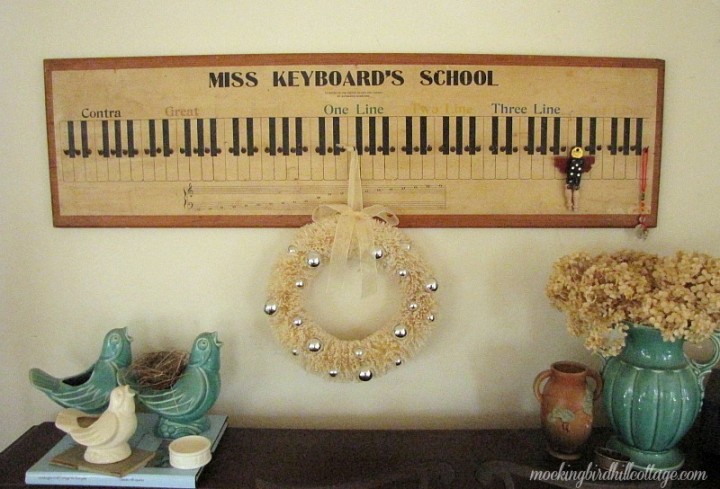 You can see it hanging from my Miss Keyboard's School sign – over there on the right. Thank you, Judy!
Such wonderful surprises.
Of course, if I had been a bit more patient and a lot wiser, I would have waited to open these until my solo Christmas morning. Oh well! I will gaze upon all these things which embody the goodness and generosity of my dear friends and be very thankful, indeed.
I will be back at 8:00 est for A Favorite Thing. See you then.
Happy Friday.