A reminder about the great holiday deal going on at the Frédéric Fekkai Website – valid on all items. With a minimum $50 purchase, you will receive 10% off your order and a complimentary exclusive holiday headband. You can read more about the products in my post here. And be sure to visit the website to explore.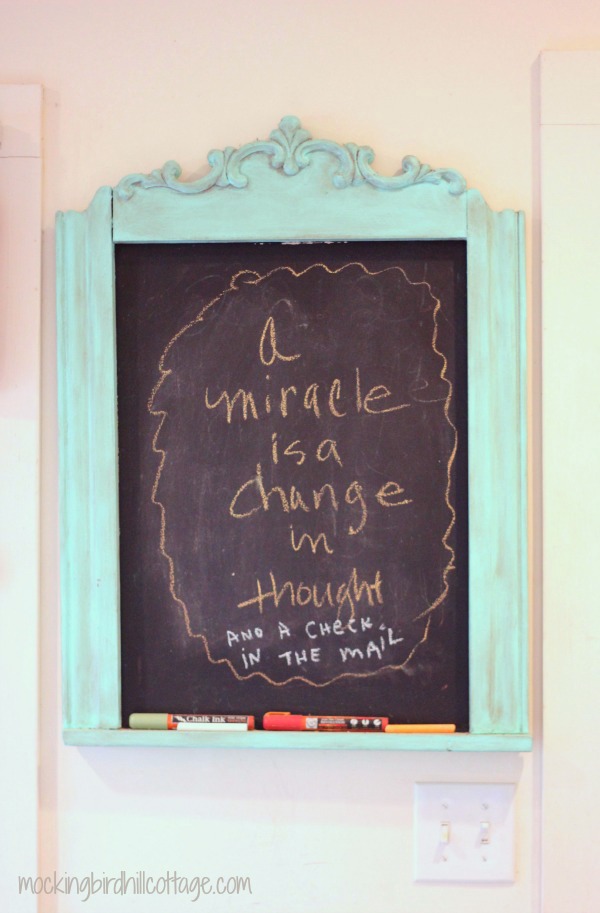 I thought you'd get a kick out of this. I wrote "A miracle is a change in thought," one of my favorite quotes, on the chalkboard quite a while ago.  One day I came home and saw my husband's addition – which made me laugh out loud. I wanted to say, "You got that right, buddy!"
Which is why I shoveled for over 4 hours yesterday. I have a job that I have to get to today. I need the 'check in the mail.' I have never shoveled such heavy, wet snow. Just shoveling the stuff at the end of the driveway from the snowplows on our road took me over an hour and a half. I have to say that about a quarter of the way through it all, I thought I wouldn't be able to do it and I started crying. I was exhausted. I took a break, came in and called Don, drank some water and ate some protein and I went back out again. And again. And again.
Normally I'm not fazed by shoveling snow but this stuff was terrible. The snow had turned to rain during the night and by the time I got to it at 8:30 AM, it was impossible to move. Every part of my body is sore.
On top of all that, I am worried about boarding my Scoutie. I trust she will be okay, but I'm worried about her. I feel guilty. Please send positive thoughts her way, my friends. I want her to weather this easily and happily. I have to do it again later in January.
I'm glad Don is working and is in sunny San Diego, but I've got to tell you, I'm jealous. I miss him. I also miss his shoveling assistance.
Happy Friday.