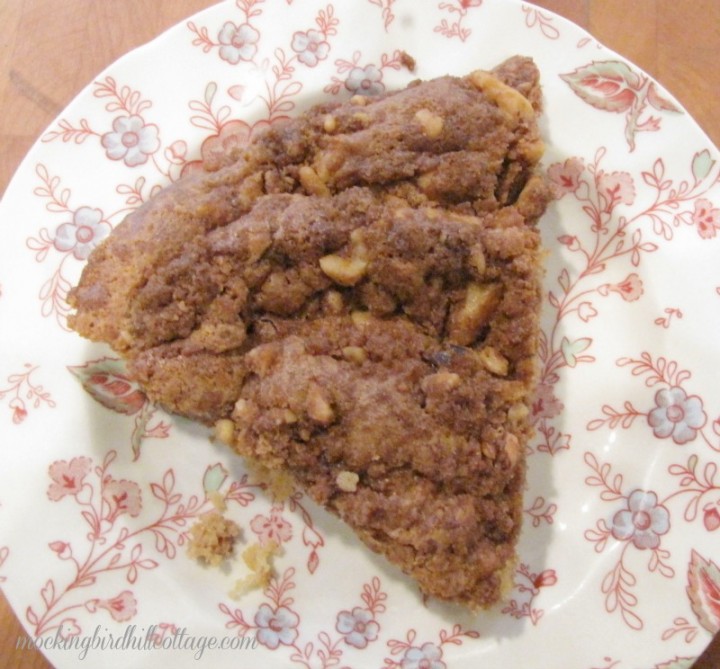 Okay, guys, here it is. The recipe. Tasty, scrumptious coffee cake for your Christmas morning pleasure. This isn't my recipe, it was developed by Whole Foods. I've been making it for at least 14 or 15 years, so you know it's a winner!
Christmas Coffee Cake – Serves 12 (from the kitchens of Whole Foods)

Topping

¼ cup unbleached white flour

¾ cup brown sugar, packed

2 tsp. cinnamon

¼ tsp. salt

1 cup chopped walnuts

¼ cup cold unsalted butter, cut into bits

Cake

1  2/3 cup unbleached white flour

1 tsp. baking soda

1 tsp. baking powder

½ cup unsalted butter, at room temperature

1 cup sugar

1 egg, at room temperature, lightly beaten

1 tsp. vanilla

1 cup sour cream, at room temperature

—————————————————-

Butter and flour a 10″ springform pan

To make the topping:

1. Combine the flour, sugar, cinnamon, salt and walnuts in a bowl.

2. Add the butter pieces and rub in until crumbly using your fingers or two forks.

To make the cake:

1. Sift the flour, baking soda and baking powder together in a large bowl. Set aside.

2. In a separate bowl, beat together the butter and sugar with an electric mixer until fluffy, about 3 minutes.

3. Add the beaten egg and vanilla; mix well.

4. Add half of the dry ingredients and mix just until the flour is blended.

5. Add the sour cream until blended, then the remaining dry ingredients. Mix until completely smooth.

6. Spread the batter into the prepared cake pan.

7. Sprinkle half the topping over the batter and fold in lightly, using a spatula, so the nut mixture is swirled into the batter.

8. Spread the remaining topping evenly over the batter.

At this point you can cover and refrigerate for up to 24 hours and bake it the next morning. However, I have found that baking it right away, then refrigerating it overnight and heating it up the next morning works best for us. Somehow, refrigerating the finished coffee cake overnight enhances the flavors. It tastes better.

Baking

Preheat the oven to 350° F. Bake until a toothpick inserted in the center comes out clean, about 45 – 55 minutes.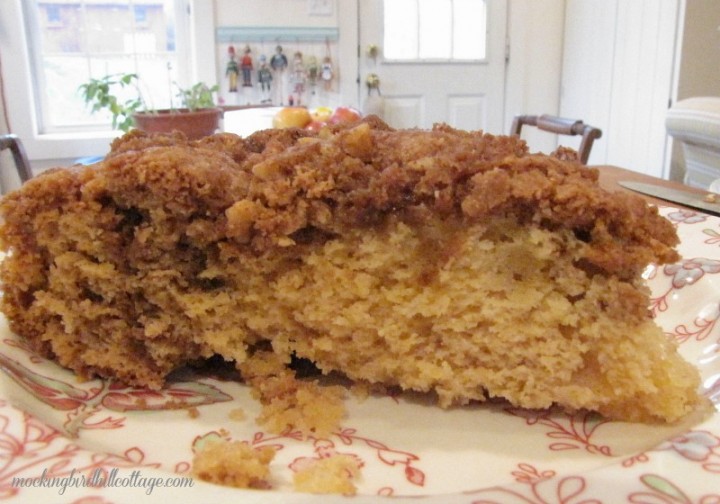 This is such a yummy cake. I know you'll love it. The sour cream keeps it moist. Happy eating!
I'm off to NYC for a few hours.
Happy Tuesday.