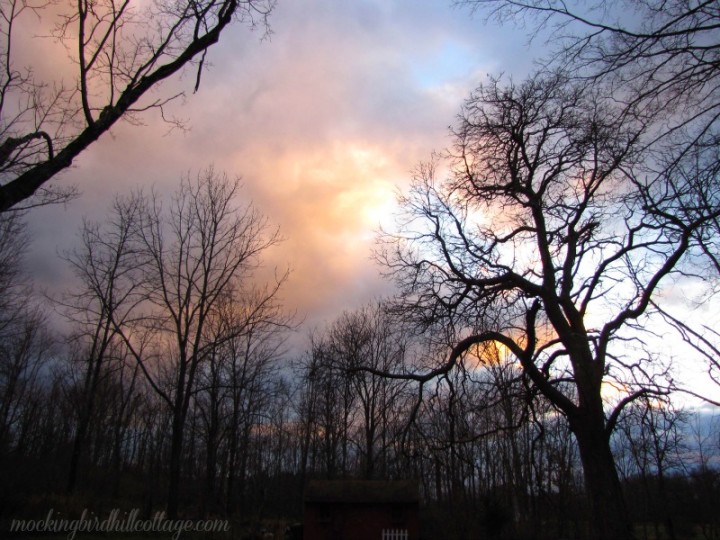 If it wasn't so cold out, I would grab a chair, plant it facing west, and capture all the amazing changes in a pre-sunset winter sky. Swirls and colors and gray and swiftly moving clouds. Thank goodness I have to go to the door to let Scout outside or I would miss scenes like this one.
I can't believe I left these two things off my Christmas wish list:
15. A dishwasher that works – Our dishwasher has never worked right since the day we moved in. Since it's just the two of us, we can and do get by handwashing our dishes. But…I must admit a working dishwasher sounds awfully attractive.
16. A new mattress – I just spent another night tossing and turning. Neither Don or I could sleep last night. Not all of it was due to the mattress but a better mattress would sure help. Perhaps I could once again sleep on my right side without my hip hurting.
Okay. End of list.
On another note: I'm reading Lee Child's newest Jack Reacher mystery, A Wanted Man. As usual, Child has hooked me right from the beginning. I cannot recommend this series highly enough. If you remember, I got hooked on these last year when I was battling my gall bladder problems. I read one – can't remember which one now – and soon I had ordered all of the other books in the series through my local library. They are suspenseful and extremely well written. Jack Reacher is one of the most fascinating protagonists to come down the pike in a long time.
Let me give you a typical description of Reacher: "Reacher was a big man, six feet five inches tall, heavily built…" Child often writes that Reacher is about 250 pounds with blue eyes and dirty blond hair. Anyone who has read any of these novels could and would describe Reacher as: Very big. Lots of muscle. Really tall. Blond. Child has spent a great deal of time establishing Reacher's looks and physique and that 'bigness' is definitely a part of many plot points. And he's not handsome by any means.
So why, oh why, would Tom Cruise be playing Jack Reacher in an upcoming adaptation of  One Shot, with the imaginative title, Jack Reacher? Are you friggin' kidding me? Tom Cruise, who is 5′7″?  Who has dark hair and is handsome in a pretty sort of way? Cripes, I'm taller than Tom Cruise.
Why not someone like Liam Neeson, for example?
I don't get it.
But this, my friends, is why I mostly avoid movie adaptations of books that I have read and enjoyed.  In this case, the reasons why are obvious – Cruise is the exact opposite of Jack Reacher. He's clearly been cast because he's good in this kind of physical action type film and he's big box office. But I won't be watching it. I won't even watch it when it comes out on DVD. I have an image of Jack Reacher that is clear and vivid, courtesy of Mr. Child's very specific choice of words. I don't want that messed with. I don't want Tom Cruise to pop in my head the next time I read one of Child's novels.
Same thing with oh, so many movies adapted from beloved novels. I have a picture in my head that has been created by the words and descriptions of the author. Too often, Hollywood goes for something different altogether. Or they mess with the plot. They add things. They subtract things. They take a wonderful story and, somehow, they manage to screw it up.
I remember reading Cold Mountain when it first came out. I absolutely loved that novel. The characters were real and vivid and such a part of me that when I saw the casting for the film, though good actors all, I just couldn't make myself watch the movie. I didn't want my 'Cold Mountain World' turned upside down. I didn't want the images of the actors in the movie adaptation to supersede those fully realized characters that have been created in my head by reading the novel.
Reading is such a wonderful exercise. Whole worlds are created in our heads, just by reading some words on a page. And every one of us will 'see' characters differently. I know that. I like to protect my imagined characters and their world. I do.
I do know there have been very successful movie adaptations of books. My favorite book of all time was adapted into a pitch-perfect movie: To Kill a Mockingbird. This was one of those rare book-to-film adaptations that actually enhanced the story, where the casting choices were absolutely right on the money. So I know it can happen.
But it ain't going to happen with Jack Reacher. For those movie goers who haven't read the books and want some Cruise-style action adventure, the movie will no doubt be great fun. But for me? It's a no go.
What about you? Any book to film adaptations that disappointed you? Or that you loved? I'd love to hear your thoughts.
Don't forget Judy's giveaway. You have until 8:00 pm to leave a comment on that post. Just scroll down two posts. I'll announce the winner on Friday.
Happy Thursday.