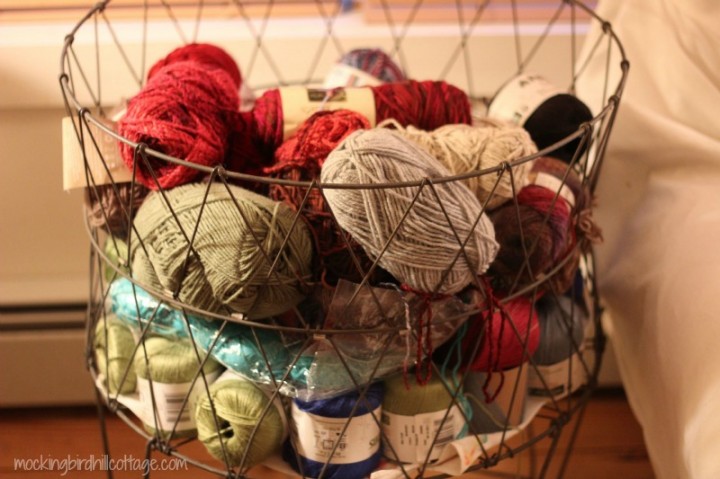 Do you think I have enough yarn in this vintage laundry basket? Between the yarn I use for Obsession Scarves and the yarn for the afghan, I'm pretty well stocked. I'm so glad I found this vintage basket on Craigs List. It has turned out to be the absolutely perfect way to store what I call my 'active' yarn. I'll be returning to work on the afghan tonight with my little girl snuggled on the sofa next to me. I'm going to pick her up in an hour or so. I miss her so much!
New Year's Eve has never been a big deal to me so for those of you who are ready to express sympathy that Don and I aren't together on this day, don't worry. Neither of us make a big deal of it. It truly is just another day for me – one that I used to feel pressure to celebrate when I was younger. If you weren't doing something for New Year's Eve, you were considered a bore. Now, I am a girl who doesn't like to be pressured to do anything. And if I feel that pressure, for better or worse, I will almost always turn in the opposite direction. I like to stay in, watch some old movies and go to bed early. By the time New Year's Day comes around, I am ready for the holidays to be over.
And you will notice that I don't do a "Top Ten Posts" or "Best of 2012" post. I would have no idea how to narrow my daily posts down that way and, besides, I don't really care. I rarely look at my stats and how would I determine something like that? I'd rather do something like "The Top Ten Bizarre Things That Happened to Me in 2012" or "The Ten Things That Made Me Laugh Til I Cried in 2012." Maybe next year. Or not.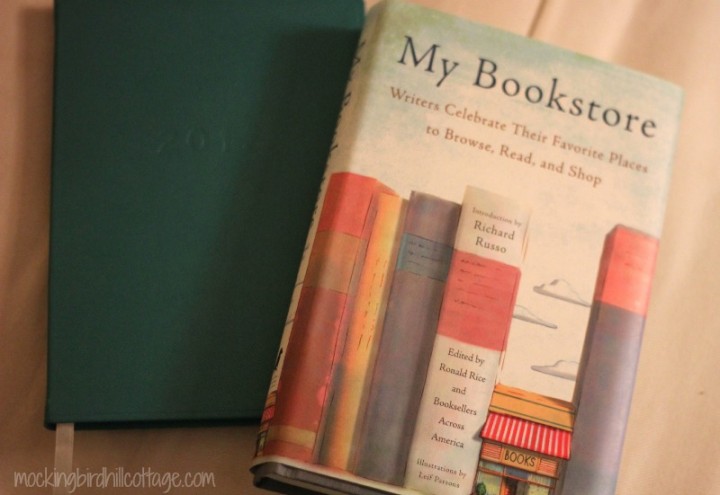 Do you remember me writing about this book? I included it on my Christmas Wish List.  I saw it the other day at B &N and treated myself to it. It's absolutely delightful. It's full of essays by many, many authors on their favorite bookstores. Each of the writers paints a wonderful portrait of what makes their particular favorite special and I find myself wanting to travel the country on a bookstore tour! I've written about the changing world of books and bookstores more than a few times on this blog and if you feel the way I do, you will love this book. It just might make you believe that there are still great independent bookstores out there.
Hey – I got two of the items on my wish list! My camera and this book. Pretty good.
I have to go get ready to pick up Scoutie.
Have a nice, safe New Year's Eve.
Happy Monday.