Welcome to A Favorite Thing. It's our twentieth week together, sharing our favorite things, and I'm so glad you're joining in this week. Let's look at some highlights from last week: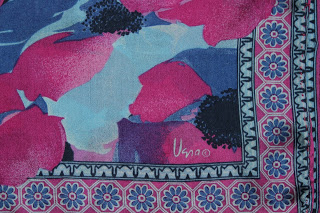 Jill of A Little Bit of Everything shared her collection of Vera scarves with us. Gorgeous!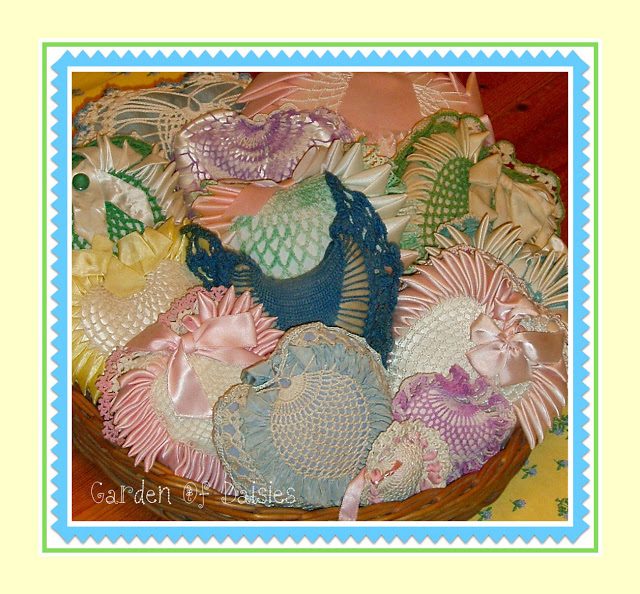 Garden of Daisies shared her collection of crochet hearts. Aren't they beautiful?
Two Birdies and a B shared the tenacious rosebud that was still hanging in there in spite of temperatures that were reaching the twenties during the night. Amazing! I love stories like this.
This week I'm sharing a favorite print that hangs above the sofa in our den: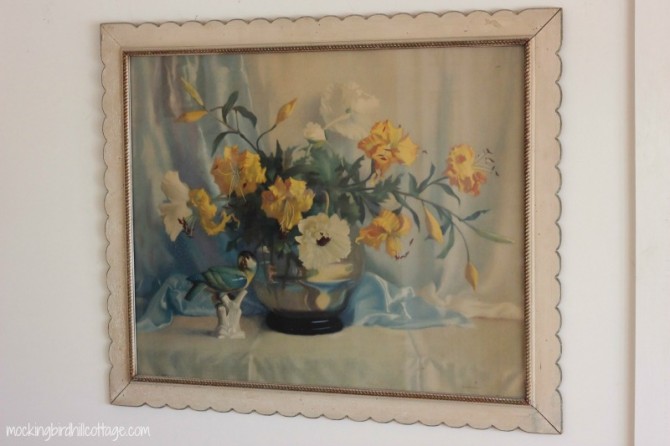 I love flower prints and there's a story behind this one. I saw it in a corner at an auction a few years back. I fell in love, not only with the print but with the wooden frame, which is scalloped and has a faded green paint on the edges of the frame. I wanted it. This particular auctioneer was slow as molasses and when it was past midnight and it still had not come up for auction, I was still waiting patiently. Suddenly the auctioneer started to end the evening. I shouted out "What about the print??" and pointed in that direction. The auctioneer grudgingly said, "Okay, bring it here." And one of his assistants brought it up to the block. I was the only one who bid on it and I got if for $15! It's quite heavy and I absolutely love it. Isn't that frame wonderful?
Okay, now it's your turn!
You can link up anytime from this evening through Sunday. Make sure you enter the URL of your post. If you're unsure how to do that, just click on your post title after you've published it and copy the information in your browser address window. Come back here, paste the URL into your link entry and there you go! If you have any problems, drop me an email and I'll help you out. Please link back to this blog on your post. That way, those that read your post and are interested in reading more can do so.

One of my concerns about link parties is that the very reason for them has somewhat gone by the wayside. They've become so big and there are so many of them that many bloggers don't take the time to visit any of the other participants. Link parties are a way to meet new bloggers and share with each other and the only way to do that is to visit each other. So, please, take some time to visit everyone over the next few days. No rush. Stop by, introduce yourself, and leave a comment. It's the neighborly thing to do. It's also nice if you leave a comment here, as well.
Have fun!