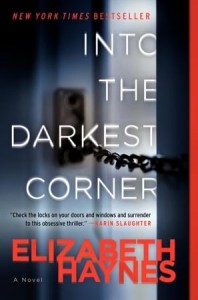 Hello, everyone! Today I am reviewing Into the Darkest Corner by Elizabeth Haynes for TLC Book Tours. As always, I am provided with a copy of the book in exchange for my honest review.
The Story
Catherine Bailey meets a man named Lee Brightman. Brightman is handsome, charming and everything Catherine hoped to find in a man. At first, the relationship is exciting and Lee's passionate attention to Catherine is flattering and pleasurable. However, it soon becomes something very different as Catherine is increasingly aware of Lee's violent, obsessive and controlling nature. As Lee's abuse and obsession become more and more terrifying, Catherine hopes to find understanding and help in her circle of friends. But they don't believe her. Desperate, she plans her escape.
She starts a new life in another city. Four years pass. Lee is now in jail.  But, the paralyzing fear that shaped her past continues in her new life. As she tries to forge a new, healthy relationship with another man, she finds herself facing, once again, her worst fear.
My Review
Wow. This book is a page turner. The author moves back and forth between the present and the past, revealing what happened to Catherine slowly, piece by piece. So we have two stories unfolding at the same time, thereby ramping up the tension and the terror in an almost excruciating manner. The author does a beautiful job of describing the post traumatic stress that takes over Catherine's daily life, even four years after her escape. The obsessive checking of locks and windows and curtains that is the only way she can feel a modicum of safety in her daily life is detailed and vivid. The description of a relationship slowly becoming a nightmare is portrayed with chilling accuracy. And the terror and fear were all too real for this reader. I've had friends who were in abusive relationships, who suffered trauma at the hands of someone they trusted. One marriage, in particular, of a college friend to a seemingly charming and funny guy was shockingly revealed, after many years, to have been a nightmare of physical abuse. Ms. Haynes writes with a conviction and honesty that doesn't spare the reader. And that's as it should be.
This story of a relationship gone haywire is terrifying and chilling. It's a psychological thriller of the highest quality. This is Elizabeth Haynes' debut novel and her talent for writing is clear from page one. If you like thrillers and suspense with complex, well-written characters you will love this novel. To say it is compelling is an understatement.
About the Author
Elizabeth Haynes is a police intelligence analyst. She started writing fiction in 2006 with the annual challenge of National Novel Writing Month (NaMoWriMo) and the encouragement of the creative writing courses at West Dean College. She lives in a village near Maidstone, Kent, with her husband and son.
Giveaway
One of you can be the lucky winner of a copy of Into the Darkest Corner! Just leave a comment on this post and I will randomly draw a winner on Friday evening.