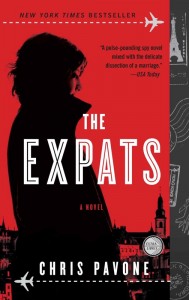 Hi everyone. Today I am reviewing The Expats by Chris Pavone for TLC Book Tours. As always, I am provided with a copy of the book in exchange for my honest review.
The story: Kate Moore, a working mother of two, is married to Dexter who is a financial systems security consultant. When Dexter gets the opportunity to work for a banking client in Luxembourg, Kate jumps at the chance to leave her job and start a new life in a new place far away from their current life in Washington, DC. Kate has a secret that she has been working very hard to keep a secret and she welcomes the opportunity to shed her old life for the new life of being an expat. But Dexter's new job keeps him away from home for long periods of time and any details as to who he works for and what he does are held close to his chest.  In the meantime, Kate meets a couple, Julia and Bill, who she is increasingly wary of. As we learn more and more about Kate's past, we see how it shapes her worries and suspicions in the present. As she begins to investigate, she discovers that Julia and Bill are not who they say they are, that Dexter has his own dangerous secrets. That's all I'm going to say – you know I never reveal too much plot!
My review: What happens when secrets are kept – when, in fact, everyone is keeping a secret? The Expats is all about secrets, dangerous secrets. This is a wonderful book – an international spy thriller with a strong, gutsy female protagonist –  that is filled with suspense. Pavone has used the device of alternating between the past and the present, giving us tantalizing bits of information here and there, allowing us to try to put the puzzle together ourselves. It's executed brilliantly. The plot is complex, with twists and turns at every corner. Kate's character is beautifully realized. The other characters are equally well written. Pavone has crafted an intricate plot with layers and layers that are slowly peeled away until the truth is revealed. But not too soon – that wouldn't be fun! After all, this is a spy thriller of the first order. Pavone writes about life in Luxembourg and Paris and the Alps with great detail  – each international location is richly drawn. Chris Pavone is a gifted writer and I guarantee you will not be able to put this book down.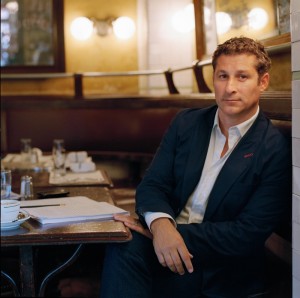 About the author: Chris Pavone, a book editor for nearly two decades, returned to New York City after a sojourn in Luxembourg. The Expats is his first novel.
Oh you lucky people – one of you will have the opportunity to win a copy of this book! Just leave a comment on this post and I will draw a winner on Wednesday evening. Good luck!
Happy Monday.