I seem to have taken over the den with all my paraphernalia . (My husband might say that I tend to do this will all the spaces in our home.) From my station in my blogging chair, this is what I see (no editing or staging, of course):
The coffee table: A basket full of stacks of books, papers, a Scrabble game. A catalog from a company selling miniatures. A catalog from Garnet Hill. The remote. 2 DVDs. (This week we've received preview copies of two movies, Silver Linings Playbook and Argo through the Screen Actors Guild and yesterday we received 3 more that are available for download on iTunes. I think I'm watching some movies this week!) My eyeglass case. My agenda. Quilting supplies: thread, air erasable fabric marking pens, a ruler, an old dog food measuring cup that I use to trace circles on my quilt.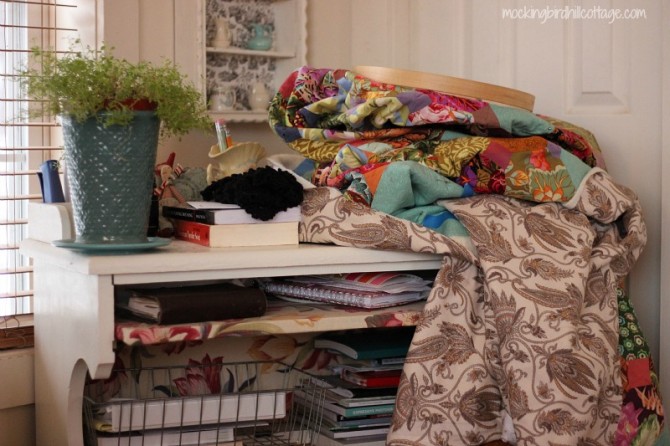 The desk: the usual things plus two books, an obsession scarf due to be mailed out tomorrow, a quilting hoop and The Quilt. Handquilting a queen-size quilt is an awkward operation. I constantly have to move layers of fabric around in order to get the hoop readjusted and find a way to get my left hand under the quilt. It's big. It's bulky. I've quilted 3 rows of blocks so far. Yesterday, Scout and I took the day off. We were exhausted. I sat in the chair hand quilting. In the evening, I moved to the sofa. We watched old westerns all afternoon: Wagon Train, Bonanza, The Big Valley, The Rifleman. And then I watched Ironman in the evening. I'd never seen if before. I like Robert Downey, Jr. He's never boring.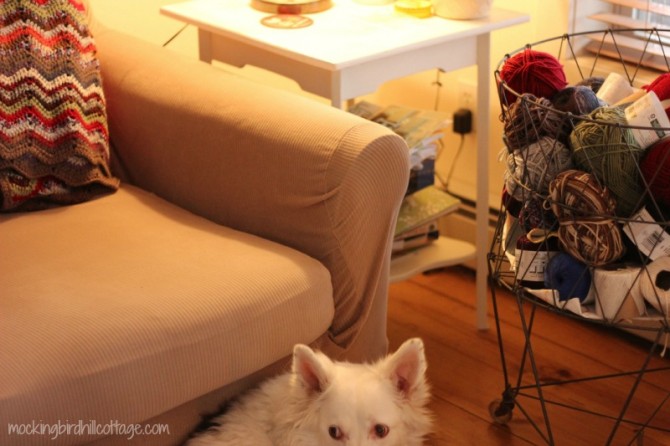 And in this corner: yarn and lots of it. You see what I mean? All sorts of things. Add to that all the stuff on my chairside table and ottoman. I'll spare you that.
As I looked at it yesterday, I liked seeing the cheerful clutter. Then I wondered what Don would think if he was also trying to exist in this space. The truth is that he would be just fine with it. He always says that he likes seeing creative clutter. He thinks it makes a home come alive.
I think he's right.
I'm off to visit all the links from yesterday's post.
And I'm linking this post to Elaine's Sunny Simple Sundays.
Happy Sunday.