Welcome to the second edition of my little mini-series: Decorating on a Flea Market Budget. One of the things my husband fell in love with when we first saw this house was the kitchen. This house was built in 1891 and many of the ceilings are rather low. Don is 6′4½″ tall. The kitchen, which is built on the back of the house, has a very high ceiling at the point it connects to the living room and then slopes downward to a standard height on the back wall. And there are lots of windows.  What this means is that there isn't much cupboard space. The area with the most windows is designed for a kitchen table, as there is no dining room in this house. So: we had some cupboards, some appliances and some open, windowed space when we moved in.
Here are the flea market touches we added.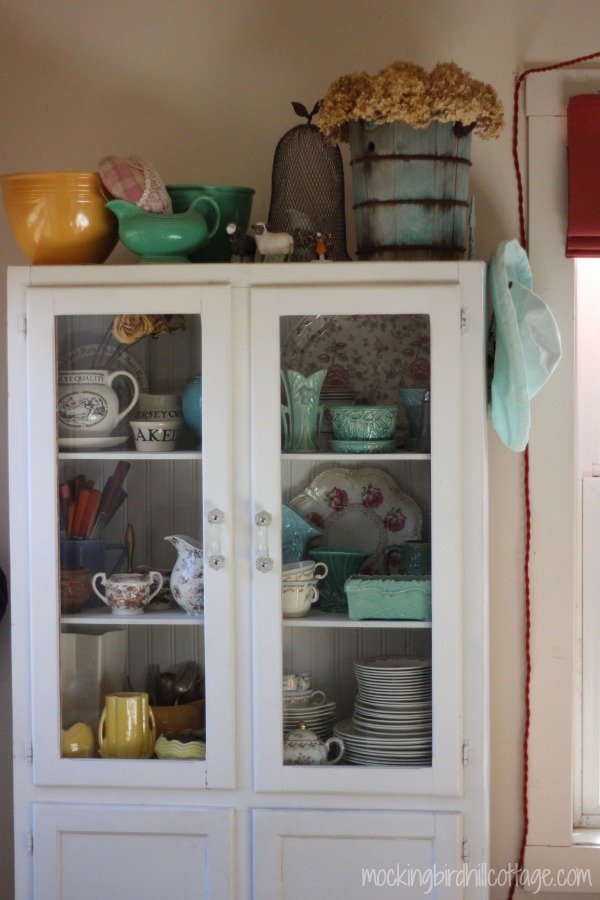 We found this cupboard in an antique store (for about  $80) when we were living in our rental, which had the smallest kitchen imaginable. We needed extra storage space and this piece fit perfectly. It came with that great beadboard backing. I changed out the handles.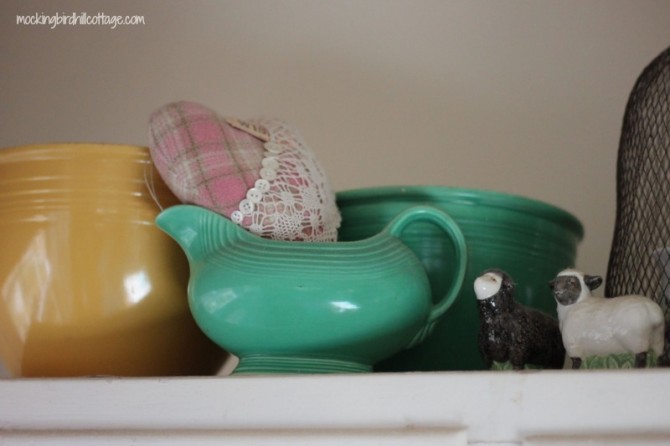 I used to have an extensive collection of Fiesta, but I sold most of it. I did keep some of my very favorite pieces, like these mixing bowls and gravy boat. If you know anything at all about me, you know that there will be pottery and china from my collections displayed in every room of my home.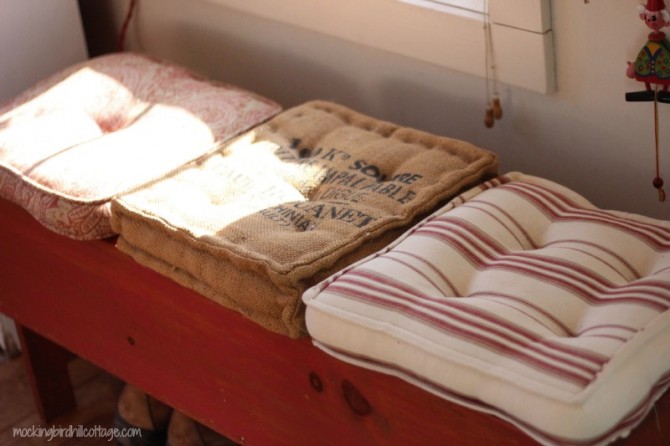 To the right of the cupboard is a bench that we bought from Heidi's shop when we first moved into the cottage. I painted it red. The top lifts to reveal storage space. This is a small cottage and I need all the storage I can get. I originally planned to use it for shoes, but it has evolved into storage for tools, flashlights, etc. I added the pillows. The ones on either end are from Martha Stewart's collection at KMart (long ago) and the burlap pillow is one I found in California. Very inexpensive.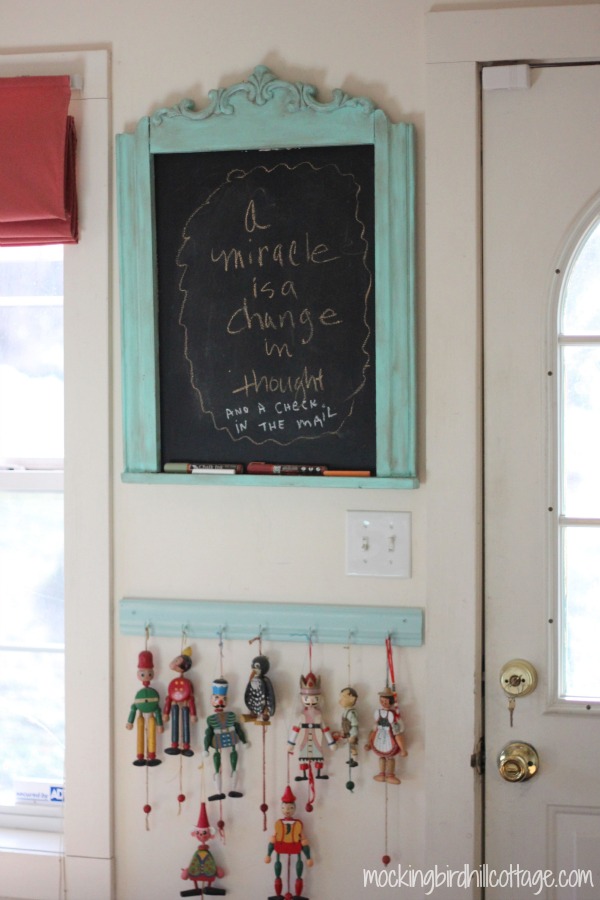 Next to the bench is my chalkboard, made out of trim that I removed from the kitchen island. I had such fun making this and it's one of my favorite things in the kitchen. Cost? A few dollars for some chalkboard paint. Everything else I had on hand. The Jumping Jacks are my husband's collection. I made the hanger from some trim I had in the shed. Cost? A dollar or two for cup hooks.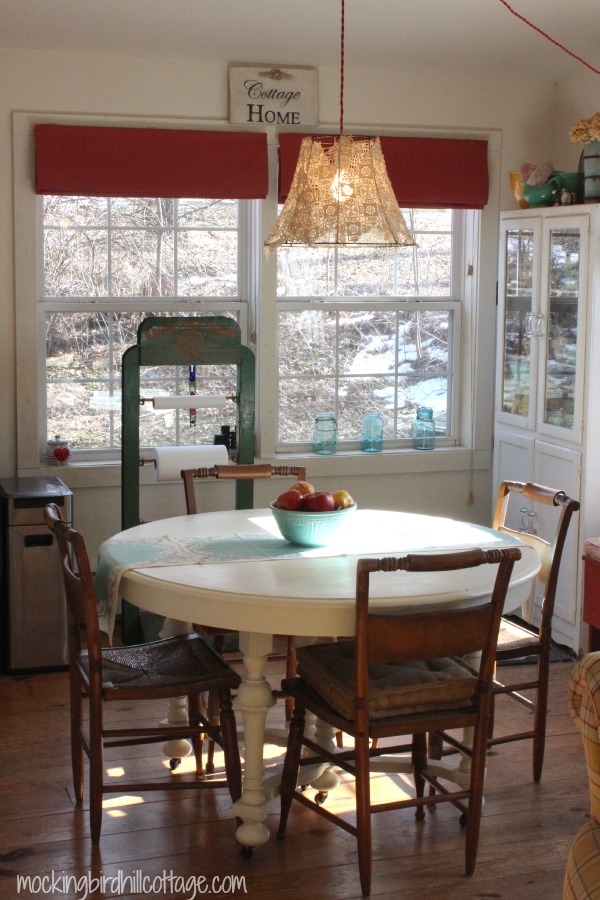 When we first moved in, we used an antique wooden farm table in the kitchen. It was a chippy green and I loved it. But it was a bit rickety and I found myself wanting a circular table. My friend Heidi found one at auction that she was going to sell in her shop. I coveted it. I bugged her so much that she finally sold it to me for something like $75. It has 2 leaves. It came with a dark wood finish that we lived with for a few years and then I decided to paint it to match the island. Painting it made a huge difference, really showing off those fabulous legs. I eventually sold the green table on Craig's List. Sob. I miss it, but we had no room for it anymore.
The chairs are from Heid's shop. Maybe $80?
The old chain display stand that we transformed into a paper towel holder cost us $25 at auction.
Our kitchen lights are built into the ceiling and I like them. But I needed a light over the table. After living here about 6 years, I finally made one out of an old lampshade frame and some doilies I had on hand: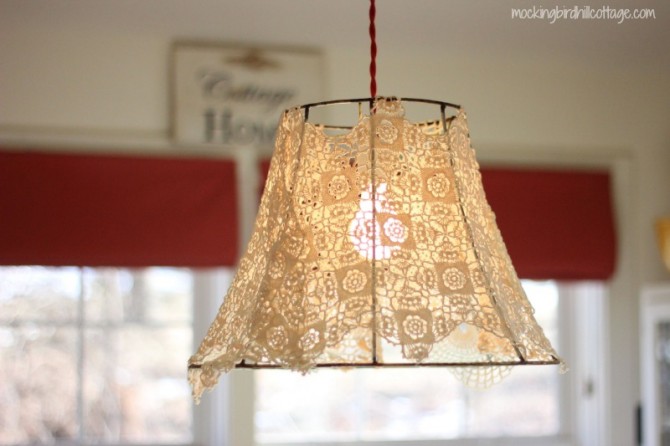 The cost? Everything was here already except for the red, cloth-covered cord and socket which I bought from Shandell's for about $50. The red cord makes all the difference, as this is a swag light, with the cord coming from the wall out and over the table.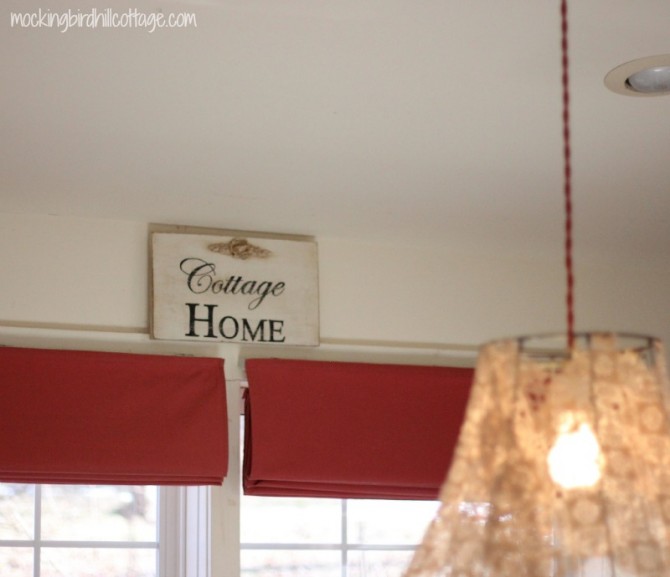 The Cottage Home sign was painted by my pal Rita. I bought it in California. You see it immediately when you walk in our front door.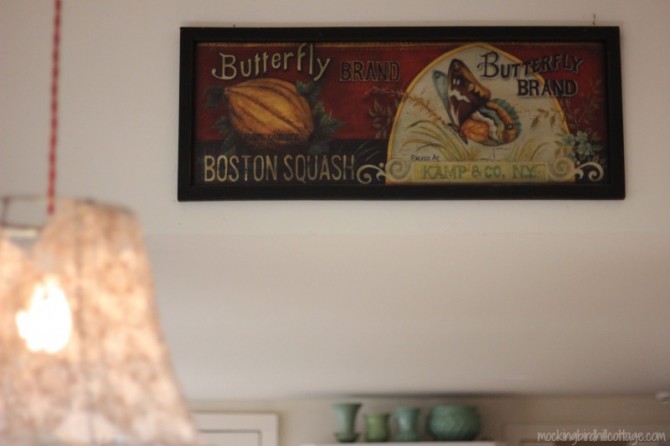 With the high ceiling comes a nice stretch of wall right next to the living room. I always wanted to hang a sign there and we looked and looked for a vintage piece. Everything we saw was too expensive or the wrong shape. I found this reproduction via Heidi. It was perfect. I think it cost about $75 – maybe less.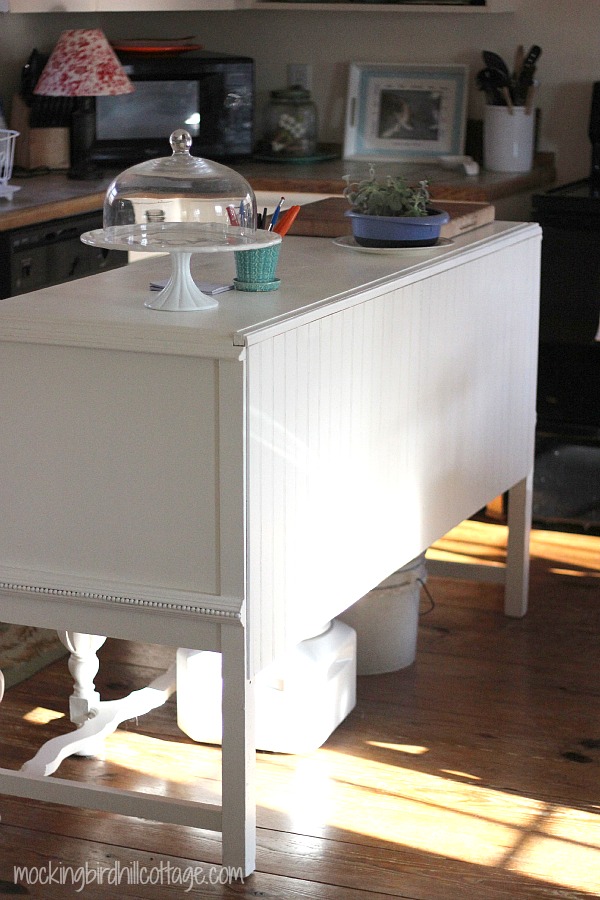 We needed more storage space. Four years ago, after thinking about all sorts of possibilites for a kitchen island, I found this piece (a sideboard) at auction. It was finished in a very, very dark color, but it had drawers and cupboards and carving and I got it for $60. When I brought it home, Don was sure it would be too big for the space, so I immediately slapped some white primer on it to show him it would work. Then I painted it and every detail came to life. There was nothing but plywood on the back, so we cut a piece of beadboard and added trim. (The chalkboard is made out of a decorative piece of wood that was on the back edge of the sideboard.) I changed out the handles for some clear glass knobs that match the look of the cupboard.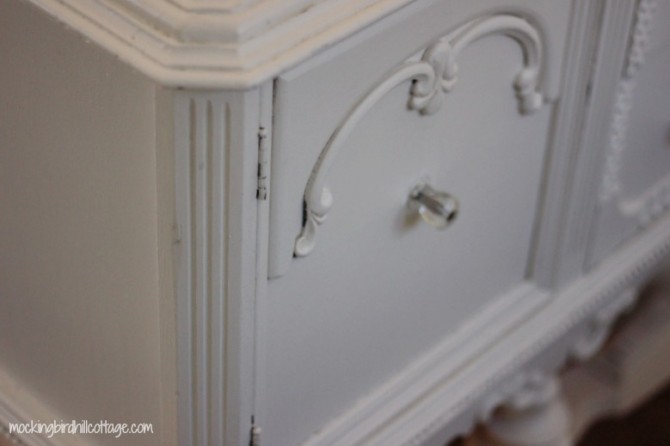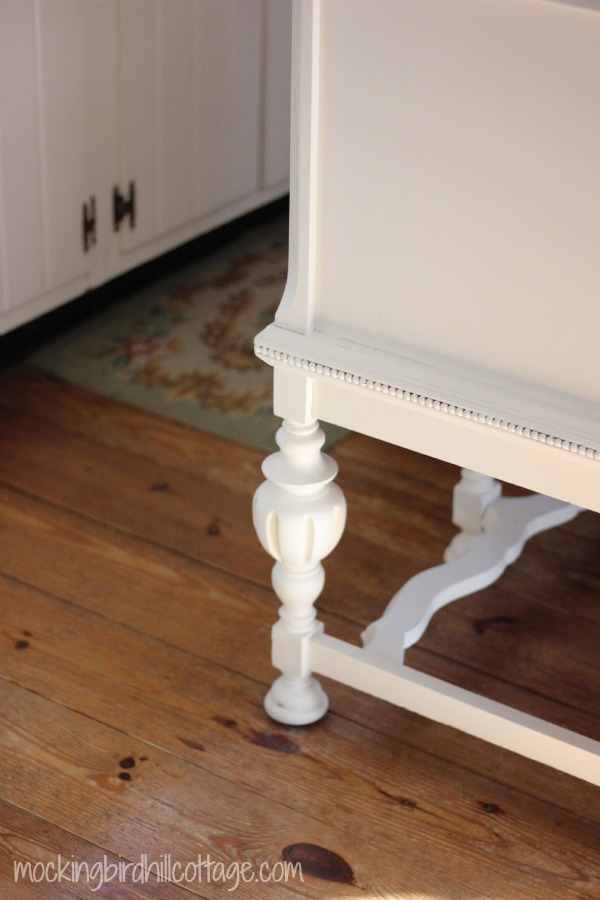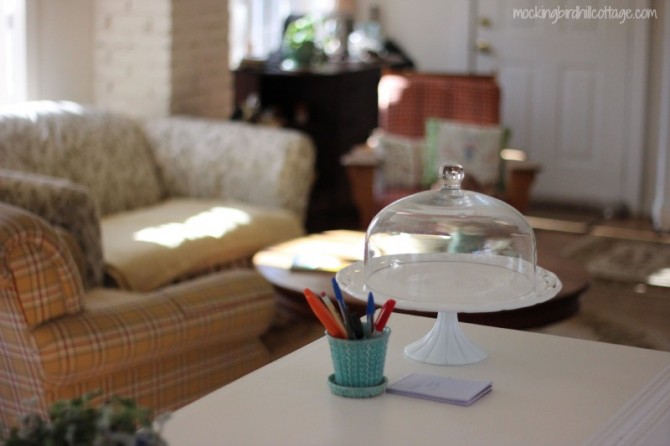 I don't know how we lived without it for so long. It's my favorite piece. It cost next-to-nothing. The carving around the doors and drawers, the curved legs, all of it makes my heart sing. It has been pinned over and over. Why? Because it looks great and is SO easy to do, if you have the space. It gets a lot of use so I repaint it every year.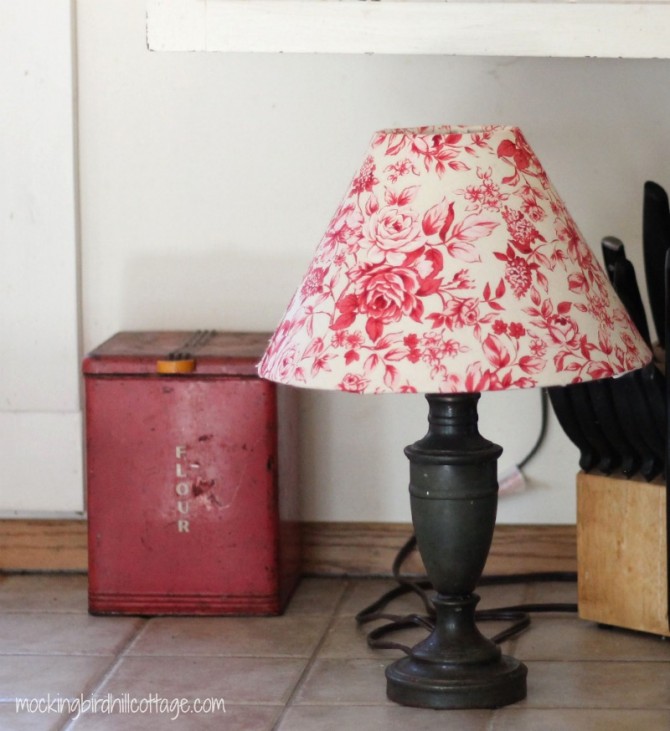 Don't ask me about the tile counters. I can't wait for the day we can replace them. I had this lamp sitting around and one day I covered the shade with some fabric I had on hand. I love the transformation. I found the flour container in a local shop for a few dollars. I fell in love with the color, the graphics and that bakelite handle.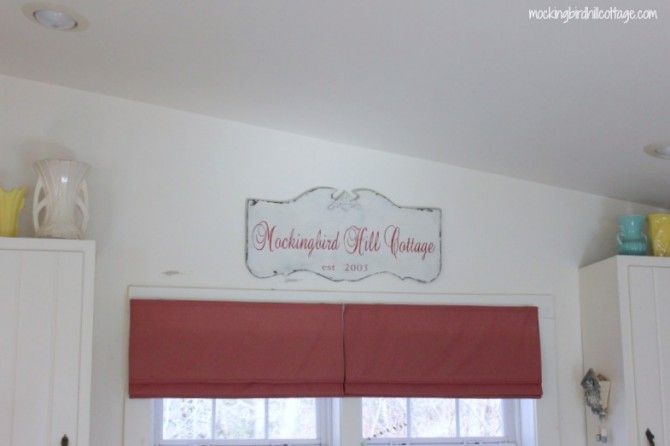 The sign was painted by Paula of Castle and Cottage Signs. I got it for myself for my birthday a few years ago.
Throughout the space I've scattered pieces of pottery, especially my beloved McCoy pottery, and found treasures that make the kitchen a reflection of our style.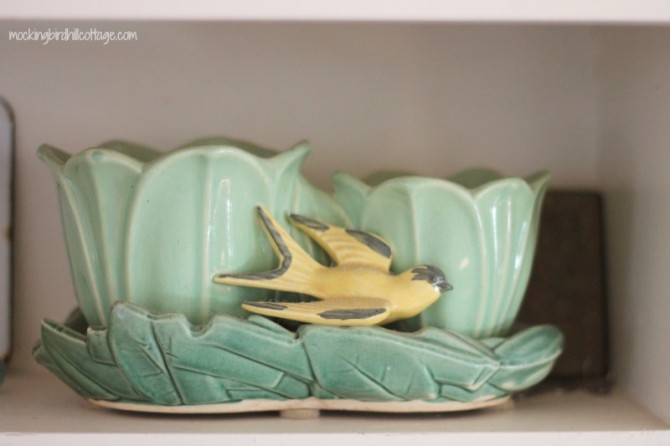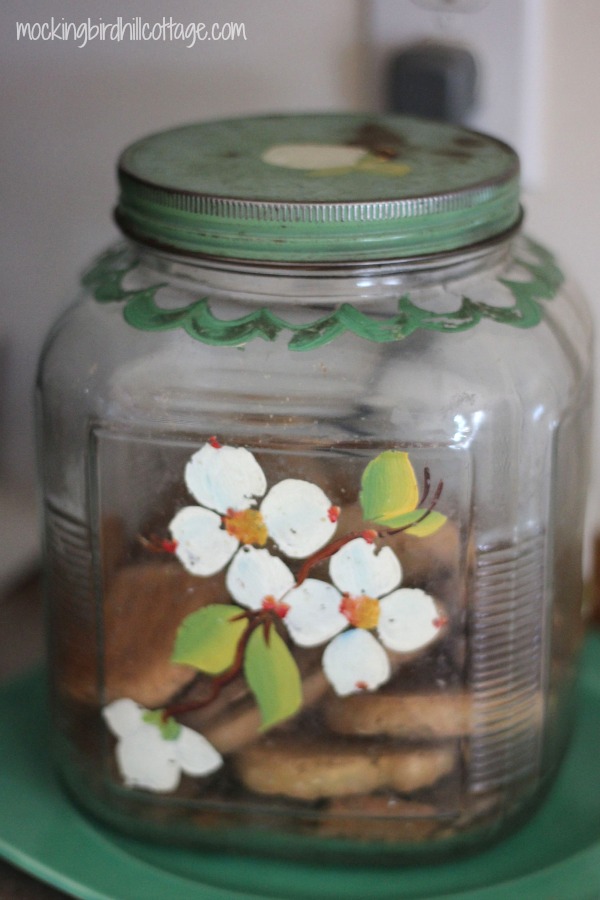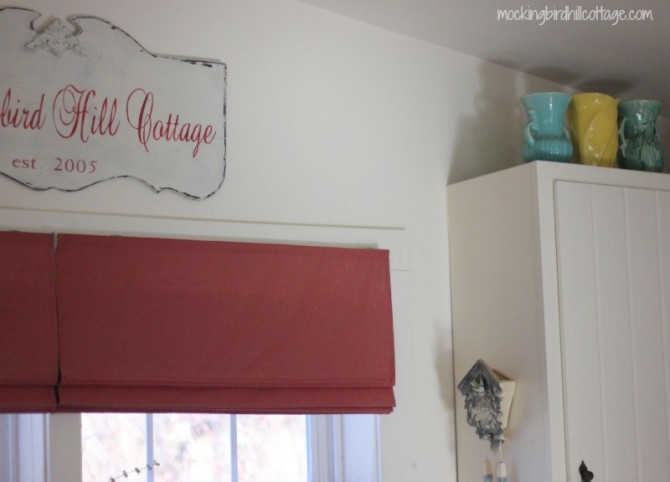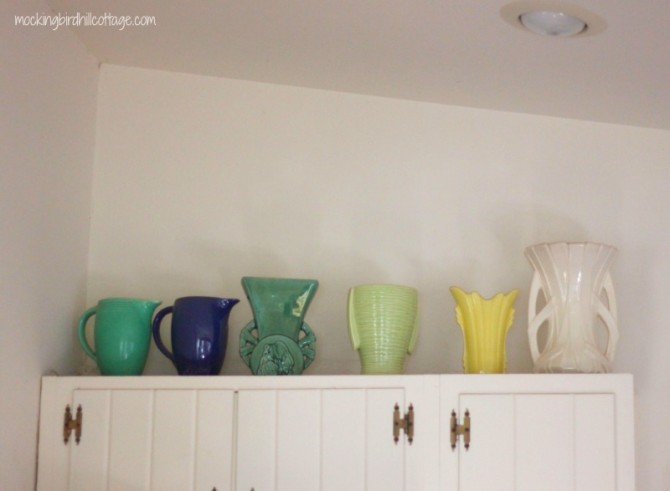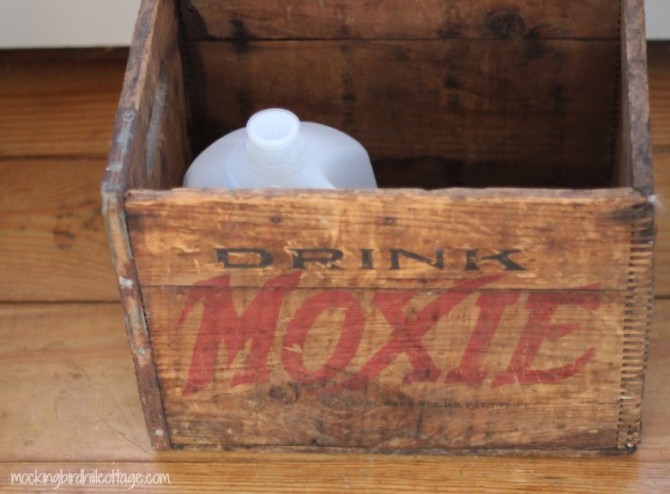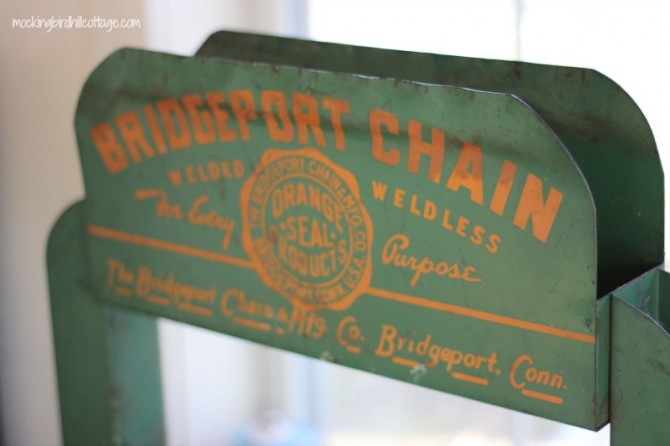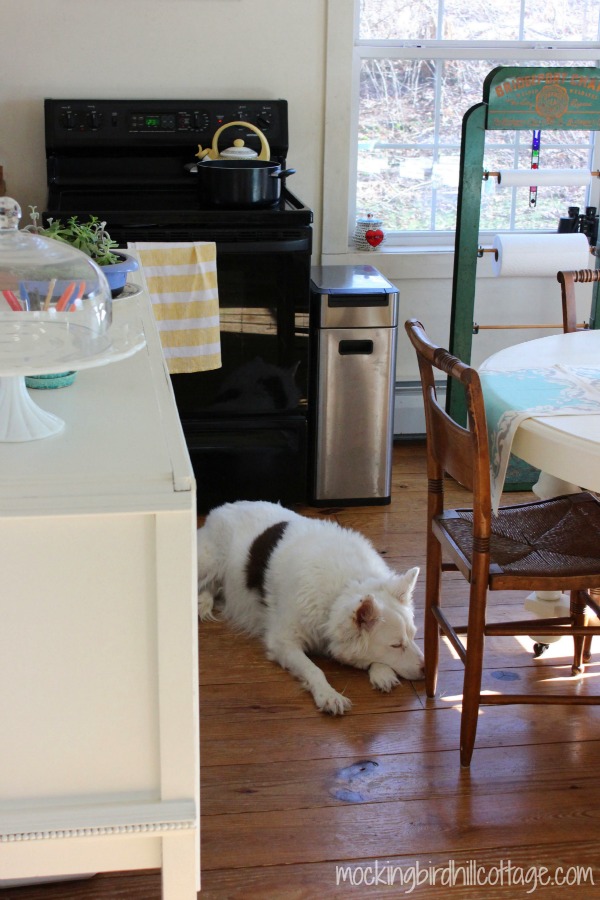 And once again, Scout managed to get in on the picture taking.
There you have it.
Nothing cost more than $100. Most things I had on hand or transformed with an idea and a coat of paint. It all came about over the course of the seven years we've lived here, after being in the space for a while and determining what it needed. And, of course, on a very lean budget. You can decorate with style and personality on a flea market budget. In fact, even if I had all the money in the world, that's still the way I would decorate.
Thanks for stopping by!
Happy Wednesday.