I just finished another scarf (I'll show it at the end of the post) which necessitated some picture taking upstairs. Letitia, my dress form, lives up in the upstairs studio. I'll digress for a moment and let you know that I plan at least 2 more Decorating on Flea Market Budget posts that will cover the den and the studio/craft area – whatever you want to call it. The bedrooms are off limits right now until I DO something with them. I've ordered some chalk paint to attempt to bring all the various pieces of furniture into something other than happenstance. We'll see how that works out. I'm not holding my breath.
You know how you suddenly see something that you pass 100 times during the course of a week? And you re-acquaint yourself with it? As I was taking scarf pictures this morning, I did just that with my Re-Imagined Bulletin Board. That's what I called it at the time I made it and that is what it's called in the DIY list at the top of the blog.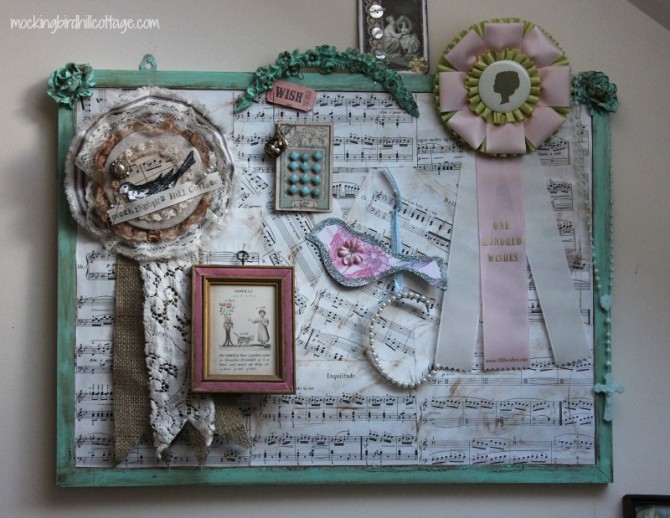 I had this old unused bulletin board in my closet and one day I just decided to play with it. I have lots of sheet music around here, so I found some that I didn't need and glued it onto the cork. Painted the wood aqua, of course, with some antiquing glaze here and there. I bought the appliques when I was in California and figured, what the heck, why not use them?
This is my pretty board. As opposed to my bits and bobs board that's next to the sewing machine or the bulletin board that's next to the fridge in the kitchen.
The 'C' is from my pal Elyse, the bird is from The Vintage Rabbit, the ribbon on the right is from Andrea Singarella, the ribbon on the left is from Jeanne Oliver.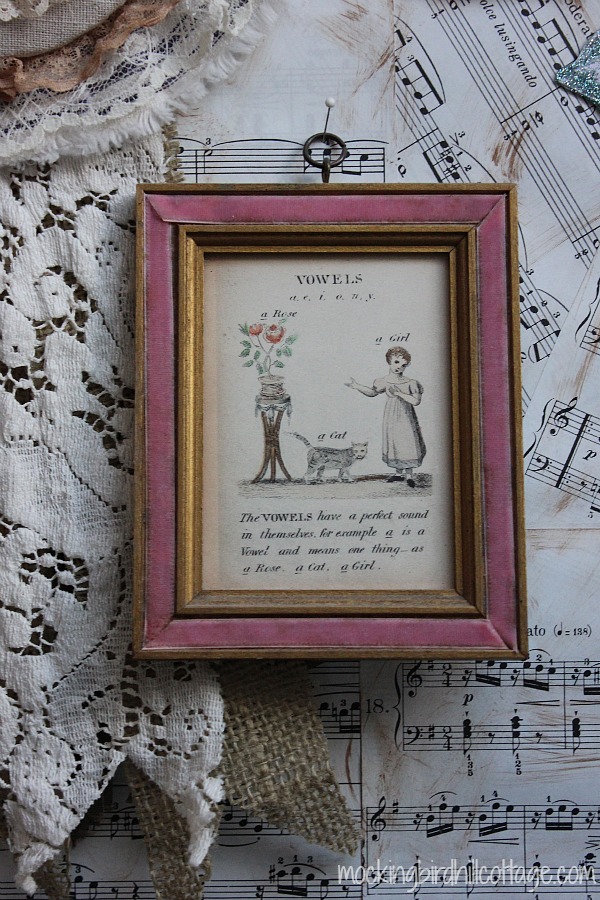 The Vowels print was given to me by Heidi. Perfect for my line of work, don't you think? I really love and treasure this piece.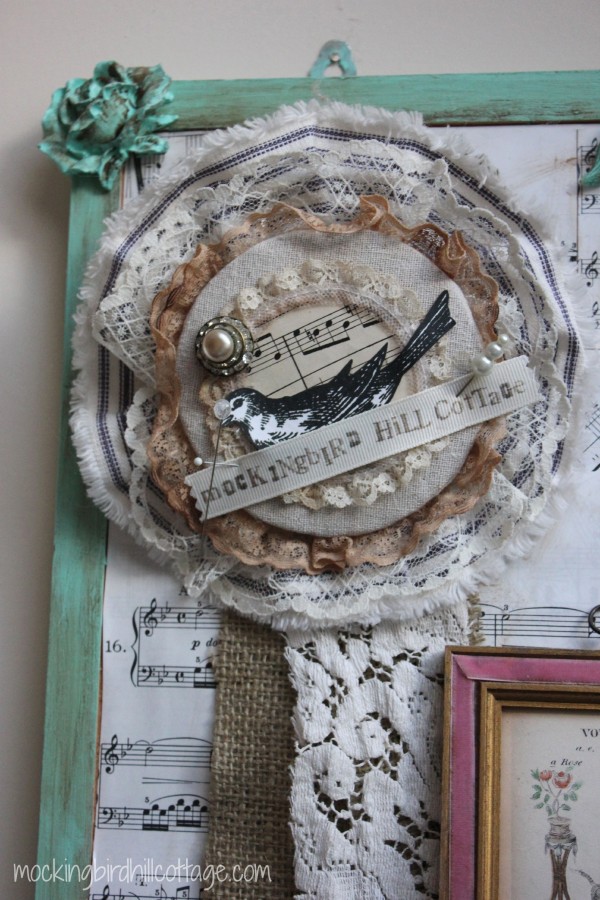 Jeanne designed this ribbon for me. Do I need to say how much I love it?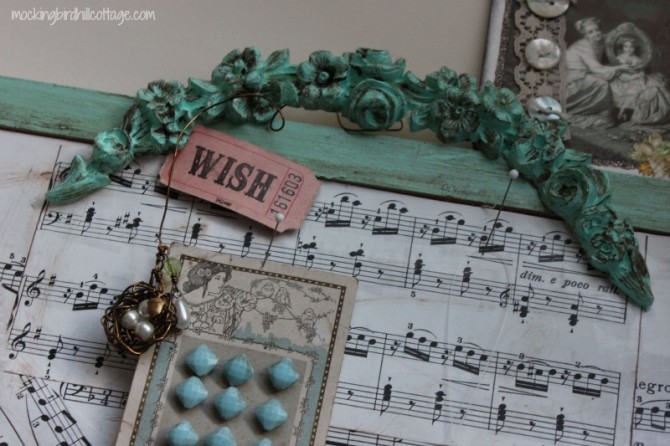 Forgive me, but I can't remember where I got the bird nest – I think it came as an extra with something I won in a giveaway. If one of you sent it to me, please let me know! The antique buttons I found in a shop on the way home from a working trip to Providence, Rhode Island (where I got to meet Elyse in person, but that's another story.) I love the color of the buttons and the amazing graphics on the button card.
It's good to see something with fresh eyes.
By the way, I'm glad to know I'm not alone in disliking Gone Girl. Apparently a lot of you feel the same way! I'm still getting comments on that book. Perhaps we need to form some sort of group? Or make T-shirts with a logo or something?
Speaking of books, the winner of a copy of The Expats is Noelle. Noelle, I'm sending you an email – if you see this before you get the email, please send me your mailing address. Congratulations!
And here's the scarf – in keeping with the color theme of this post, it's in aqua!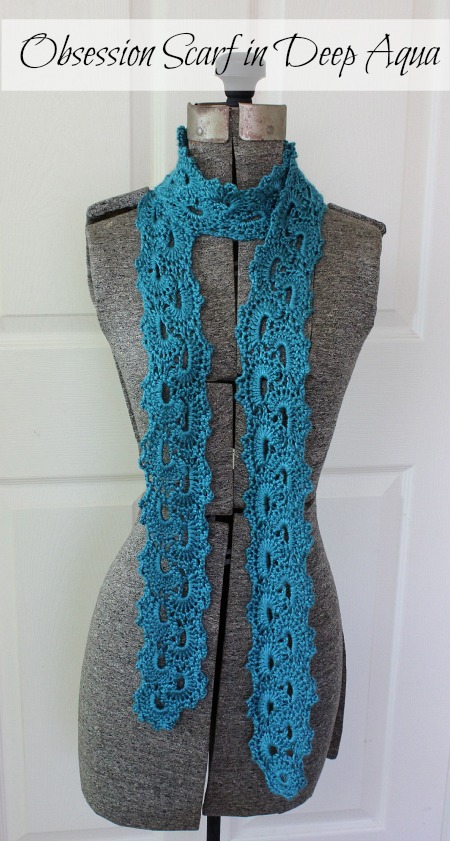 It's nice and long, by the way. Would I like to keep this? Yes. But, ever unselfish, I am offering it to you.
Happy (windy) Thursday.