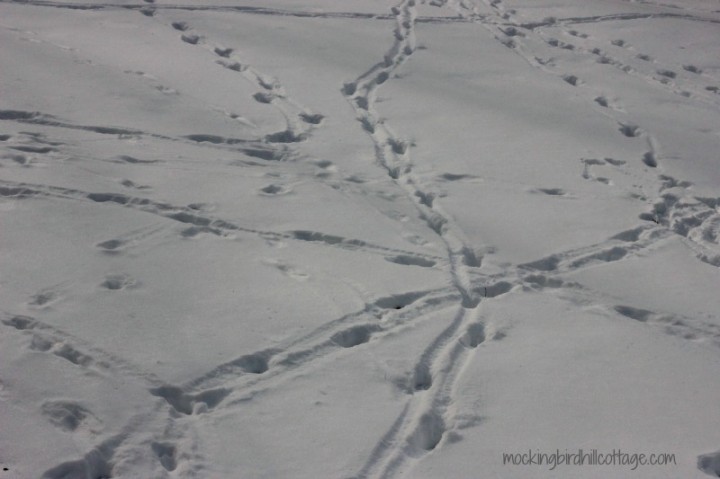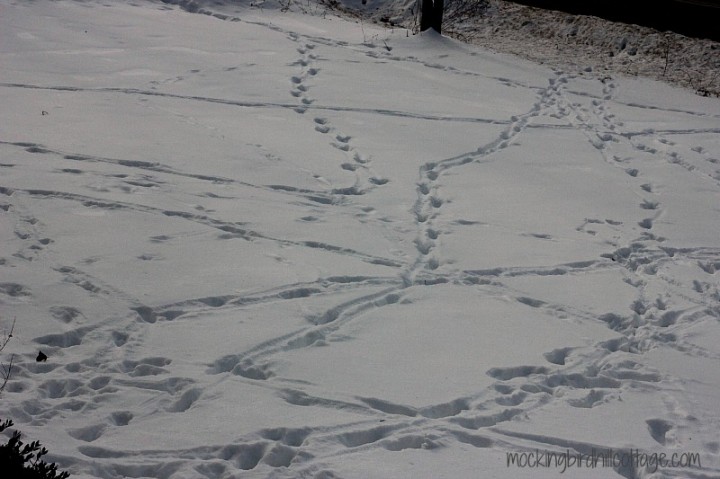 It's been busy out there on my front lawn. Lots of activity. And, no, those aren't my tracks. One thing I love about the snow in the winter is that I can see the evidence of the animals that live with us here on the property. Mostly deer, I suspect, but also bunny rabbits and other mysterious critters. I have a feeling they might have been munching on my boxwood – that seems to be the direction in which those tracks are headed.
It is very cold here. Very cold. I need to hack at some of the ice on the driveway but I haven't as of yet. My neighbor did a great job of snow blowing the driveway so I could get home on Sunday night. Thanks, Fred! What a relief it was to be able to drive up, park the car and make my way up to the house (relatively) easily.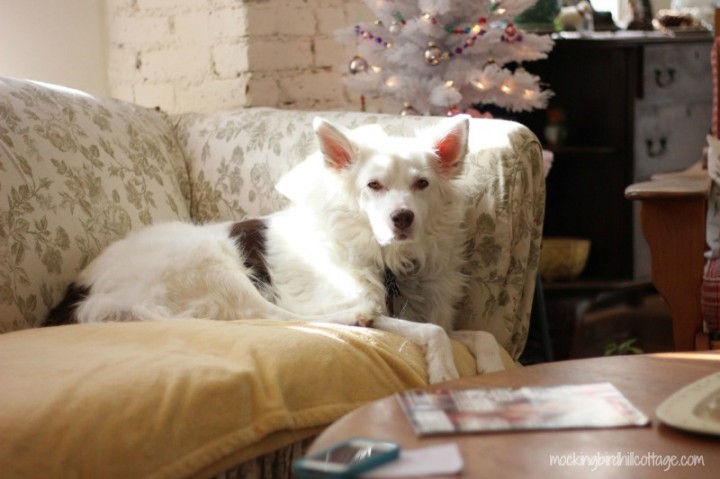 Someone didn't do well with boarding. I think that the techs at the animal hospital thought she was doing okay because she was relatively still and wasn't barking much. But when I got her home on Monday morning, she was extremely agitated and nervous and it took several hours to calm her down. She wasn't herself. And I noticed a large area of red skin on her elbow where she had been chewing – something she has started to do when she is anxious. I know my girl and she was very upset. I quickly came to the conclusion that, at the age of 14 and after years of never being boarded, she just can't handle it. She lost her brother this year. She was very sick twice. Her dad is away. It's too much for her. So I will take her with me next week. Gulp. We'll be staying in an apartment building. She'll have to do her business on walks in the park. I've arranged for an apprentice to sit with her during the time I have to be at Tech/Dress and 1st Preview – so that she has some company and doesn't bark out of anxiety.
It will be an adventure.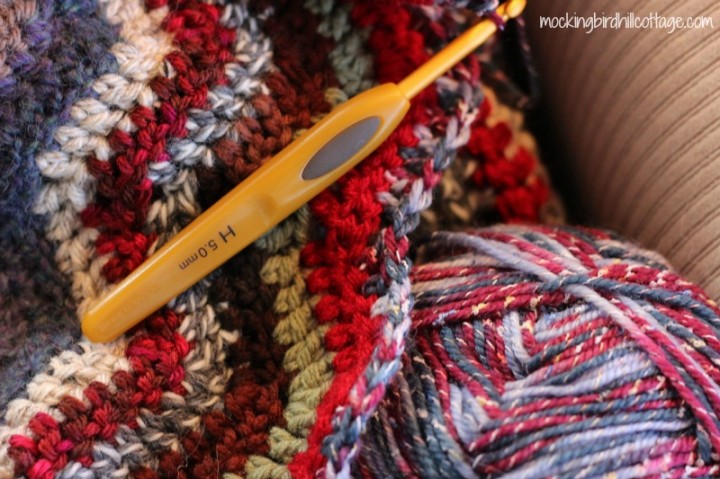 Last night, I started weaving in all the ends of yarn in the afghan. I think I'll crochet some sort of edging and then it will be finished. I'm awaiting a delivery of quilt batting and backing fabric. Once that arrives, I'll baste the 3 layers together and my next project will officially be the hand quilting of our bed quilt. I need something to work on in the evenings with Don away.
As I wove in yarn ends last night, I watched Platinum Blonde on TCM. Have you ever seen that movie? It stars Jean Harlow, Loretta Young, and Robert Williams. Who is Robert Williams, you say? That's what Don and I said the first time we watched this wonderful film directed by Frank Capra. This guy was one of the best film actors I've ever seen. Simply one of the best. I was stunned the first time I saw him. Naturally, I wondered why I had never heard of him. The tragedy is that this was his first starring role in a film and everyone involved with it knew he would become a star. He steals the film from everyone else on the screen. This was going to be his big break. The powers-that-be were grooming him for stardom. Three days after the film opened, at the age of 37, his appendix ruptured and he died of peritonitis.
Heartbreaking. And Jean Harlow would be dead 6 years later from renal failure. Such talent, both of them, and gone so young. I find this sort of loss haunting. Such untimely deaths with so much potential unrealized. If you can ever watch Platinum Blonde, do. Williams was brilliant. What a tragic loss. Thank goodness this brilliant performance is preserved on film. At least he has that. And we have that.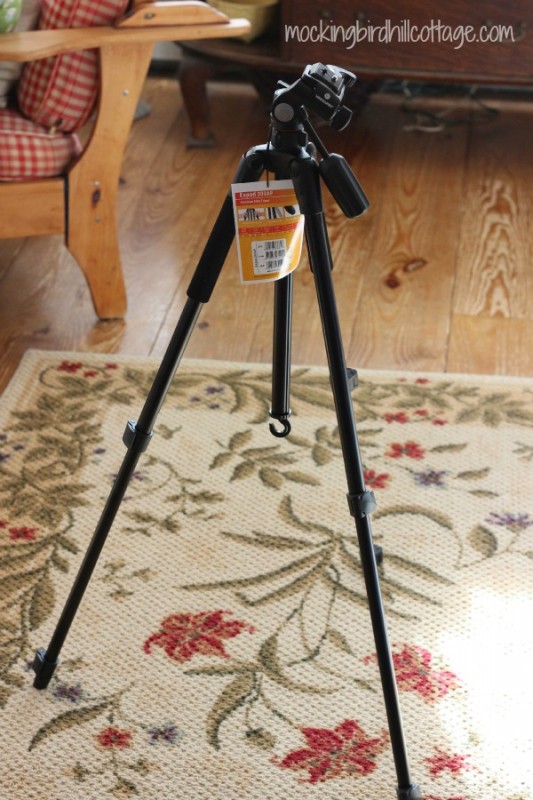 I've been playing around with my new tripod. That was the present from Don that I opened via Skype on Christmas morning.  This one is pretty fancy and I look forward to more tripod adventures. I used it to take that photo of Scout.
I haven't taken down my Christmas decorations yet, mostly because I have to go out to the shed to get the boxes. Did I mention it was cold, icy and slippery? I may do it today.
We'll see.
Happy Thursday.