Afghan? Throw? Blanket? What the heck is the correct name? I don't know, but it's finished.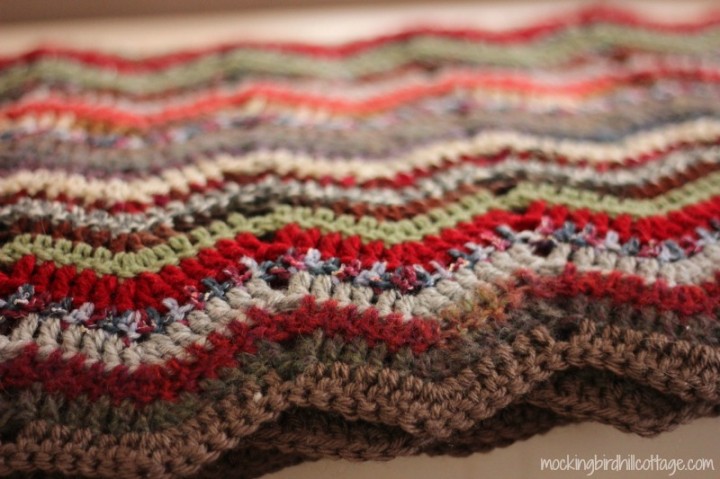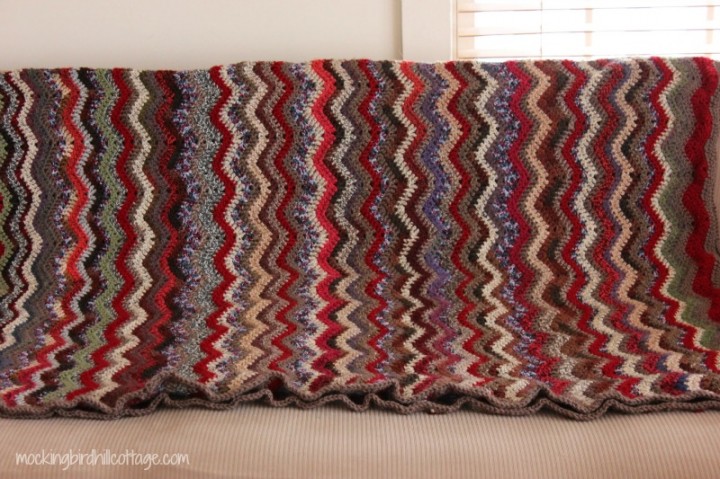 This is the closest I will ever get to a chevron. As you know, I'm not a fan of the chevron craze. But for a ripple blanket/throw/afghan, I will make an exception. I've done one other ripple throw and it lives upstairs on our bed. That particular ripple design has a gentler curve: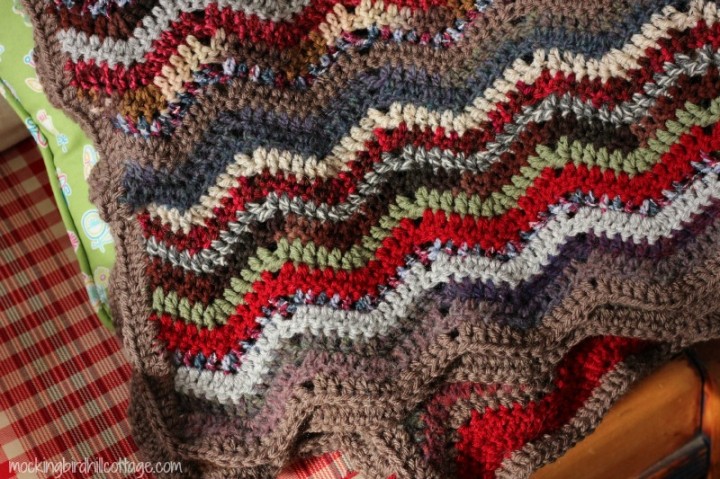 This one has a more angular ripple and it skips two stitches, creating the charming little opening in the design. I have to say I really like this sort of scrappy look. I had a basic color scheme in mind, inspired by the red and tan in our den, but I added purples and greens and grays and creams as well. Each time I came to the end of a row, I made a spontaneous choice as to the next color and went with it. I also used various yarn weights and textures which can result in a wonky edge, which is why I crocheted a border around the whole thing.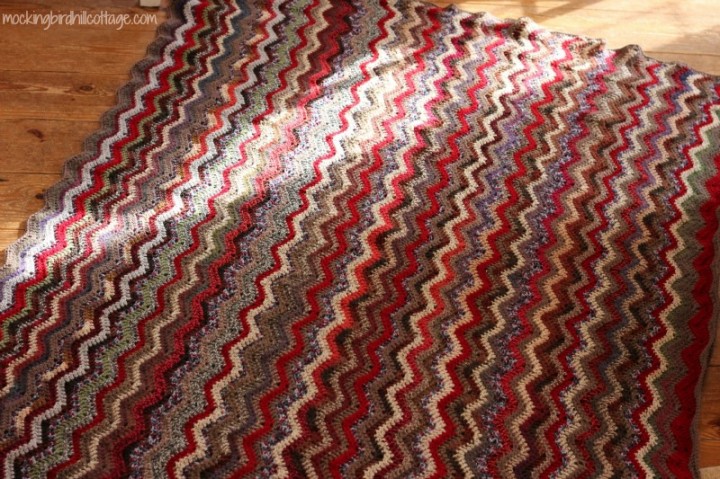 It's about 4 feet by 6 feet. Perfect for Don and I when we sit together on the sofa. Perfect to nap under. And for me, solo – I used it the other night as I watched "The Rifleman." I love Lucas and Mark McCain. Ripples are addictive; I may have to start another one. How many ripples can one have? And now I'm reminded of that dreadful Ripple wine we drank in college. I prefer this ripple.
By the way, I used inexpensive yarns from Michael's and Joanne's. A crochet project of this size is a huge yarn-eater. The more expensive yarns would be cost prohibitive for this gal.
Drum roll. The obligatory photo of Scout with the throw: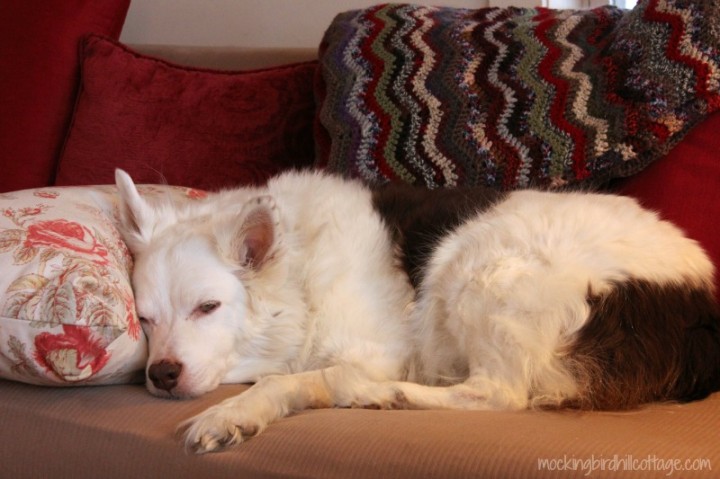 The whole thing has left her in a state of exhaustion.
Yesterday was a big day for the kitchen floor. Not only did I spread the afghan/throw/blanket out on it so that I could get a photo, I moved the table and chairs out of the room so that I could pin baste my quilt: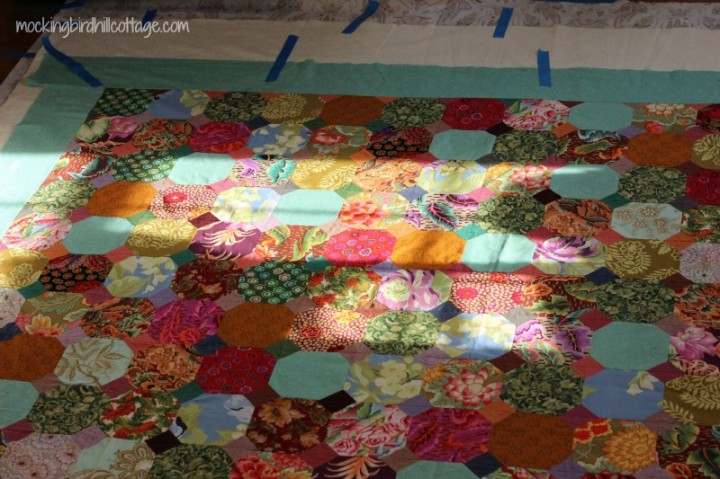 Lots of ironing, lots of cursing, lots of moving around on my knees (not so fun at my age). But, surprisingly, it didn't take nearly as long as I thought it would.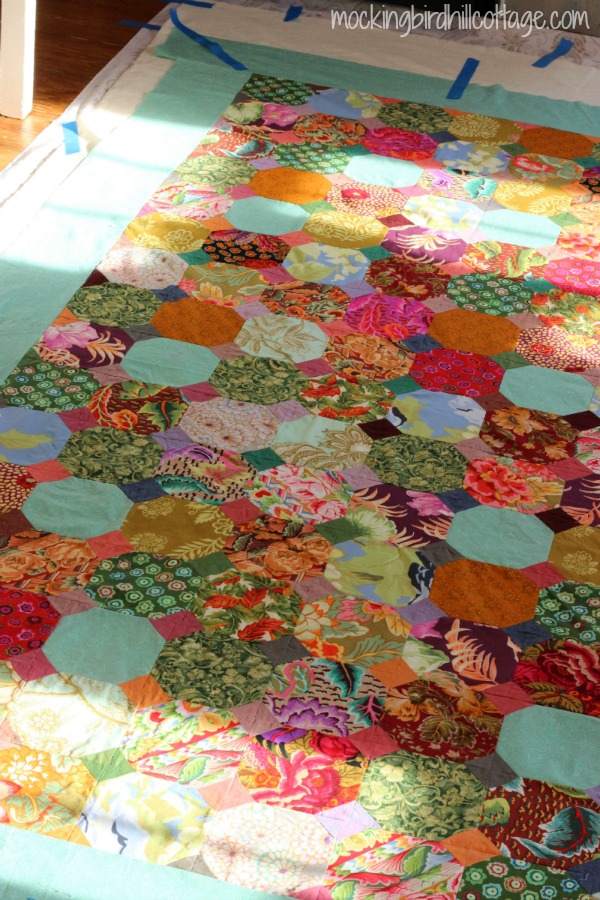 I have a quilt frame out in the shed that I've used for basting purposes in the past. I took a moment to venture out there and briefly considered using it again for this. But it's really long, it's in the back of the shed and it's icy out there, so I went with the floor method. This is the perfect thing to do when Don is away. Keeping Ms. Scout out of the kitchen, however, was another story. There were a few sneaky attempts to walk on the quilt.
And I crocheted another obsession scarf for a customer. Where the heck did I get all this energy? You'll notice I didn't use it for cleaning closets, organizing drawers, sorting through paperwork and…shredding.
Can you blame me?
Happy Sunday.