A little of this and that today.
Thanks for all the wishes for Don. He's really sick and has been running a temperature off an on for two days. Lots of chest congestion, a headache, chills, sore throat: classic flu symptoms.  Don doesn't cope with sickness very well, especially when there is a fever involved, so he has been calling me a lot. It's so hard to be sick when you're far away from home. And though I would love to be able to take care of him, I sure don't want to be in the germ zone. My friends who are in the show with him have been bringing him chicken soup, chicken pot pies (from the Chicken Pie Shop, a long thriving restaurant in San Diego) and medicines. Bless them. One of the MFA students who is in the show with him even brought him a thermometer last night because Don was sure his temperature was alarmingly high. It was 101° – not fun, but not alarming. Poor guy. So keep that positive healing energy directed his way and thank you.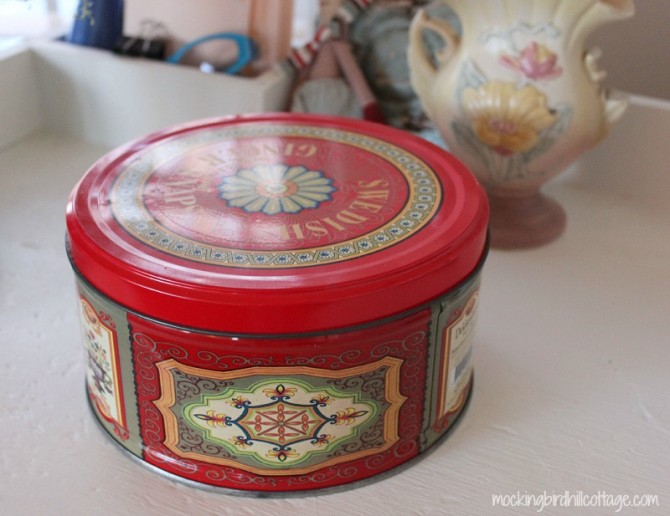 This Swedish Ginger Snap tin has been around here for several years. I don't remember who gave it to me but I can almost taste those ginger snaps! It's been used for all sorts of things in the past. Right now it is my Quilting Tin. After several days of needle packs, thread, rulers, marking pens and other necessities being scattered throughout the den, I decided enough was enough. Now, everything is safely tucked inside the tin at the end of the day.
One necessity for me when I hand quilt is a needle grabber. There are times when pulling the needle through the 3 layers of fabric and batting is difficult, especially when the needle is in the corner of a square where there are even more layers. Needle grabbers are small circular pieces of rubber that you hold around the needle to get some traction and an assist in pulling the needle all the way through.  Try as I might, I couldn't find mine. (The craft closet needs a good cleaning, along with some re-organization.) Then I had a little light bulb moment.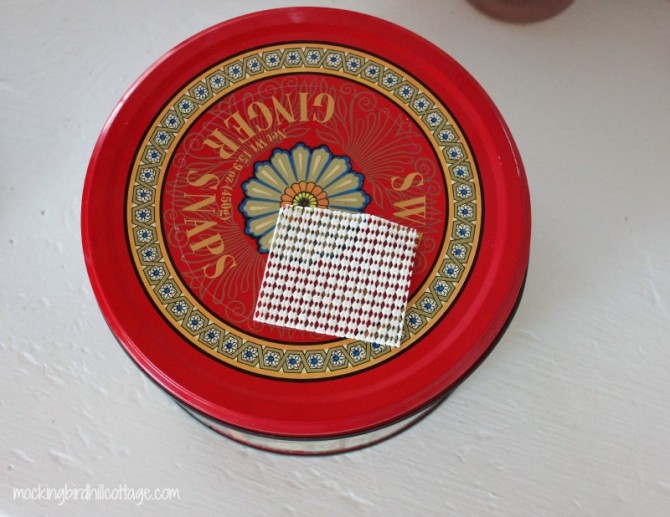 I use this non-skid material for my drawer and shelf liners. I was pretty sure I had some leftover liner somewhere in the kitchen. After searching through several drawers, I found it. (This is also the kind of material used for rug backing.) I clipped a little square and now I have a needle grabber. It works perfectly. I'm sure someone else out there has already thought of something like this but I'm sharing it with you in case you find yourself in the same situation.
I get all sorts of spam in my email every day. I bet you do, too. I am constantly amazed at the efforts nefarious types go through to try to get my personal information. By far the most prevalent are the emails that tell me I have inherited a million pounds or rubles or dollars, or that I have won the lottery in some foreign country.  Then there are the emails that purport to be from my bank or from Paypal or some other site saying that my account has been compromised and if I just click this link and supply some necessary information, all will be well.
But lately I have been getting emails with the heading "Married but Lonely." They are for a site that encourages a little extramarital fling. Ummm……no thank you. Though I miss my husband at the moment, I am true blue. But you get points for audacity, I'll give you that.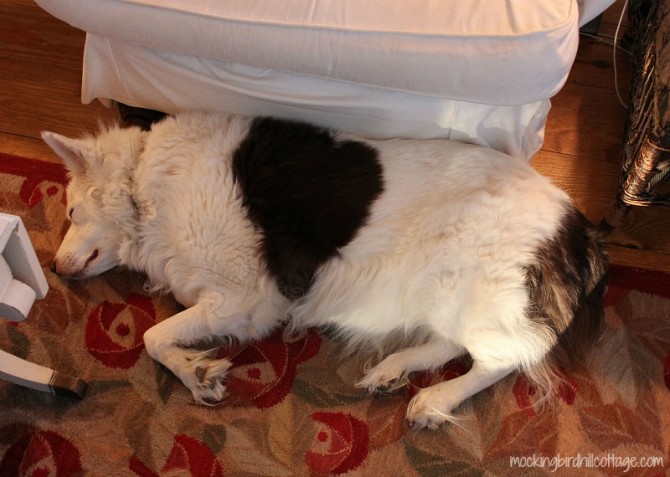 I left my chair this morning to get some more coffee. Scout remained in her tunnel position. When I returned, I saw the opportunity to get the perfect shot of her 'heart' marking. It's a true heart shape. Perfect for her because she's all heart.
Happy Tuesday.