Hello, dear friends! It's week number twenty four of A Favorite Thing. My goodness – that would be 6 months, would it not? How time flies when you're having fun!
We've had a few days of 40+ degree temps. Most, not all, of last Friday's huge snowfall has melted. But never fear, Mother Nature has decided to give us some more snow tonight (1-3 inches) and temps in the twenties for the weekend. I think she doesn't want us to get too complacent. My husband, currently basking in the warmth of Southern California, will be in for a rude awakening when he disembarks from his plane on Monday night.
Let's look at some highlights from last week: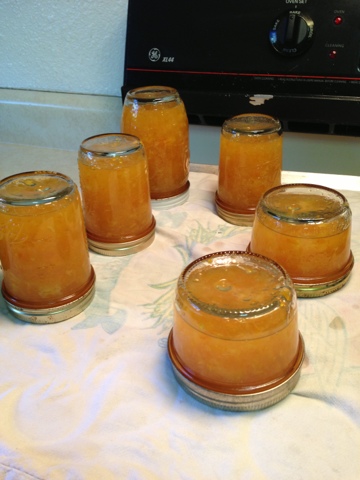 Tina from An Unconventional Life shared her recipe for Marmalade. Oh my – it sure looks tasty! Now I'm craving some. Thanks, Tina!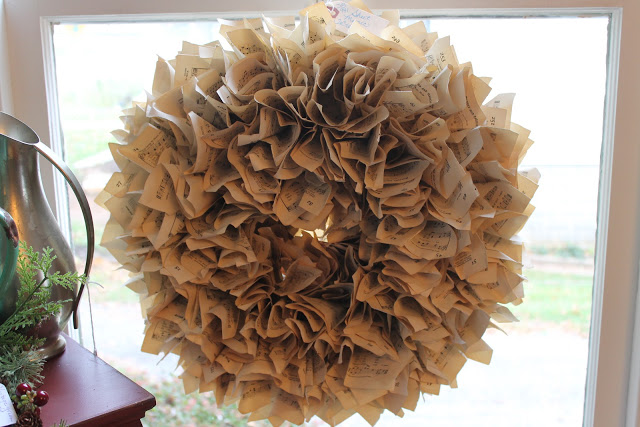 Sharon of Elizabeth & Co., shared her tutorial for making this gorgeous Ruffled Sheet Music Wreath. And I mean gorgeous! I just may have to try this, Sharon. Thank you.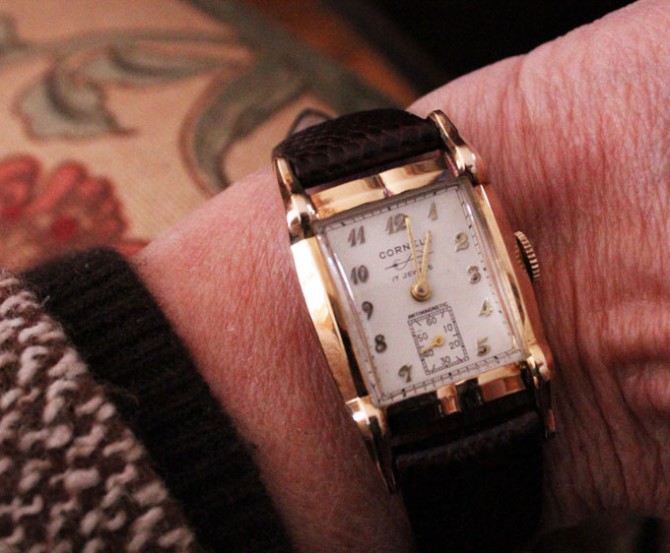 And County Line Road – a true collector – shared this beautiful vintage Cornell watch that she found at a flea market. A new band, a little work and it's working beautifully. Isn't it beautiful? Just my style!
I've been busy painting and redoing our bedroom and one of the photos of my dresser brought to mind my favorite thing for this week. And, as always, there's a story behind it.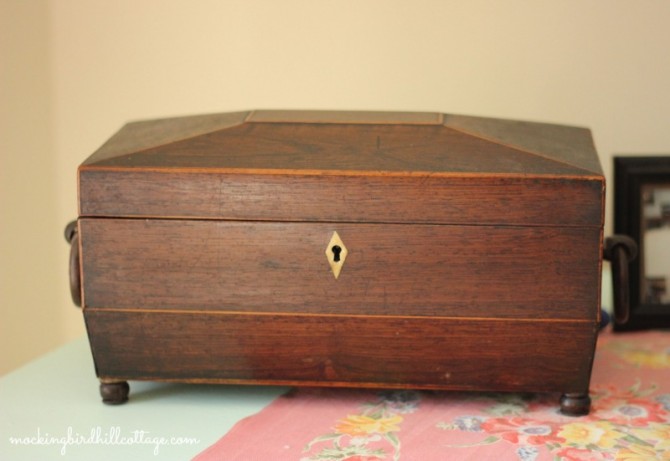 This is one of my most precious possessions. It was my great grandparents' tea chest. It's handmade and quite beautiful. From the time I was a young girl, I used to stare at it when I visited my grandmother. It had a home on her corner what-not shelf. It wasn't until years later, when I inherited it, that I fully realized what was in it.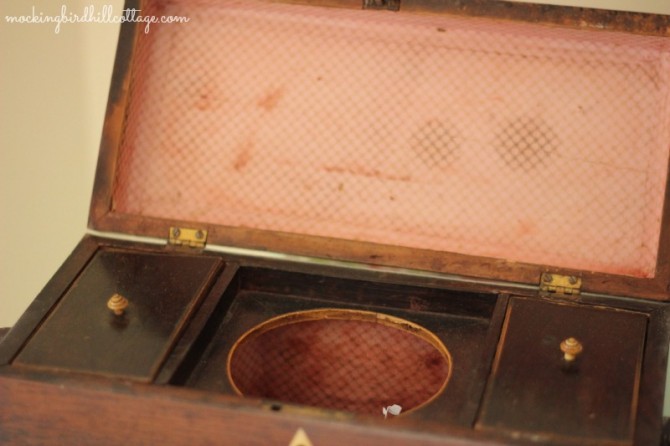 This is what it looks like when opened. Those little knobs are sea shells. Obviously at one time it held tea, but now it holds a different type of treasure. There's a mother of pearl zither pick. A miniature ax carved from wood. There are pennies. And shells. A lock.
And there a cards and notes and lists. A copy of my great grandfather's will. A note from my mother to my grandmother apologizing for doing something wrong. A tintype of my great grandfather with the words "Do You Remember Me?" on it's cardboard frame. My grandmother's certificate qualifying her for entrance to her high school. My great-aunt Rhoda's grades.
For me, the saddest things by far are these cards: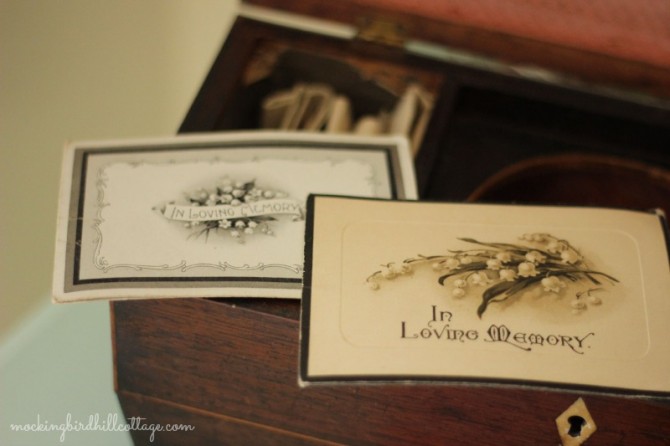 There were 5 children in my grandmother's family. As I've mentioned, they lived on a farm in Orillia, Ontario. The children were Bill, Maggie, Carrie (my grandmother), Ruth and Rhoda. Rhoda was the youngest and she was the apple of my grandmother's eye. I have many of her letters to my grandmother, sent while my grandmother was attending nursing school in Barrie, Ontario. You can really get a sense of her lively, enchanting personality by reading them. Maggie, who was older, was quiet and retiring, most likely because she had a hunchback, and in those days not enough was understood about that kind of thing. The terrible flu epidemic that started in 1918 hit the family very hard. The children took sick. My grandmother came home from nursing school to help. She almost died. These cards show the terrible cost of that epidemic. Rhoda died at the age of 15 on February 14, 1920. Exactly 10 days later, Maggie died at the age of 29.
My grandmother never got over it. Meredith has Rhoda's doll. I have Rhoda's copy of Alice in Wonderland, her letters to my grandmother and this, also in the tea chest: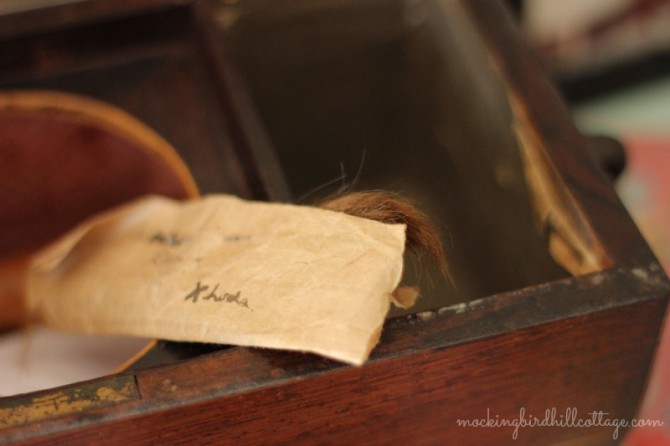 A lock of her hair.
I've written about this chest before, but every time I speak or write of it, I am consumed by sadness. Now you see why I treasure this tea chest. Grandma never spoke about what was in it. I am honored to be the keeper of these memories and will pass it on to future generations.
Now, my friends, it's your turn.
You can link up anytime from this evening through Sunday. Make sure you enter the URL of your post. If you're unsure how to do that, just click on your post title after you've published it and copy the information in your browser address window. Come back here, paste the URL into your link entry and there you go! If you have any problems, drop me an email and I'll help you out. Please link back to this blog on your post. That way, those that read your post and are interested in reading more can do so.

One of my concerns about link parties is that the very reason for them has somewhat gone by the wayside. They've become so big and there are so many of them that many bloggers don't take the time to visit any of the other participants. Link parties are a way to meet new bloggers and share with each other and the only way to do that is to visit each other. So, please, take some time to visit everyone over the next few days. No rush. Stop by, introduce yourself, and leave a comment. It's the neighborly thing to do. It's also nice if you leave a comment here, as well.
Enjoy!