Some of you will remember when I found a cabinet for the studio via Craigs List. A fellow resident of my little town was selling it, the price was good and the next thing Don knew, he was helping me lug it home and then up the stairs. Here's what it looked liked (from the article on my studio in Studios magazine):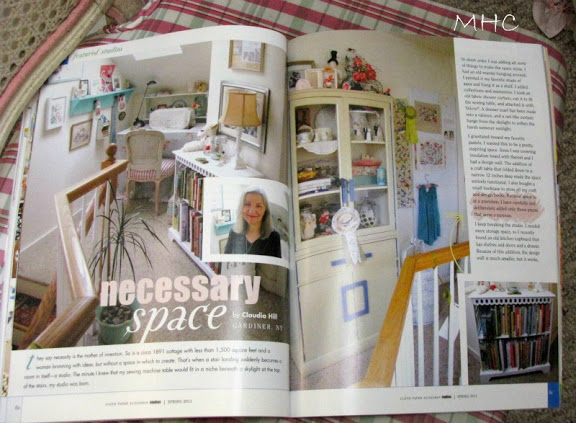 It was painted in a khaki color and the  funky homemade handles were painted in a darkish blue. Another view from the day I brought it home: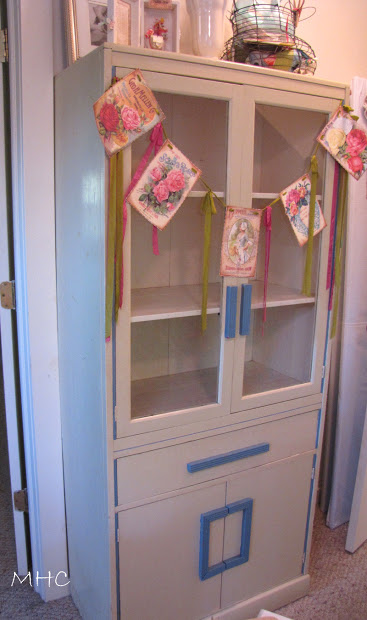 I talked myself into thinking it looked just fine as is, most likely because I was too lazy to paint it at the time. And it was fine. But the colors really weren't me – and they didn't really fit in with the pink and aqua look of the rest of this mini studio.
In my painting frenzy, I decided to take on the cabinet. I used some paint that I had on hand from another project.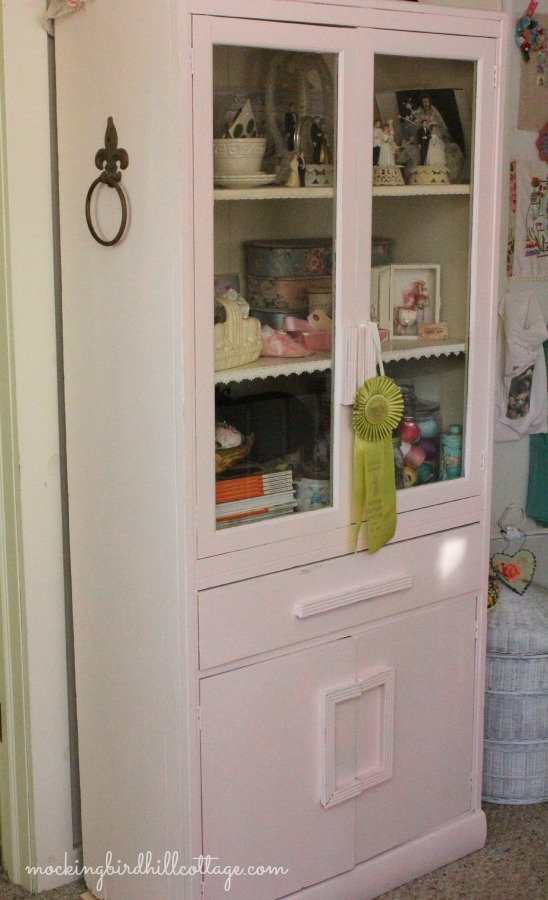 It's now a very pale pink. So much better. I purposely left it a bit weathered and let some of the original paint show through in places. I'll probably do more aging as time goes on – or just let daily life upstairs in this narrow hallway take care of the aging.
It's hard to get a good photo. If I want to take a picture, I have to do it at an angle. Or shoot through the spindles: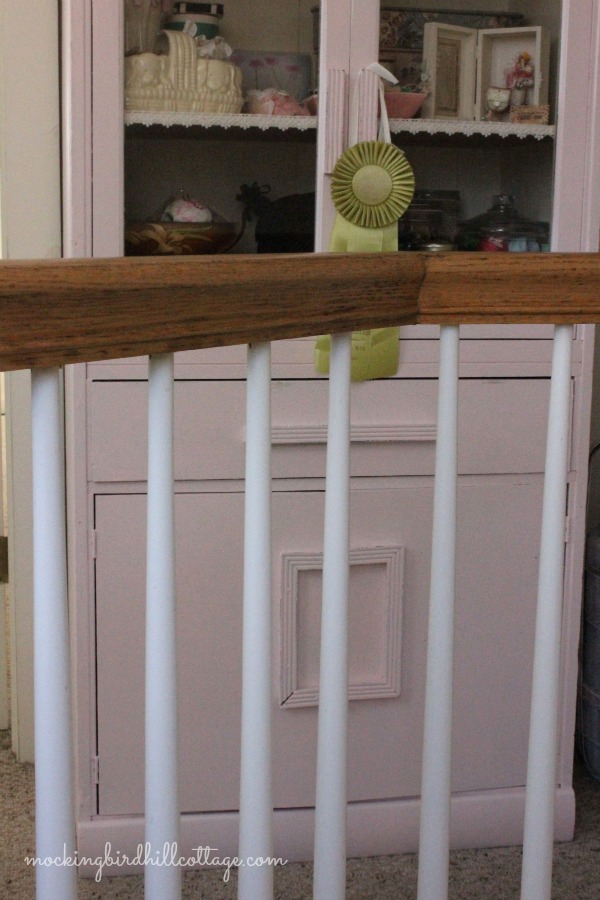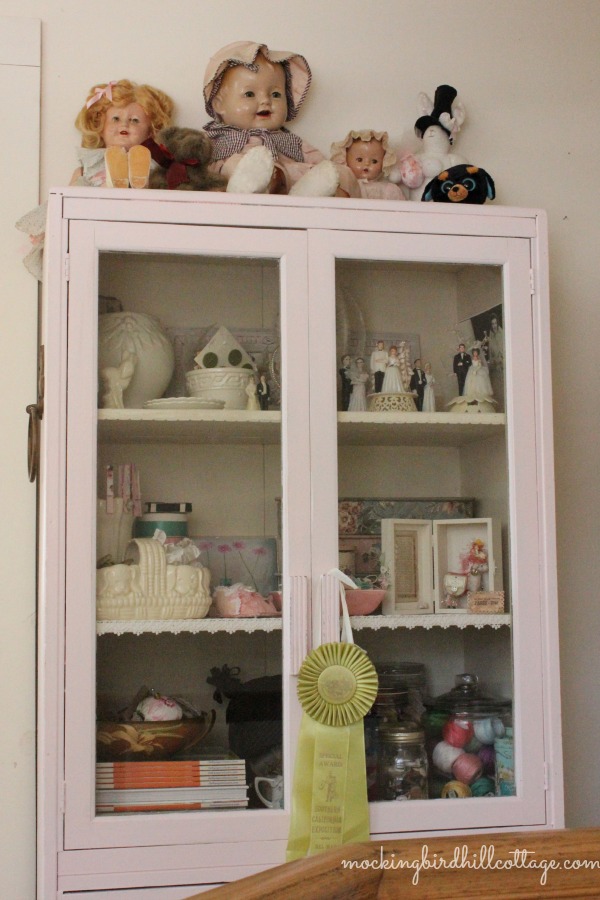 I moved the dolls from their previous home on the top of the bookshelf in the bedroom. I like them better here.
From the left: my mom's Shirley Temple doll (I've given up on trying to restore her banana curls), my favorite teddy bear (who travels with me), my beautiful Tressa with two left feet (you can read her story here) little Emma (she has a story, too, you can read it here) a bunny I won in a giveaway, and my little stuffed dog, Billy Rubin, given to me by Don when I had gall bladder surgery – get it? Bilirubin = Billy Rubin (name courtesy of Elyse.)
Inside the cabinet: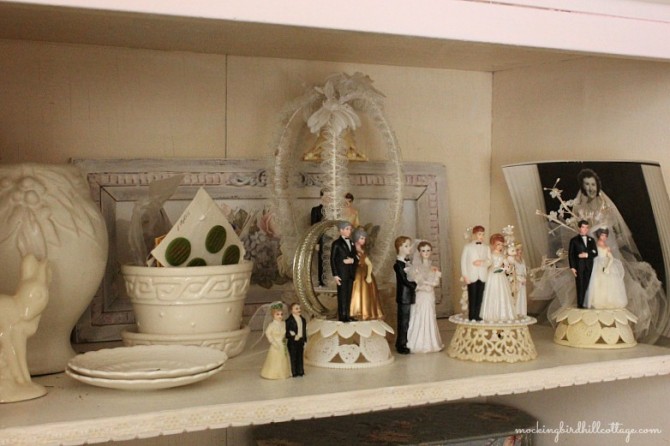 Pottery, buttons, a framed print, my wedding cake toppers and a photo of my mom on her wedding day.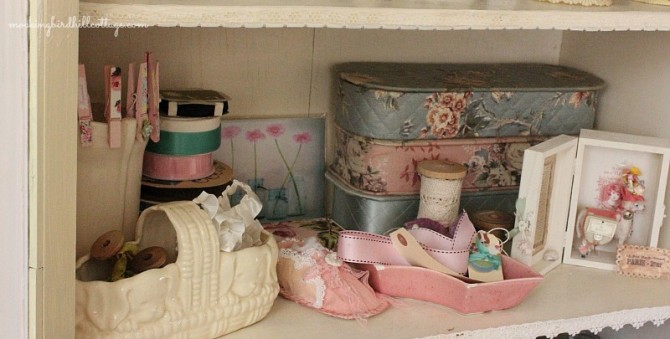 Pottery, pretty clothespins, ribbons, one of Georgianna's photos (from Brenda), glove boxes, treasures.
Pottery, pincushions, thread, floss, buttons, ribbons, my favorite vintage hat and a tiny bird nest.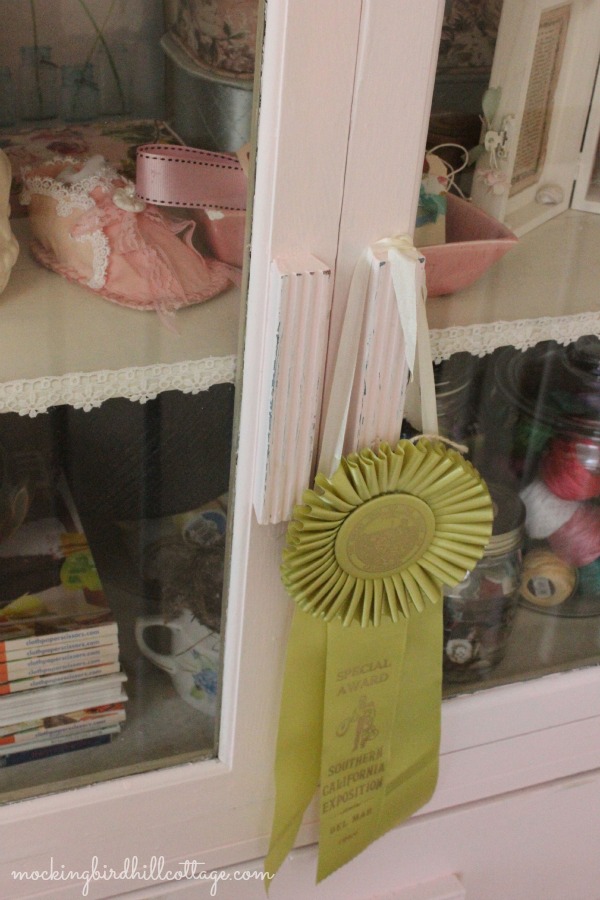 And a pretty vintage prize ribbon.
The new look really lightens up the studio, which, let's face it, is tiny. Since it's in the upstairs hallway, I want to keep it light and bright and cheery.
That may be it for the painting, my friends. At least until I discuss the dresser with Don. I'm leaning toward trying to restore it a little. But, keep in mind, one of the drawers doesn't always open. We'll see.
Oh, right. It's Valentine's Day. I keep forgetting. Don and I really don't make a big deal of V Day because we say I love you many times a day, every day. I'd even go so far as to say that every day is Valentine's Day for us. (Hope that doesn't sound too sappy!) But the love that Valentine's Day symbolizes? That is indeed a wonderful thing. So Happy Valentine's Day to all of you. I treasure each and every one of you and am so grateful that you want to spend a little portion of your day here. I wish you nothing but love and happiness.
Happy Thursday.