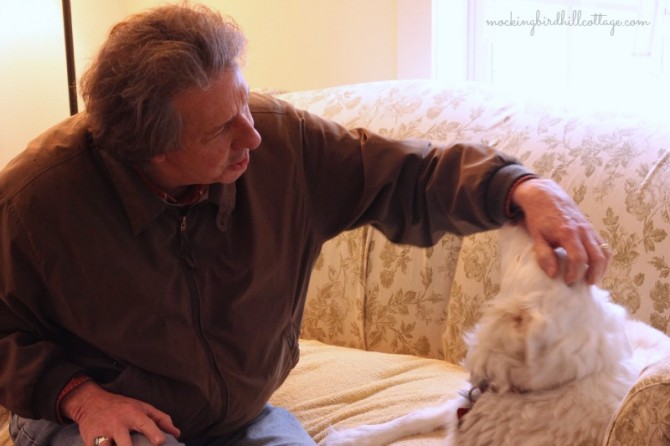 Don and Scout just after his arrival home. She had been sleeping and was groggy. It took her a while to realize that her dad was actually in the room with her.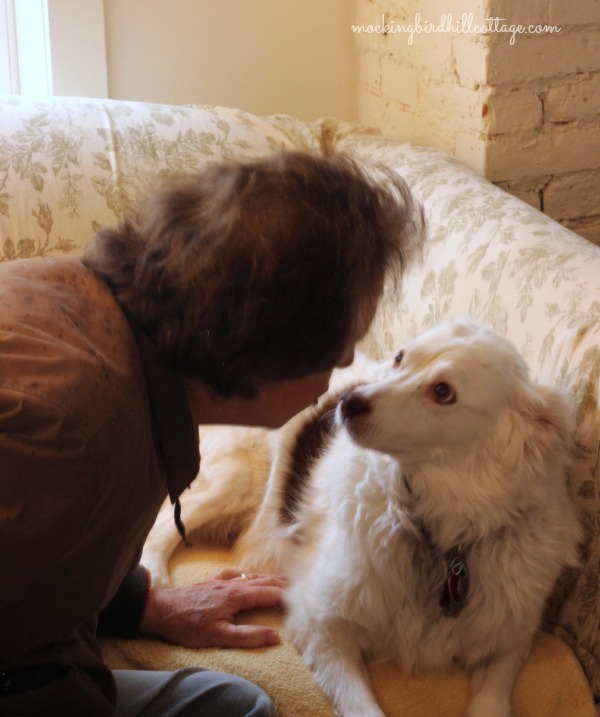 Right after this moment in time, she gave him a big old kiss.
Then she started dancing around.
He's home. More than 24 hours after he left San Diego, his bus pulled into our local station. Poor Don.
We still don't have his suitcase. Oh yes, the saga continues. Since his connecting flight was canceled, he was assured his luggage would be on the next flight. 3 or 4 flights later – no luggage. Isn't US Air merging with American Airlines? One can only hope that it will be for the better. Because, let me tell you, they've managed to screw up just about everything.
Now we go through the re-entry phase. The one where two married people who have been separated for 2 months and are used to their own particular routines have to adjust and move and get used to another human being sharing their space. Always happens. It takes a while.
Don was depressed by the gray, wintry and rainy day he came home to – quite a difference from San Diego. Here's hoping for some sun to help brighten the gloomy landscape.
In the evening, the three of us nestled into our usual positions on the sofa and watched Skyfall. We love Daniel Craig as James Bond. The movie did not disappoint – great plot and beautifully filmed. And Javier Bardem – he's such a good actor and such an interesting villain. He is amazing. As is one of my all-time favorite actresses, Judi Dench. I just found the second volume of her autobiography at our local library.
Since we have it for 48 hours via pay-per-view, we're going to watch it again tonight. And Don is going to watch the movies I've already seen, the ones that were sent to us by the Screen Actors Guild, in preparation for the Oscars on Sunday.
Don got rave reviews for his performance as Doolittle in Pygmalion. He thinks it was one of the best things he's ever done.  Everywhere he went, people who had seen him in the show came up to him to tell him how much they loved his performance. Even in the airport! I'm so proud of him.
I say this with all honesty. He is one of the best actors I've ever seen. I first saw him onstage at the Globe when I had flown out to San Diego to interview for the teaching job I would eventually be hired for. He was performing in the play, Morning's at Seven. I remember thinking what an interesting and wonderful actor he was. The next summer, after I'd been working there for the school year, he came to the Globe to play Malvolio in Twelfth Night. It was one of the most amazing performances I have ever seen. Brilliant, funny, touching. So I'd already seen him perform when I finally met him. I'm a sucker for talent. Then I found out he was not only talented, but funny and kind and compassionate and smart. I was a goner.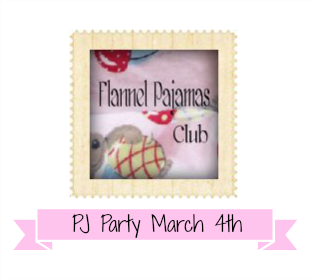 Okay. Change of subject. A while back, I promised some sort of Flannel Pajamas Party this year. I still want to do it. Do you? I was thinking March 4th, which is a Monday. It will be a one-time only party and each of you can link up with a post about your flannel pajamas. Or nightgown. Or even your favorite cotton pajamas if you live in a warmer climate. Tell us how much you love your PJs. Do you, like me, use any excuse you can to wear them? Have you ever thrown a coat over them to run an errand? Guilty as charged. Have you gardened in them? Guilty. Painted? Guilty. Had hot chocolate? Guilty. Do tell.
I vow to use a photo of me wearing my flannel pajamas. Will you?
What do you say? Let's toast our flannel pajamas and the comfort and warmth they provide.
So put the date on your calendar. I'll remind you of the party as we draw closer to March 4th.
Happy Wednesday.