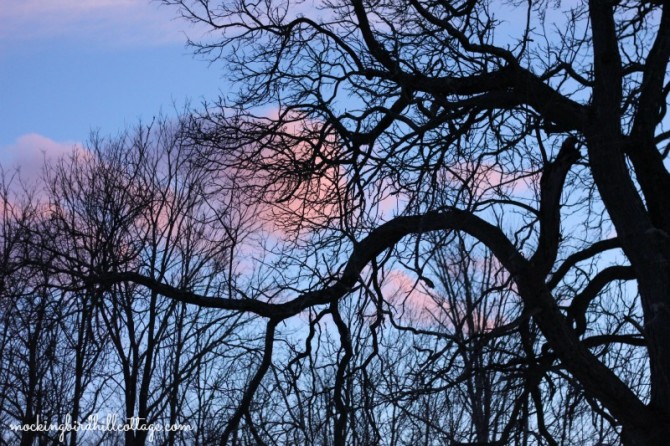 Though I'm well and truly sick of winter, I must admit the beauty of bare tree branches against a sky filled with puffy pink clouds is breathtaking. It's all in the timing, isn't it? I just happened to be letting Scout out as the clouds turned pink and the sun started setting.
Speaking of Scout, we had a rather tough night last night. Shortly before bedtime, I noticed she was limping. I assumed it was her arthritis. She seemed to be in some pain. I finally realized, just as I was about to make my way upstairs to bed, that she'd torn a nail. It was still attached, but barely. Whenever I touched it, she started trembling. I called the vet's – they always have a doctor on call – and he told me to wrap it (I already had) and that it would wait until this morning. Poor baby. It hurts her. I ended up sleeping downstairs on the sofa so I could keep an eye on her.
Not too comfortable. So I'm a wee bit sleep deprived.
Don doesn't arrive home until late tonight – past my usual bedtime, in fact – after having been in California for nine weeks. He's excited to be coming back home and we're excited to have him here once again. Life in the theater sometimes requires long periods away from home. I'll be gone for five weeks in April and May. And who knows what other jobs lie in store for him? We are truly happy being in each other's company, so separations are never easy.
Thank you, thank you for all the lovely comments you left on my Five Years of Blogging post. They warmed my heart. If you didn't happen to see it, you can click on the link or simply scroll down one post. I'm giving away an Obsession Scarf to one lucky commenter. I think I'll keep the comments open until Friday night. Then I'll choose the winner. Good luck!
This will be rather short as I have to call the Vet's and, perhaps, cancel another appointment. I want my girl feeling tip top for her father's homecoming!
It may officially be a holiday, but it's a full Monday for me!
Happy Monday.