I've painted a lot of furniture in this cottage.
I don't think I realized the extent of it until I was sitting here in my blogging chair yesterday. I looked up and saw the television cabinet, my little corner desk, the lamp table by the sofa – then, looking into the living room – the table the dollhouse sits on, the kitchen table, and the kitchen island. And upstairs? Well, I'm just completing my painting binge and it includes two bedside tables, a dresser, a sideboard. a blanket chest and the cabinet in my studio.
Time to pull in the reins.
Some more shots of bedroom changes: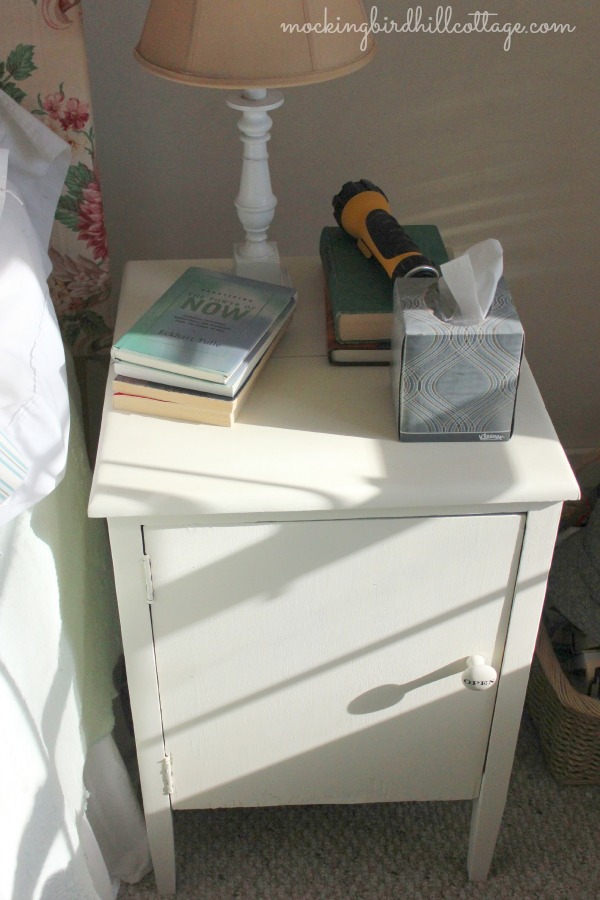 This cabinet is made of oak, but the top was replaced by something inferior long ago. It has shelves inside, rather like those of a music or flat file cabinet. Don gave it to me years ago because I needed a bigger bedside table. Now it's on his side of the bed. The wood was not in great condition and, frankly, I was sick of the oak. Painted. I briefly considered adding an applique that I have to the center of the door. It would have added a French touch. But, hey, this is Don's table and I don't think he needs or wants that sort of frou-frou. (Note: one coat of primer, three coats of chalk paint. Not very cost effective, in my book.)
See where the veneer had peeled off? Paint helps to disguise that. I changed out the knob to one that I bought at Michael's a year or two ago. I've been waiting to find the right place to use it. I think I found it.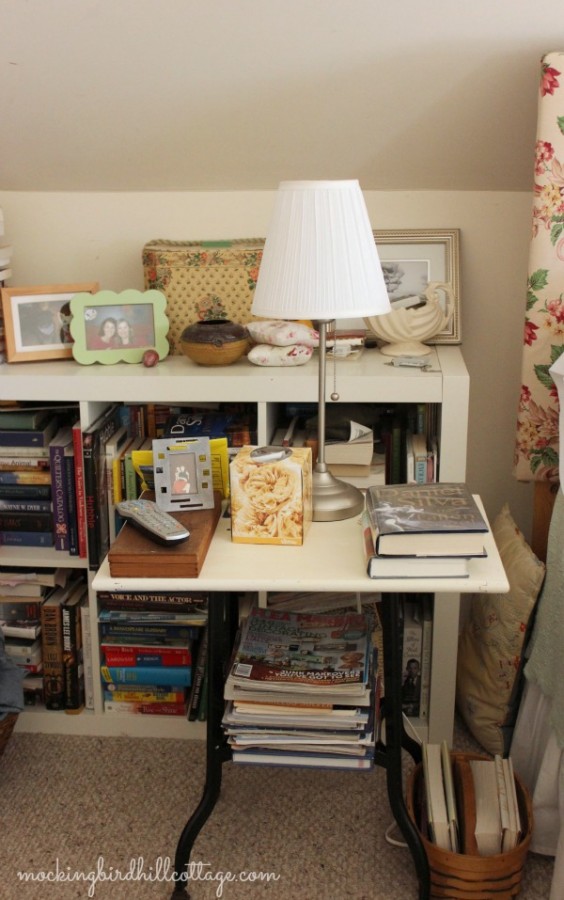 Here's my side of the bed. That's an old typing table that I use as my bedside table. The top was painted a dark brown, so I lightened it up with the danged chalk paint. Still not a fan. You can see, again, our sharply sloping ceiling and what a pain it is to work around. If we didn't have a headboard, we would never be able to sit up in bed and read. But the headboard means the bed sits out a bit from the wall. (I store our luggage in that space between the wall and bed.) Several years ago, I bought an Expedit bookcase from IKEA to fill in the space next to the bed. I needed a place to store some of my books. (We won't talk about the boxes of books in the shed.)
It also provides a display space for photos and treasures. Among them you'll see a photo of my sister and me, our dearly missed dog, Winston, with Scout, and a black and white photo of a rose taken by my late brother. On the bedside table is a tiny photo of my brother and me that I treasure. I'll take a picture of it someday soon and share it with you.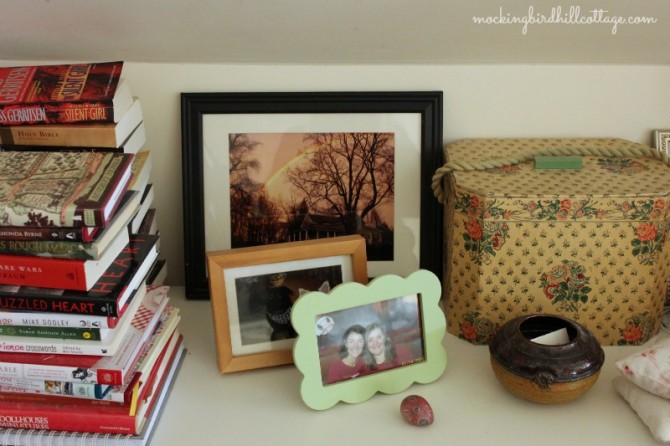 I added the framed photo I took of a double rainbow over the cottage. My vintage hatbox is one of my favorite things.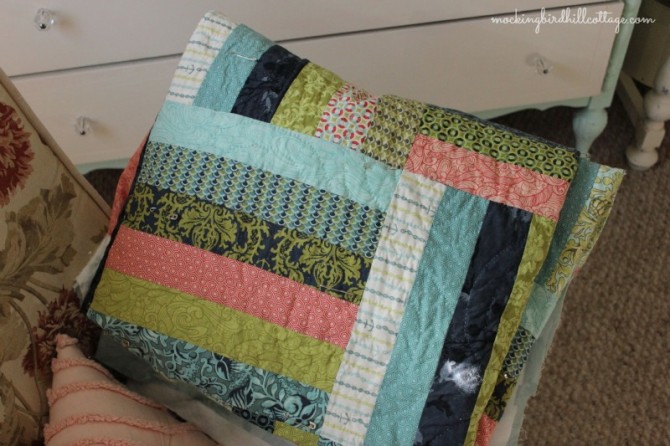 This is the other quilt that I made 3 years ago in San Diego. I quilted about ¾ of it and then I stopped. I blame the darned Obsession Scarves. After I finish the bed quilt, this one, which is the size of a large wall hanging or throw, is going to be finished. Gosh darn it, I wish we had more wall space in this bedroom because it would look really striking on the wall. The colors are perfect for this space.
My reality shot for the day: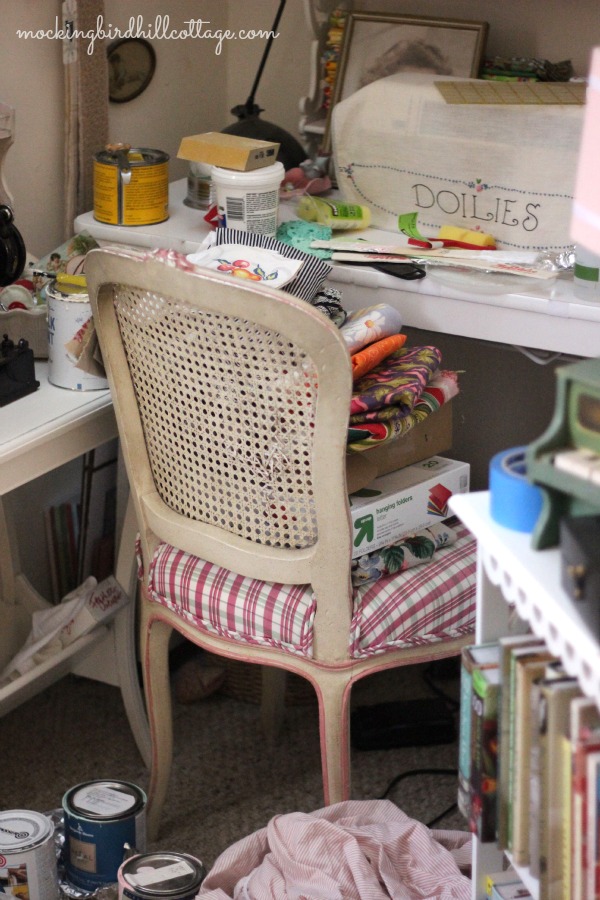 My un-pretty studio. It has become the place where all the paint cans, stirrers, sanding blocks, old sheets, drop cloths, wax and paint brushes are stored.
Oh, I lied. I have another reality shot.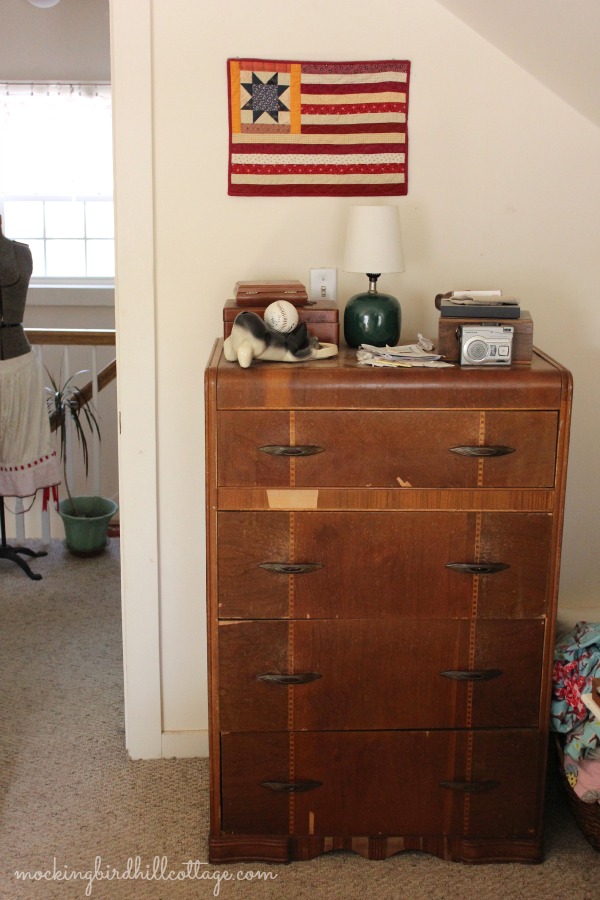 This is Don's dresser.
We bought this piece from a vintage store in San Diego. At the time it was in pretty good shape and we loved the 1930s look of the piece, with the inlaid wood and different finishes. (It's the same sort of piece as the china cabinet in the den.) But the veneer has come off on various parts of the dresser. Those handles, by the way, are keepers. That's Bakelite in the center of each handle.
Side note: I'm not an Americana-y type decorator. I'm not at all drawn to anything done in red, white and blue. But the quilted flag is another story. I made that for Don many years ago because we met on the Fourth of July. He insists on hanging it above his dresser. And those are my flannel pajamas in a basket on the right. That's a McCoy dog on the dresser and it was actually intended for just that thing. It has a little tray to hold cufflinks, etc.
So. Advice please. What the heck do I do with the dresser? Don tells me I should get rid of it. But then I have to find something else to replace it. Is there a way to refresh this piece? Should I paint it? Someone suggested painting it in the same way I painted my dresser, but I don't like matchy-matchy pieces. It needs it's own individual treatment. What do you think?
Happy Wednesday.