The trouble with having a blog is that it is a daily journal. For me, it's an honest chronicle of my days here at the cottage – for better or worse. It can be joyful or sorrowful. It's always cathartic. But, it also serves as a reminder of what happened a few months back or a year or two ago.
Yesterday, while I was responding to comments, I glanced at the "You May Also Like"  links at the end of that post. One of them was entitled, "Riley and Scout: The State of Things." I clicked onto it and there, right in front of me, was a photo of Riley, taken six weeks before he died, laying down on the mat we had fashioned for him in the living room.
I burst into tears. Not gentle tears, but great, huge sobs. I couldn't stop. I was reminded of my boy's struggle and of our struggle and of all the love I have for him and I wanted him back. As I read the post and the comments, I was immediately plunged back into that time last summer when we knew the end was in the not-too-distant future, but also knew it wasn't time yet. That time when I fashioned a hospice here in the living room and I spent my days taking care of him.
Oh, how I miss him.
That photo of him sleeping on the mat filled me with sadness and at the same time made me long to be able to stroke his sweet face again. Crying is a good thing, I know. It just took me by surprise yesterday.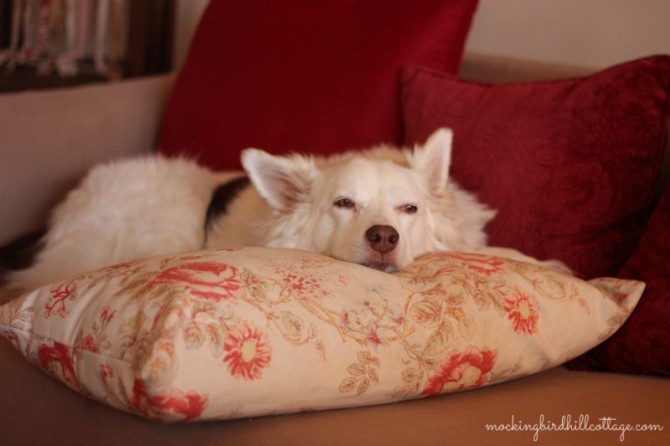 I'm so grateful that I have this girl, my Scoutie, with me. She misses him, too.
Oh, how hard it is to lose a beloved companion.
Okay, let's move on to cheerier things.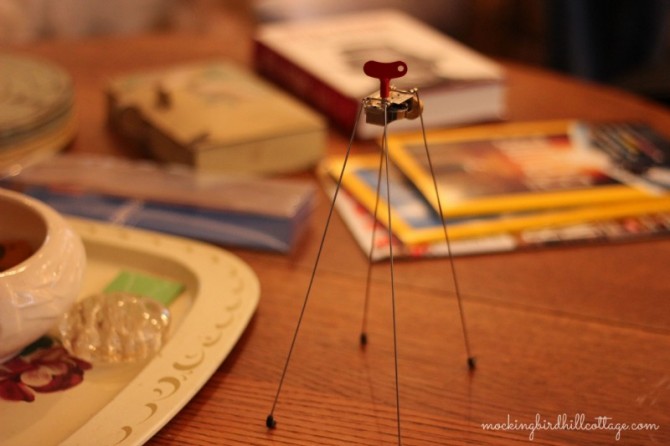 Don received this as a little Christmas present when he was in San Diego. It's called a Critter. You wind that key and it walks. Actually, it walks in a jittery kind of way. It's so cool. We were sure Scout would be intrigued by it, but she is indifferent to the whole thing. I, on the other hand, love winding it up and seeing what happens. Guaranteed to put a smile on my face.
And, finally, a question.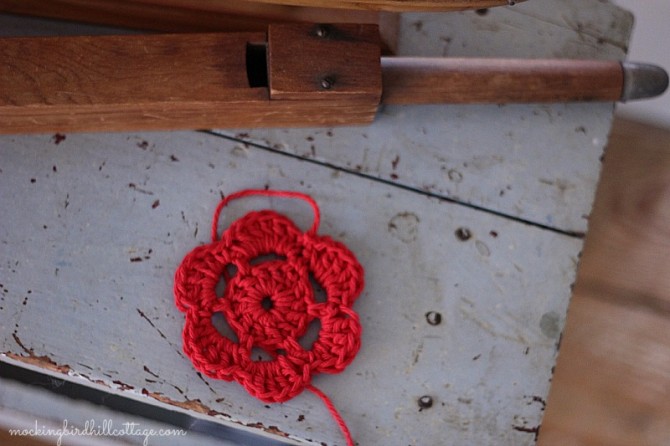 This flower is about 3 ½ inches wide. I used Peaches & Creme yarn because it's a little stiffer and seems to work well for these garland flowers. Do you think that size makes it too big for a garland? It's probably about twice as big as the aqua flowers in my other garland, which now that I think of it, are on the small side. Thoughts?
Thanks in advance.
Just wanted to add this link from the PicMonkey Blog, Claim Your Artistry by Adding a Watermark. I already knew how to add a watermark at the time I edited a photo. What I found valuable about this link was the last section, entitled Making a Transparent Image to Watermark Many Photos. This is a real time saver. It might be helpful for you, too.
Happy Thursday.