It's time for A Favorite Thing again – week number 28. How nice to visit each other and read about our favorite things – especially at the end of a somewhat dreary and cold week here in the Northeast! Before we begin, I want to say that I'm perfectly happy if you link to more than one post for this party, as some of you are doing. No problem! But I will only comment on one of the posts. Since I visit everyone who takes part and leave a comment, I think one comment per participant is fair. I hope you don't mind!
Let's look at some highlights from last week: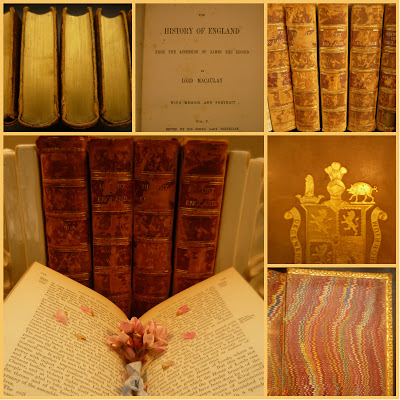 Roses, Lace and Brocante shared a post with the title A Home Needs Books. I couldn't agree more. Shane has inherited some beautiful vintage books from her father, including The History of England, published in 1870. Simply gorgeous.
Lucy of Heart and Hearth, shared several spring-type things, including this project, made while a child was sick at home for the day – tulips made out of egg cartons. Adorable.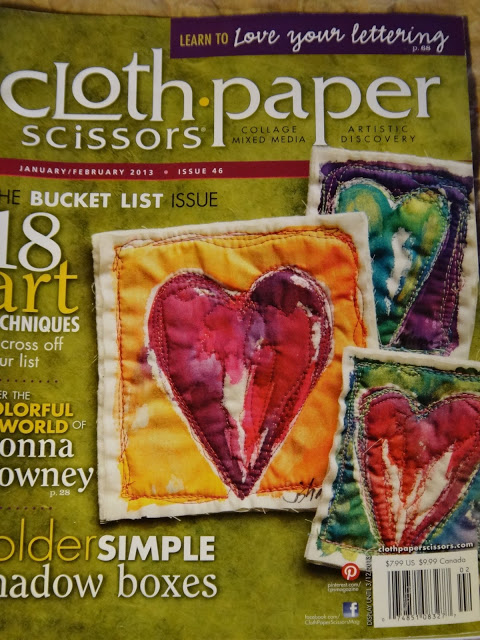 Tammy, of T's Daily Treasures, shared another favorite thing – magazines! Yes, we all love magazines, but you have to take into consideration that Tammy lives in Kuwait, where there are no libraries and where bookstores are subject to censorship. That makes this find, discovered in a stationary shop, all the more precious!
Thank you all for sharing your treasures with us last week.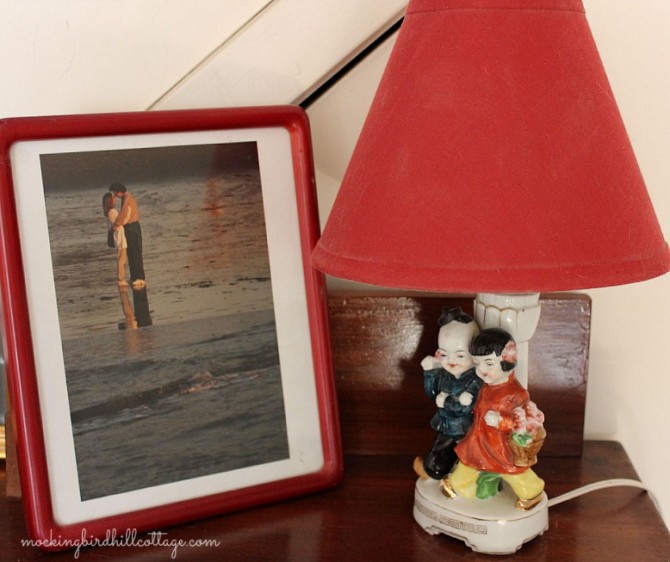 My favorite thing this week is really two things, though it was meant to be one. I started with the lamp on the right, which has been a favorite of mine since we found it in a little antique shop several years ago. It came with a shade that really didn't match and it took a while until I found this little red shade. I love quirky little lamps and this one makes me smile. It's on the desk at the bottom of the staircase and provides a warm light in the evenings.
But hey, on the left is a treasured photo of Don and me taken on the beach in San Diego. There's a long story about it  that you can find elsewhere on this blog. Short version: we had been dating about 8 months and were at our favorite beach. (I can't even begin to dwell on how much younger we look here. Or how much skinnier.) A photographer from the San Diego Union Tribune took our photo and wanted to use it in an article for Valentine's Day. Since we were keeping our romance quiet at that point – we worked at the same theater and I also had students working there – I decided that it wasn't a good idea to have our photo splashed on the front page of the paper. We wanted a copy of the photo but the photographer said that he couldn't legally give us a copy if we didn't consent to having our names published in the paper. Oh well. I left town to audition students for the program and when I came back (on Valentine's Day) Don surprised me with this photo. In his oh so charming way, he had managed to cajole the photo out of the nice photographer. It's priceless to me.
Okay! Your turn.
You can link up anytime from this evening through Sunday. Make sure you enter the URL of your post. If you're unsure how to do that, just click on your post title after you've published it and copy the information in your browser address window. Come back here, paste the URL into your link entry and there you go! If you have any problems, drop me an email and I'll help you out. Please link back to this blog on your post. That way, those that read your post and are interested in reading more can do so.

One of my concerns about link parties is that the very reason for them has somewhat gone by the wayside. They've become so big and there are so many of them that many bloggers don't take the time to visit any of the other participants. Link parties are a way to meet new bloggers and share with each other and the only way to do that is to visit each other. So, please, take some time to visit everyone over the next few days. No rush. Stop by, introduce yourself, and leave a comment. It's the neighborly thing to do. It's also nice if you leave a comment here, as well.
Enjoy, my friends!