Welcome to A Favorite Thing #29. I'm so glad you're here.
Before we start, I want to remind you that being a part of this weekly get together doesn't entail a lot, but it does require a few things of you.
Your post has to be about a Favorite Thing.
You need to link back to this blog.
It's only polite to leave a comment on this post. If you were at a real party, you would certainly thank the hostess, right? I've been guilty on this point a few times myself, as I was linking to a party, usually because I was in a hurry. I won't make that mistake again. So leave a comment. I don't want this to become a place where people simply link up to get hits and never stop to say thank you.
I also fervently hope that you will visit everyone taking part, as best you can, on any given week. I know that it takes time. You have a whole week. I visit everyone and I have a good idea of who is commenting and who isn't. If you want people to visit your link and comment, then you should return the favor.
And finally, this is a way to meet new and old blogging friends and share our stories. I have always wanted this party to be small and intimate. I do not mean this to be an impersonal way to get hits on your blog. There are already enough parties like that out there in blog land.
Most of you, bless you, are really wonderful about visiting everyone and I thank you for that. Your generous spirit makes this a lovely weekly event. I aim to keep it that way! Okay, end of not-so-gentle reminders.
_____________________________________________________________________________________
Highlights from last week: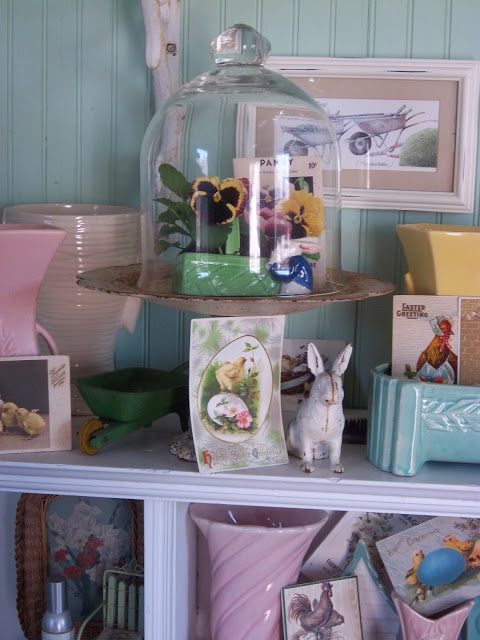 Ann, of A Sentimental Life, shared some beautiful vintage Easter cards and her lovely cloche and vignette with us. Ann loves McCoy Pottery as much as I do and I love seeing hers on display.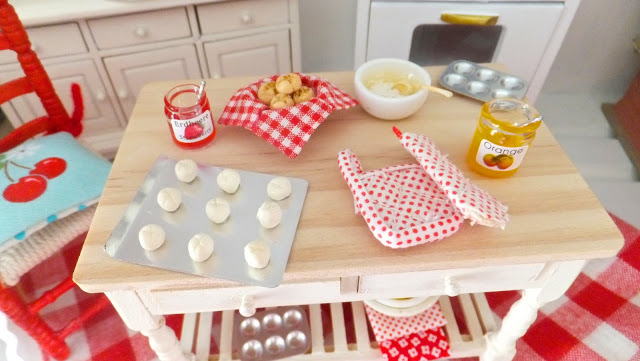 Susan, of Ash Tree Cottage, has been making miniatures for her dollhouse. Look at her wonderful minis!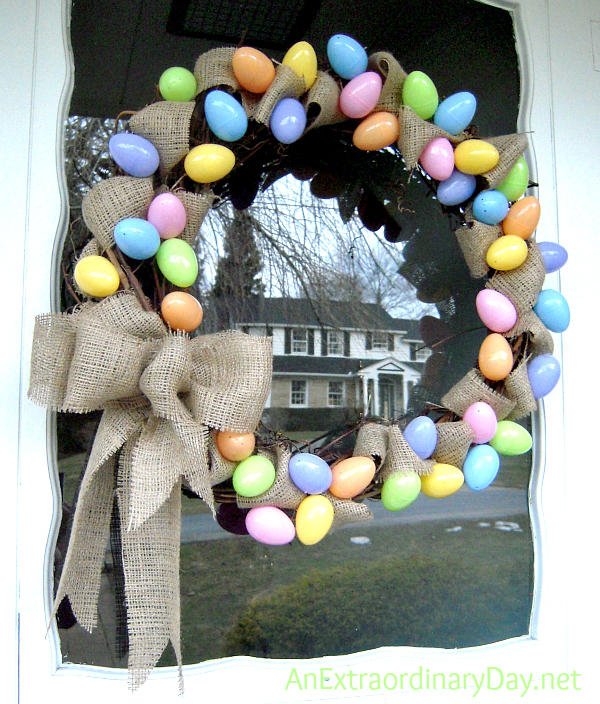 Diane of An Extraordinary Day, shared an easy Grapevine and Burlap Easter Egg Wreath Tutorial. Isn't it lovely?
As always, thank you for sharing your favorite things with us every week.
___________________________________________________________________________________
I've been sharing my Vintage Egg Cup collection with my readers this week. Each day I've chosen 2 or 3 egg cups to highlight. So, in keeping with that, my favorite thing this week is: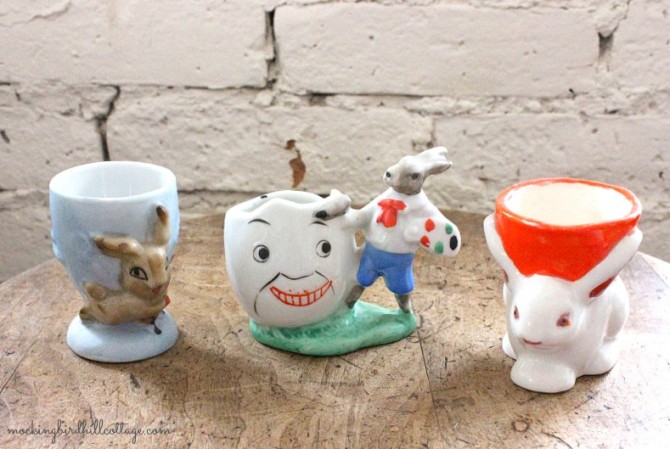 Left: A bunny on a pretty blue egg cup.
Center: One of my absolute favorites, a Painter Bunny with palette and paintbrush. painting an egg.
Right: A sweet white bunny holding an orange egg cup.
Now it's your turn.
You can link up anytime from this evening through Sunday. Make sure you enter the URL of your post. If you're unsure how to do that, just click on your post title after you've published it and copy the information in your browser address window. Come back here, paste the URL into your link entry and there you go! If you have any problems, drop me an email and I'll help you out. Please link back to this blog on your post. That way, those that read your post and are interested in reading more can do so.

One of my concerns about link parties is that the very reason for them has somewhat gone by the wayside. They've become so big and there are so many of them that many bloggers don't take the time to visit any of the other participants. Link parties are a way to meet new bloggers and share with each other and the only way to do that is to visit each other. So, please, take some time to visit everyone over the next few days. No rush. Stop by, introduce yourself, and leave a comment. It's the neighborly thing to do. It's also nice if you leave a comment here, as well.
Enjoy!