Welcome to A Favorite Thing #30! Thirty sounds nice and solid, doesn't it? Hard to believe we've been getting together  every Friday and Saturday for thirty weeks. Before I forget, if you celebrate Easter, have a happy one.
Highlights from last week: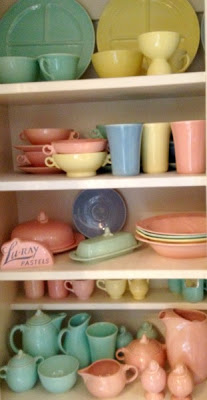 Jillian's collection of LuRay Pastel Dinnerware. Gorgeous. I have always admired her collection, which is beautiful any time of year, but especially at Easter time! Jillian blogs at Bella Rosa Antiques.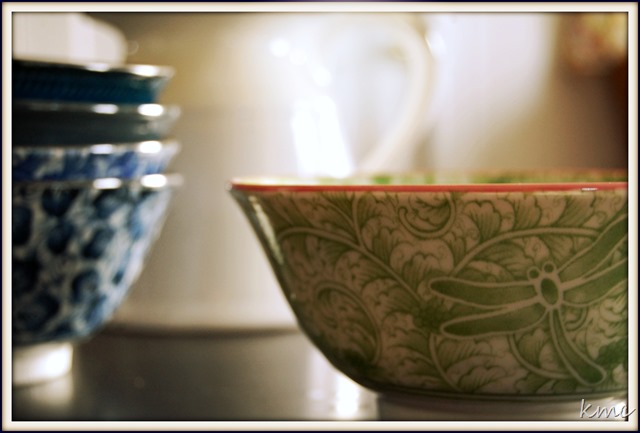 Kara of That's the Way the Cornbread Crumbles, shared a photo of her new bowls – 5 of them. The green bowl is calling my name.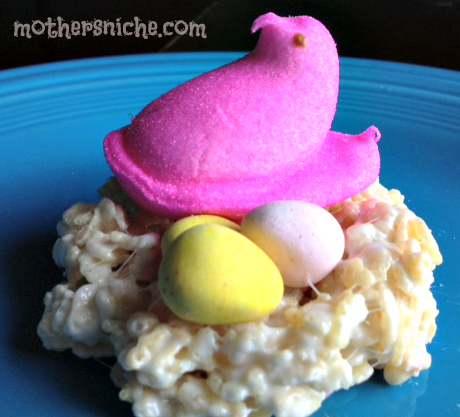 Kristina, of Mother's Niche, shared her recipe for Rice Krispie Nests and Eggs with Peeps. Aren't these adorable? And now I'm craving a good old Rice Krispie Treat. I love those things!
Thanks so everyone for sharing a bit of your heart with us every week!
This week I'm sharing the last in my egg cup series: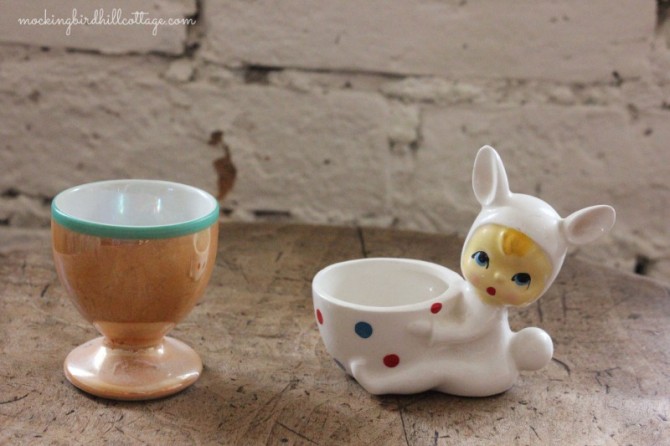 Left: A pretty lustreware egg cup. Love the aqua color on the rim.
Right: One of my favorites because it is so sweet. A little girl in her bunny costume, holding an egg cup.
I hope you've enjoyed exploring my collection for the past 2 weeks. I'm all energized to start collecting more; maybe branching out beyond my mostly figural egg cup collection.
Now it's your turn!
You can link up anytime from this evening through Sunday. Make sure you enter the URL of your post. If you're unsure how to do that, just click on your post title after you've published it and copy the information in your browser address window. Come back here, paste the URL into your link entry and there you go! If you have any problems, drop me an email and I'll help you out. Please link back to this blog on your post. That way, those that read your post and are interested in reading more can do so.

One of my concerns about link parties is that the very reason for them has somewhat gone by the wayside. They've become so big and there are so many of them that many bloggers don't take the time to visit any of the other participants. Link parties are a way to meet new bloggers and share with each other and the only way to do that is to visit each other. So, please, take some time to visit everyone over the next few days. No rush. Stop by, introduce yourself, and leave a comment. It's the neighborly thing to do. It's also nice if you leave a comment here, as well.
Enjoy, everyone!