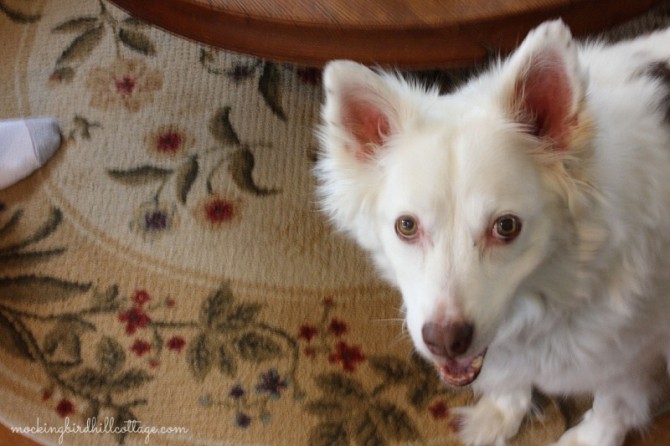 I love my parents, but they can get real irritating.
I get up in the morning and Mom lets me out. Then when she's finished with whatever it is she's doing in the kitchen – she keeps saying the word coffee – she goes into the den and sits in her 'blogging chair.' Then I go in the tunnel and go back to sleep.
And she sits there with that darn thing she stares at. She calls it a laptop.
Then, after what seems like forever, Dad gets up. He always gets some water to drink.
Does he come in the den and sit, which would make things easier for me?
No.
He sits in the yellow chair in the living room.
So I have to go up the two stairs and be with him. I rarely go in his tunnel (I like my mom's best) so I jump up on the sofa.
He pulls out his laptop. Yes, he's got one, too.
What is it with these things? They remind me of that other thing I see them stare at when it's night.
What do they see?
I don't like having to split my time between my parents. It's exhausting.
Then I have to get off the sofa, walk over to the french doors and stare at my mother until she feels my eyes boring a hole into her. Then she gets up and gets me breakfast.
After all of that, I'm really tired and I have to decide whether to hang out with Dad or Mom.
I go back and forth.
And so it goes on throughout the day.
My favorite time is when I stare at Mom until she comes into the kitchen and cuts up some carrots for me.  This is usually around 5 o'clock.
And then I stare at my Dad and even have to bark at him a few times until he finally starts dinner. (Why do I have to do this every day? Doesn't he understand my schedule?) Then I watch every move he makes and sometimes food falls to the floor and I am happy.
Then comes the night, when we all sit together on the den sofa. Mom always complains that I take up ¾ of it and she and Dad are squished together at one end.
Oh don't get me wrong. Sometimes they can be fun. Mom chases me around the room. She will 'pounce' with me. And they can both get real silly. They sing a lot and sometimes we all dance around the room. And Mom did take me on that adventure to Hartford.
But it's hard running this house. I have to herd them a lot. I am responsible for them and I have to make sure I spend time with them both. And what do I do when Mom goes upstairs to her studio? I don't go up the stairs anymore, so I have to plant myself at the bottom of the stairs and wait for her. Or I pace. Or I make little whiney noises and she tells me to stop. I keep doing it until she gives up and comes downstairs.
The things I have to do.
By the way, it's that time of year that I dread – when Mom tells me she's going to take a picture of me in some bunny ears she has. Again. She seems to get a real kick out of it. And she'll put that darned picture on her blog. I have no say in the matter.
Yesterday she put one of Dad's winter hats on me and made Dad look at me. Then they laughed.
They're nuts.
Since I've taken over the blog today, here are some more of Mom's egg cups: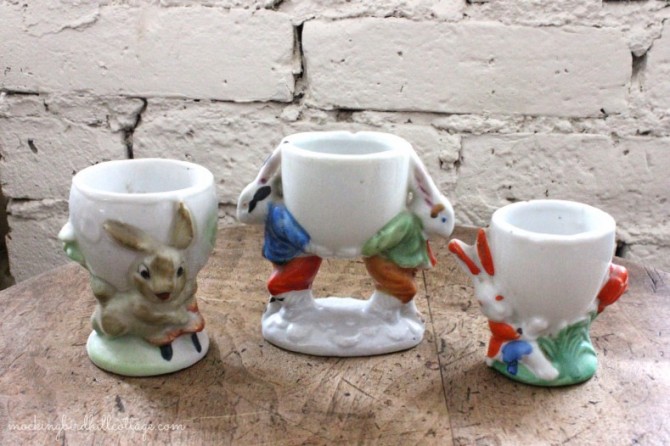 She's moved on to the bunny rabbit egg cups. (I see bunny rabbits outside and I bark at them. They run away.)
Left: a sort of crazy looking bunny rabbit.
Center: Two bunnies holding up an egg. (Mom really loves this one.)
Right: Another little bunny in an orange jacket and blue pants – he's peeking around the side of the egg.
What's with all the bunnies?
Nice talking to you again.
P.S. – Mom says to tell you that her post about Fabric Eggs and Egg Cups was featured in BlogHer's DIY Section.
Scout