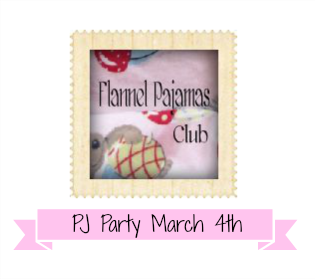 It's time, girls! Time for our PJ Party. I must admit I haven't been to a PJ Party since I was a teenager. We used to watch late night scary movies in those days. We had a local show called "Shock Theater" and we'd watch Frankenstein and Dracula and The Mummy and cover our eyes and scream.
This party will be a bit more sedate, unless the sight of me in my flannel pjs causes you to scream. And it well might! I have long been a fan of flannel pjs and I make no bones about it. I could easily wear my pjs all day long. I have worn them all day long. And I wasn't sick.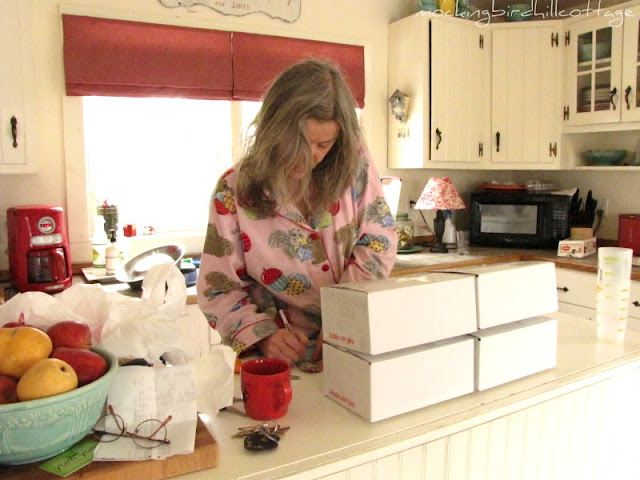 Here am I last year packaging up my first-ever Etsy orders. Note coffee cup nearby and box of donuts on the counter. Note now dead coffee maker on the counter behind me.
I've had many adventures in them, many of them written about right here on this blog. I recently had to run outside, wearing only my flannel pjs and a pair of white socks to wrestle Scout to the ground when she was trying to get a squirrel who had been caught inside our dog corral. This highly dramatic incident occurred in full view of all the morning commuters on our road. Don't worry. I was able to get the squirrel to safety. The socks were ruined. It was very muddy out there.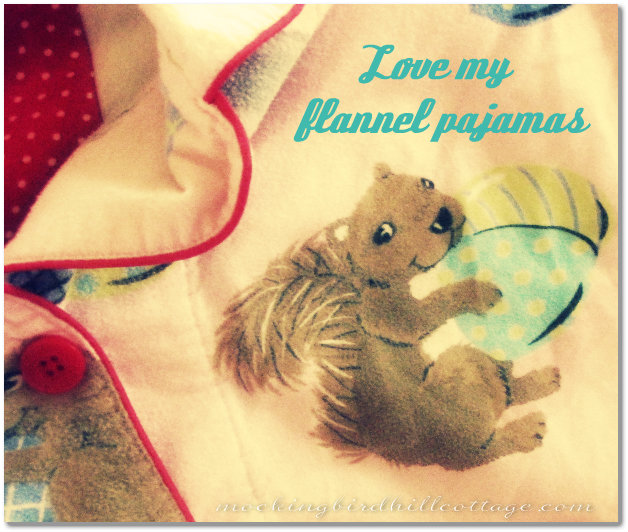 Have you noticed that my Flannel PJs have a squirrel on them? I don't think that's a coincidence, do you?
I've driven my husband to the bus station in my flannel pajamas. I've danced in my flannel pajamas. I've greeted the FedEx guy, the UPS guy, and Lori, our mail lady, in my flannel pajamas. I've gardened in my flannel pajamas. Many times. I've painted and created in my flannel pajamas. My chalkboard that you see on the sidebar was painted and antiqued during a wintry day spent in my flannel pjs. I regularly, almost exclusively, blog in my flannel pajamas. I've coached actors over the phone wearing my flannel pajamas. I've cooked, baked and cleaned the house in my flannel pajamas.
I wrote an Ode to Flannel Pajamas in this post.
Don captured me blogging in my flannel pajamas in this photo: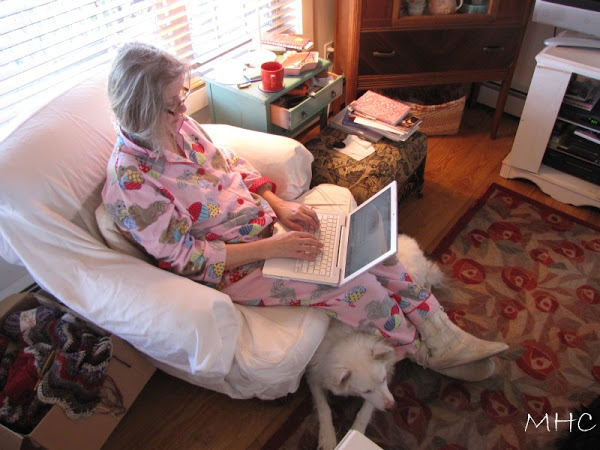 Note Scout in her tunnel. And my well-worn slippers, since discarded. And I'm not thrilled with the way my top is pooching  – it makes me look like I've got an even bigger gut than I have. This is called a reality shot, my friends. Try not to be jealous.
Oh I forgot. I've shoveled snow in my parka and flannel pajamas.
I started the Flannel Pajamas Club more than a year ago and posted the requirements for membership:
• You must love wearing your flannel pajamas.
• Simply loving them isn't enough. You have to find any excuse to wear them.
• Possible excuses: "But I need to clean the house." "My writing suffers if I'm not comfortable." "It's 3:00 pm." " It gets dark early." "I just came home from work and I have to change my clothes, so why waste another outfit? I'll just go straight to my pajamas."
• More excuses: "If I must cook, then I have to wear my flannel pjs." "But I'm drinking hot chocolate."
• That's all. Simple.
And I love nothing more than finding an excuse to put them on around 4ish so that I can have hot chocolate in my pajamas. Heaven.
This is my newest pair of flannel pajamas: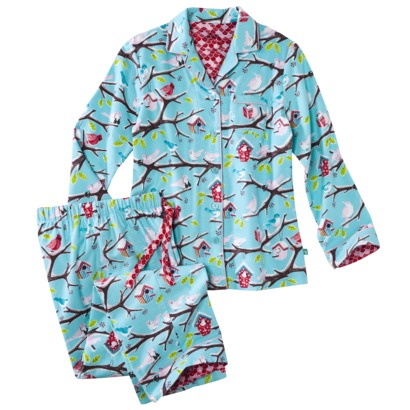 I got them from Target and I love them. My other squirrel pajamas are still here, but to put it kindly, they are threadbare. But Don gave them to me and he really loves them. So I wear them occasionally, even though the fabric has ripped under the armpit. This particular pair is by Nick and Nora. The cut of the top isn't the most flattering – it's boxy in a way my squirrel pajamas were not and makes me look like I weigh a lot more than I do. But here goes. Don took this photo with my old camera with the lights on and it's a bit blurry.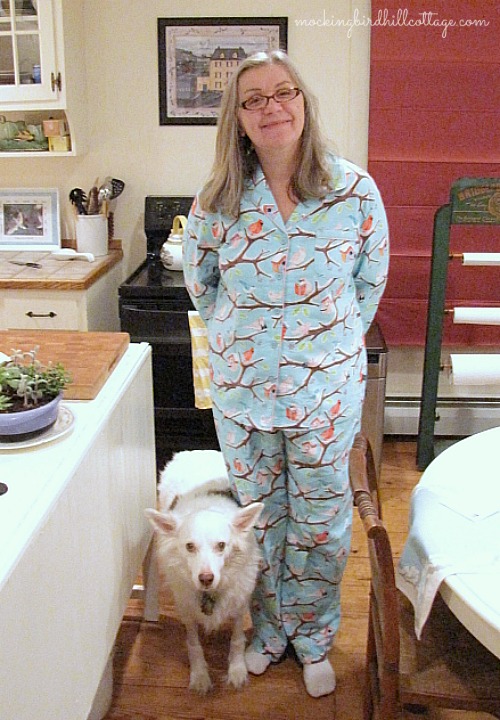 A girl and her dog.
Okay. As you can see, I clearly have no pride, so why should you? So be brave and share a pic of you in your flannel pajamas. Or cotton pajamas. Or yoga pants and a T-shirt. Come on, go for it. Tell us why you love them. Bring some popcorn and something decadently sweet to eat. I'll supply the hot chocolate. Be there or be square.
Just write your post, click on the post title and copy the URL address that shows in your browser. Supply that information in the link manager below and you're good to go!
Enjoy!