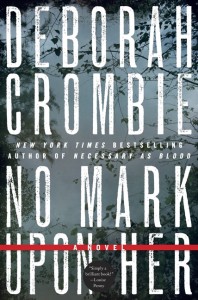 Today I am reviewing No Mark Upon Her by Deborah Crombie for TLC Book Tours. As always, I am provided with a copy of the book in exchange for my honest review.
The Story: A woman's body is found in the Thames by a K9 Search and Rescue Team. The woman is identified as Rebecca Meredith, a former Olympic Rowing hopeful who is working toward a comeback. She is also a Detective at the Met, which adds another layer to this mystery and is the reason that New Scotland Yard Detective Duncan Kincaid is brought in to head the investigation. Kincaid and his wife, Detective Inspector Gemma James, tackle an increasingly complicated mystery with tentacles that reach out to include New Scotland Yard itself.
I will reveal no more plot than that. I don't want to be a spoiler!
Review: For some reason, Deborah Crombie hadn't been on my radar system. Since I am a lover of mysteries, I'm not sure how that happened.  Consequently, I looked forward to discovering a new-to-me writer. As I read, I was sure Ms. Crombie was British and it wasn't until I read the blurb on the back of the book that I realized she's from Texas. You would never know. She is such an excellent writer, paints such a realistic and vivid picture of London and Henley, has such an ear for a Brit's turn of phrase, that she might as well be born and bred in the UK. She's that good.
The novel takes place in London and Henley. Henley is known as a training ground for rowers and the novel is rich in details about rowing and a rower's life.  Crombie has a gift for descriptive detail that makes every setting come alive. I could see the river, the rowers, the cottages; each piece of the setting vividly came to life. There is a colorful and richly drawn cast of characters, each of them fully realized and each of them integral to the plot.
The plot is complicated and deftly written. Though this mystery is part of a series that includes Kincaid and James, it is fully able to stand on its own. I hadn't read any of the other novels in the series and, yes, there is some back story that I picked up here and there. Some of it I could figure out, other details remained hidden, but none of that kept me from being fully engaged in this excellently written mystery.
In fact (and this rarely happens for me) I didn't want the novel to end, yet I did want it to end. You know what I mean? You want to find out who did it, but the novel is so well written and the world you're living in via the words on the page is so real that you don't want to leave it. I finished the novel wanting to learn more about the recurring cast of characters. I want to know more about what led them all to this point in time in the series. I promptly ordered the first 6 books in the series from my local library. It's that good. Crombie writes in the tradition of P.D. James and Elizabeth George, both of whom have written an excellent series of books revolving around a police detective. I can't wait to read all of the books in the series.
By now I'm sure you've realized that I recommend this book highly.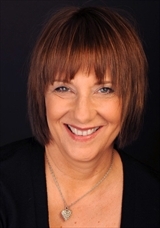 The author:  A native Texan who has lived in both England and Scotland, Deborah Crombie is a three-time Macavity Award winner, an Edgar Award nominee, and a New York Times Notable author. She is the author of more than a dozen novels, including the recent Necessary as Blood and Dreaming of the Bones, which was selected as one of the 100 Best Crime Novels of the Century by the Independent Mystery Booksellers Association. She lives in McKinney, Texas, sharing a house that is more than one hundred years old with her husband, three cats, and two German Shepherds.
I'm not sure, at this moment, if there is an official giveaway with this book. I'm still checking on that. But, if there isn't, I will donate my copy of the book. So, either way, I'll give away a copy of this excellent novel to some lucky person. Leave a comment if you want to be entered. I'll draw the winning name on Friday evening.
Happy Tuesday,