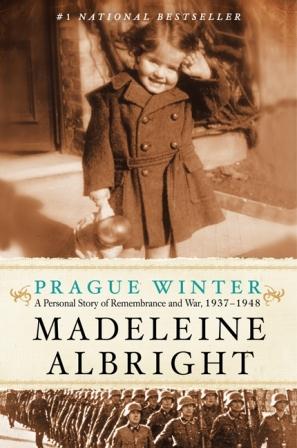 Hello, everyone. Today I am reviewing Prague Winter by Madeleine Albright for TLC Book Tours. As always, I am provided with a copy of the book in exchange for my honest review.
About the book (from the publisher): Before Madeleine Albright turned twelve, her life was shaken by the Nazi invasion of her native Prague, the Battle of Britain, the near-total destruction of European Jewry, the Allied Victory in World War II, the rise of communism, and the onset of the Cold War. Drawing on her memory, her parents' written reflections, interviews with contemporaries, and newly available documents, Albright recounts a tale that is by turns harrowing and inspiring.
In Prague Winter, Albright reflects on her discovery of her family's Jewish heritage many decades after the war, on her Czech homeland's tangled history, and on the stark moral choices faced by her parents and their generation. At once a deeply personal memoir and an incisive work of history, Prague Winter serves as a guide to the future through the lessons of the past – as seen through the eyes of one of the international community's most respected and fascinating figures.
My review: I loved this quote from the first chapter: Nothing could be more adult than the decisions people were compelled to make during this turbulent era, yet the issues involved would be familiar to any child: How can I be safe? Whom can I trust? What can I believe? And (in the words of the Czech national anthem) "Where is my home?"
I have long admired Madeleine Albright, so I was eager to read this book, which is part memoir, part essential history, as well as as cautionary guide for the future. Though I feel I know a fair amount about World War II, I certainly didn't know much about it in terms of how it impacted Czechoslovakia and it's citizens, or the far-reaching effects it had decades later. Finding out later in life that several of her family members were lost to the Holocaust certainly had an influence on her need to learn more about this time in her native country's history. Albright is a wonderful writer and she has managed to share her very personal story while giving us all a history lesson of the utmost importance.
This should be required reading for any student of history and for anyone who is concerned about our future. I strongly believe that everything that can be put down on paper about World War II, the Holocaust, those who sacrificed their lives and those who quietly worked to save others, must be recorded. Ms. Albright has done that with this moving and powerful book.
Her story, as well as the stories of others that are shared in this book, makes for compelling reading. I recommend this book highly.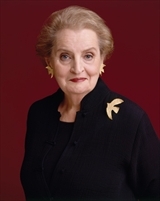 About the Author: Madeleine Albright served as America's sixty-fourth Secretary of State from 1997 – 2001. Her distinguished career also includes positions on Capitol Hill, on the National Security Council, and as U.S. Ambassador to the United Nations. She is a resident of Washington D.C. and Virginia.
If you are interested in being entered for the chance to win a copy of this book, leave a comment on this post. I'll pick a winner on Thursday, March 14th.
Happy Monday.