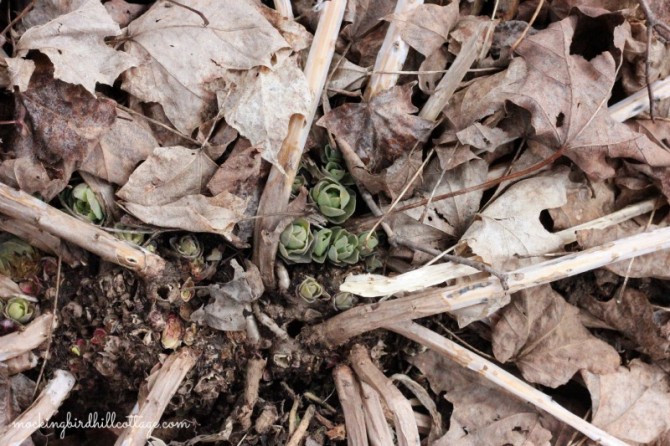 Our warmer weather took a windy and cold turn yesterday. Oh, March, you are one tough month to get through. You are not quite winter, not quite spring. You just are.
I put on my winter jacket and went outside in search of signs of spring. There aren't many. Granted, I haven't yet cleaned up the garden and there are leaves covering everything. But my trusty Sedum, always the first to push out of the ground, is on schedule. I do believe this emergence happened earlier last year, but then again, we had a strangely mild winter last year.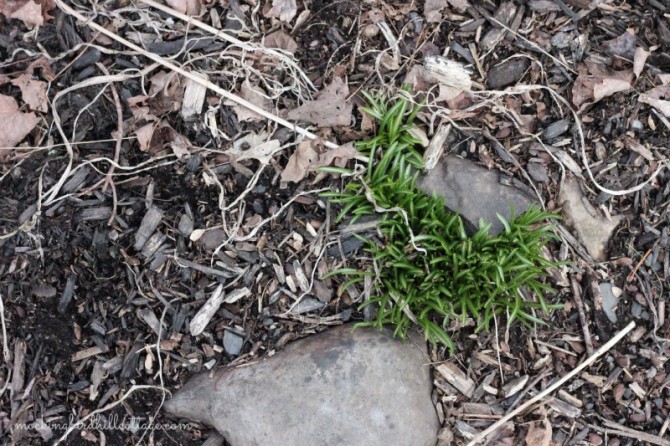 This little plant, whose name I can't remember, was here when we moved in. It comes up very early in the spring and has tiny little white flowers.
That's it. No sign of the hyacinth or the daffodils. I'm sure there are more subtle signs here and there but it was darned cold out there. Oh, I forgot. I did see buds on the Lilac bush.
I find March, quite frankly, to be a pain in the tush. I want to shout "Get on with it, already! We're all waiting for spring; why do you have to tease us so?" Because March is a tease. If not for the fact that I have several dear friends with birthdays in March, I would find no redeeming qualities in it whatsoever.
It's the ides of March today. Et tu, Brute? Or better yet, Et tu, March?
_____________________________________________________________________________________
Keep your eye on the Etsy shop over the weekend as I will be adding new Springtime Crochet Flower Garlands. Aha!  There's a touch of green for you, fickle March!
_____________________________________________________________________________________
Blogkeeping: Have you heard? Google is discontinuing Google Reader, effective July 1, 2013. Yep.  You can read about it here. Or here. Or here. Some of these links suggest alternatives and you can transfer your data through something called Google Takeout. I'm not sure why they would discontinue something that is apparently wildly popular, but then again, they did it with Picnik and might eventually do the same with Feedburner – both of which Google acquired and then let languish. Go figure.
Just wanted to give you a heads up if you use Google Reader's service to keep up with your favorite websites and blogs.
And the winner of a copy of Prague Winter by Madeleine Albright is Trudy Mintun! Congratulations, Trudy. I'm sending you an email right now.
Happy Friday.