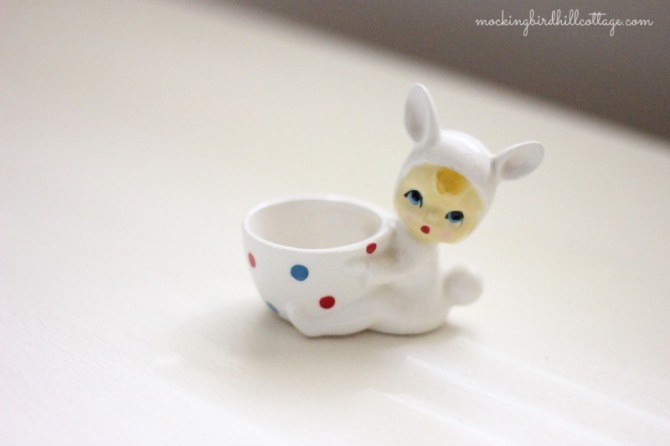 Good morning and happy Easter. So far, there's not any sun in evidence, but I'm hoping that will change. Yesterday was sunny and a bit warmer and boy, did that feel good. Is it possible, just possible, that spring might be coming?
No Easter candy to be found here. When Don and I first met, I did attempt to put some baskets together, but he didn't really care and we don't have kids and the last thing I need are more sweets for my already over-active sweet tooth, so we didn't do that again. And, despite my egg cup collection, no eggs have been dyed or colored or even hard boiled.
We never do a big dinner either. Just as well, as this is the day that Don leaves for Prague. A car is coming to take him to the airport in Newark, NJ around 4:30 pm. One of the perks of being part of a film: a car comes for you and your wife doesn't have to drive you all the way to Newark. I've done that before and it's a long haul. He'll fly all night, connecting in Zurich. I'm so excited for him. He's a bit nervous right now with all the traveling ahead, the overnight flight, will he have a seat that will accomodate his over 6 foot 4 inch frame, all the waiting and the jet lag. Things will be better once he gets there, I imagine. Both of us have been to Europe, but it has been many years since either of us has been there. Traveling overseas is not an everyday thing for us.
Speaking of Don, I added a widget to the sidebar that will lead you to some of his music on the ReverbNation site. I know I mentioned that he recorded about 14 of his favorite songs while he was in San Diego. His friend is working on them in his recording studio, mixing and mastering them. When Don receives an edited version, he adds it to his site. So far, I think there are about 6 songs available for your listening pleasure. Interestingly, he recorded all of them right after he had the flu and he's never sounded better!
We watched a great screwball comedy last night, The Lady Eve with Barbara Stanwyck and Henry Fonda. Have I mentioned before what a huge Barbara Stanwyck fan I am? And how much I love those period movies with all the great character actors? Heaven. Today another of my favorites, Easter Parade, is on TCM. If I am a huge Barbara Stanwyck fan, I am a mega fan of Fred Astaire. I have just about every book written about him. Of course I already own a copy of Easter Parade, but somehow it's more exciting when it happens to be on television. I don't know why.
Opening day, Red Sox/Yankees tomorrow! Baseball is back and I'm a happy girl.
Have a wonderful day, eat lots of candy, celebrate.