Welcome to A Favorite Thing #37! I'm just getting in under the wire here tonight. It's been a hectic week, with lots of tech rehearsals and preview performances and I've been working very hard. Add to that the fact that I came home on our break today and finished sewing my quilt blocks together and you've got a recipe for a late post. But never fear, I finished in time. Just. Now I have to eat some dinner.
Let's look at some highlights from last week: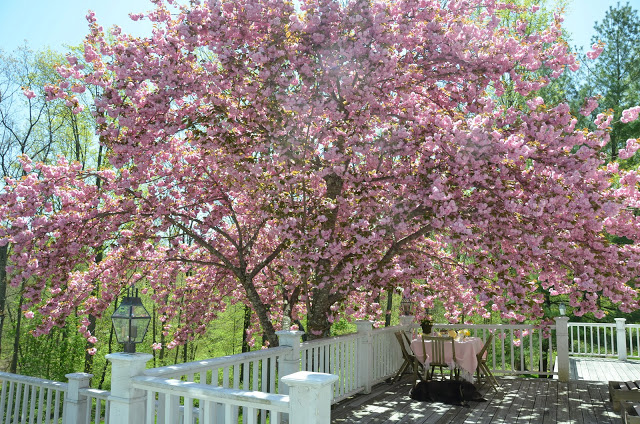 Linda, of More Fun, Less Laundry shared the most glorious tree with us. It's a flowering cherry and it hangs over her deck. Its blossoms are simply beautiful. Oh, how I'd love a tree like this. I'll say it again: glorious!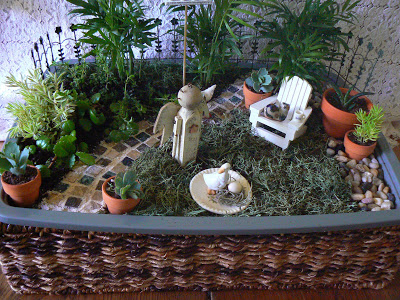 Betty of My Crazy Quilt Life, shared a charming miniature garden she made. Isn't it adorable? I love the walkway and that adirondack chair.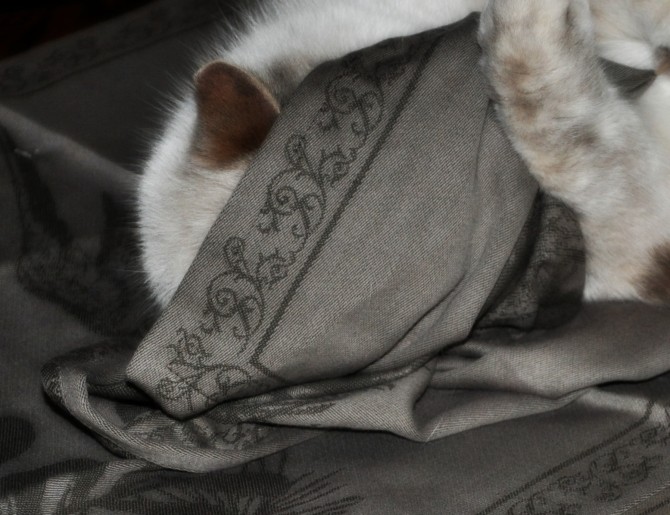 Debra, of The Homespun, share photos of her beautiful cat, Kanga. Kanga fell in love with some cloth napkins that Debra had never used. She played peek-a-boo (like in this photo) over and over. So sweet.
My favorite thing this week:
Shakespeare.
As you know, I work in the theater as a Voice, Speech, Dialect and Text Coach. I coach all kinds of plays, but for the past few years, I've worked almost exclusively with Shakespeare. That's fine by me. I know a lot about old Will Shakespeare and his words and the wonderful thing is that every time I work on a play – no matter how many times I've coached it before – I learn something new. I can't imagine a richer text to work with, or a better playwright. He was the wisest of men. He knew all about the human condition, coined many words we now use daily, wrote in iambic pentameter, and he continues to touch our hearts almost 400 years later. He was an actor, a playwright and a poet. If you've read my posts this week, we've had two preview performances for students and they completely understand what's being said. They stomp their feet, cheer, boo, and laugh with glee. Who else can elicit those reactions in both adults and children? I'm so grateful for the opportunity to immerse myself in his wise words. Thanks, Will.
Now it's your turn.
You can link up anytime from this evening through Sunday. Make sure you enter the URL of your post. If you're unsure how to do that, just click on your post title after you've published it and copy the information in your browser address window. Come back here, paste the URL into your link entry and there you go! If you have any problems, drop me an email and I'll help you out. Please link back to this blog on your post. That way, those that read your post and are interested in reading more can do so.

One of my concerns about link parties is that the very reason for them has somewhat gone by the wayside. They've become so big and there are so many of them that many bloggers don't take the time to visit any of the other participants. Link parties are a way to meet new bloggers and share with each other and the only way to do that is to visit each other. So, please, take some time to visit everyone over the next few days. No rush. Stop by, introduce yourself, and leave a comment. It's the neighborly thing to do. It's also nice if you leave a comment here, as well.
Enjoy!