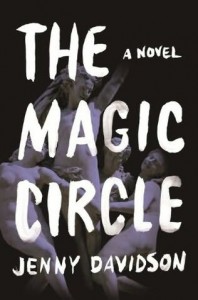 Today I am reviewing The Magic Circle by Jenny Davidson for TLC Book Tours. As always, I am provided with a copy of the book in exchange for my honest review.
About the book (from the publisher): Three smart young women – the scholarly Ruth, her poet roommate Lucy, and their exotic, provocative neighbor Anna – are obsessed with games of all kinds. They've devoted themselves to both the academic study of play and the design of games based on the secret history of the neighborhood around Columbia University, from Grant's Tomb to the former insane asylum that once stood where the campus is now.
When Anna's mysterious brother Anders gets involved and introduces live-action role-playing based on a classic Greek tragedy, theory goes into practice and the stakes are raised. Told in a variety of formats – including Gchat and blog posts – that bring the fraught drama of Euripides screaming into the twenty-first century, The Magic Circle is an intellectual thriller like no other.
My review: I love a good mystery and/or thriller. You clearly know that about me from my book reviewing history. But I must admit that this book was a challenge. First of all, I know virtually nothing about the world of gaming. I understand that it is a higher-stakes version of 'Let's Pretend' – that simplest of games that I played as a child. And my own work involves a lot of role-playing as I work in the theater. I can play 'Let's Pretend' with the best of them and am paid to do so. So these concepts are not new to me, or to anyone, really. However, the computer driven, 'virtual' world of gaming is foreign to me. So it was with some real curiosity that I started reading this novel.
Jenny Davidson is a talented writer – let me say that at the start. I really enjoyed the coming to life of the world surrounding Columbia University – a world that Davidson describes in great detail. I also learned a lot about a subject that was new to me. That being said, the story was slow-going for me. Sometimes it is told in the third person, at others, narrated by Lucy or Ruth. There are also entries from Anna's blog and transcripts from Gchats, which reflect the 21st century, high-tech world these women are a part of.
Here's my problem with the novel. Ultimately, I didn't care about these characters. I felt distanced from them. This may have been purposeful on the author's part, but if I don't care about at least one of the characters, you've lost me. Davidson gives us tantalizing details about Ruth, Lucy and Anna, but not enough to bring me completely into the world of the novel. Not enough to make me like any of them or root for any of them. Call me traditional, but this emotional distancing, this observation, doesn't work for me as a reader. And that made it very hard for me to finish reading the book. It made the reading work, rather than pleasure.
There's lots of drinking, some drugs, and some graphic scenes that might upset you. I didn't have a problem with them, as they were clearly a part of the world in which these women exist, though I suspect that some of it was written to tantalize and even shock the reader.
The idea behind this book is fascinating. When the lines get blurred between reality and fantasy, when a game becomes all too real, what happens? What are the ramifications? I love the idea of the novel, and I very much wanted to be caught up in the story. I was sorry that it never really happened for me.
Maybe it's generational? Maybe this book needs a younger reader? Someone who exists in and knows the world of gaming? But that theory seems silly. Every book I read creates a 'new' world for me and I'm always ready to suspend disbelief and go there. That's the joy of reading. I simply couldn't 'go there' this time around.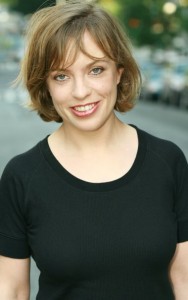 About the author: Jenny Davidson is a professor of English at Columbia University. She is the author of the novel Heredity (2003), two YA novels, The Explosionist (2008) and Invisible Things (2010); and several academic books. She is the recipient of a Guggenheim fellowship and blogs at Light Reading (jennydavidson.blogspot.com).
I'm giving away a copy of this book to one fortunate commenter. Just leave a comment on this post and I will draw a winner on Monday evening.
Happy Friday.