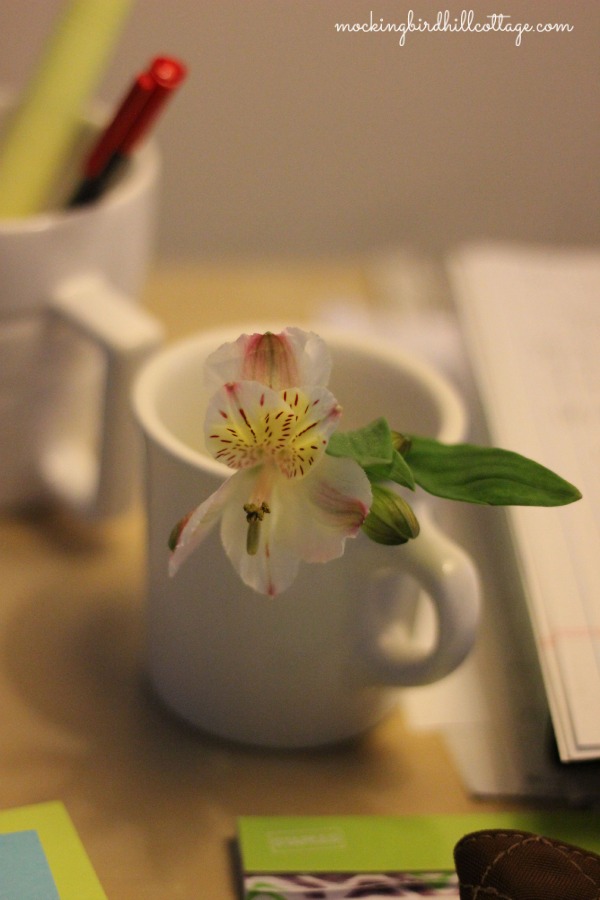 My number one rule for an extended stay out of town: Buy some fresh flowers for your hotel room or apartment.
If I'm out of town for more than a few days, this rule goes into effect. Let's face it, housing can be fairly nondescript and impersonal. Hotels do their best to make you feel welcome, but they've been designed for mass appeal; likewise, this guest artist housing here in Hartford. All the necessary items are provided: dishes, pans, desk, television, sofa, coffee maker, bed, dresser. The bathroom is nice and large. I can hook up to the internet. I'm grateful for all that has been provided.
But it ain't home. I can, however, do my best to make it cozier. You've seen my quilts and books and sewing machine and of course, Wayfrum, Little Lamb and Maggie Rabbit. These little touches from home put my stamp on an impersonal apartment.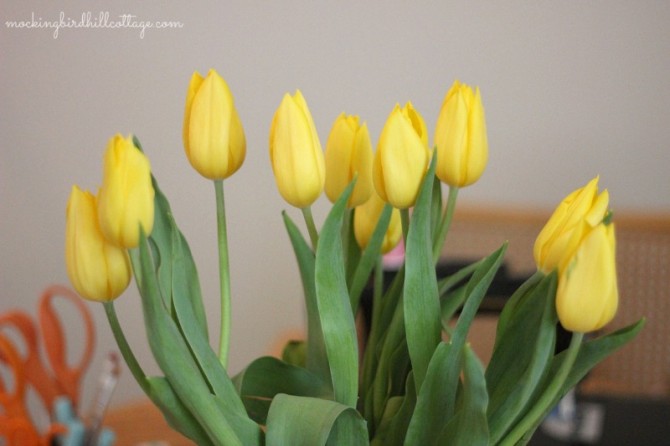 Flowers? Number one necessity. On Friday morning, I grabbed the car that three of us are sharing and drove to Trader Joe's. I needed some food and I needed some flowers. TJ's prices can't be beat, so I treated myself to two bouquets. These yellow tulips provide a wonderful, cheery splash of color. I have yellow tulips in the ground at home that will bloom while I am away (again) so I thought these were an appropriate choice. I'm getting my tulips one way or another!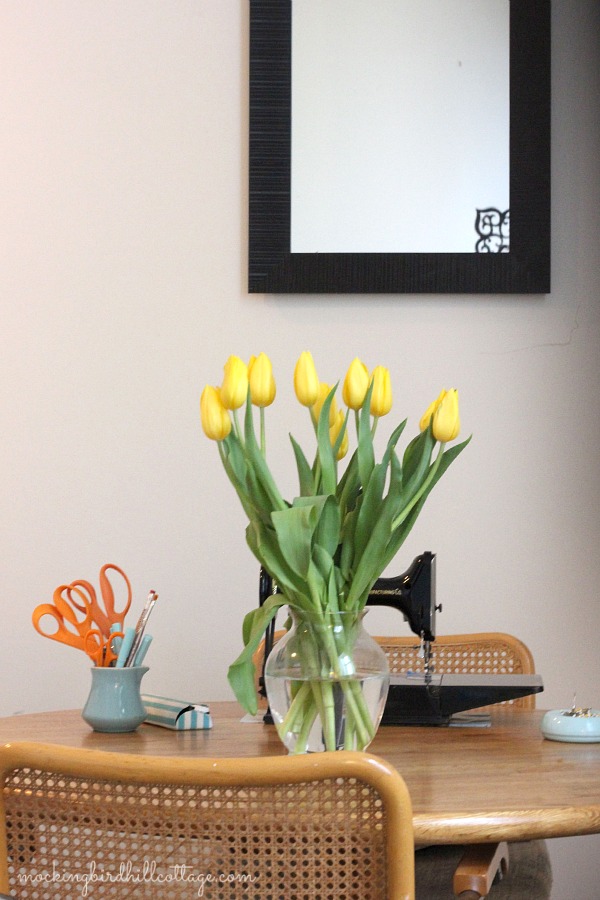 I brought my pink hobnail vase with me but the wonderful thing about actor housing is that there are always vases around. Actors get flowers for opening night. They keep them in the dressing room or their apartment. When they leave town, they usually don't want to transport a glass vase. Hence, the 3 or 4 vases I found here in the apartment.
Lucky me!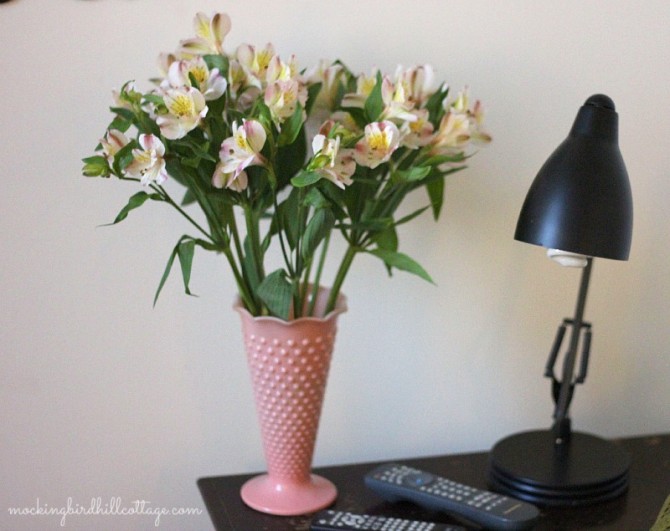 I had to grab some alstromeria while I was at Trader Joe's. I love alstromeria because it lasts a long time, so I get lots of bang for my buck.
Ah. I can't tell you how happy I was to get fresh flowers for this space. Happier than I was buying the groceries I needed. Flowers make all the difference in the world.
We've had some long days of rehearsal lately. The show has been blocked and I've finished my one-on-one sessions with the actors for the time being. Now, Darko is working through each act of the play, fine-tuning the movements of the actors, making sure they are clear about what is happening in each moment and that the speaking of the text supports that. I am by his side, ready to jump up if needed and clarify what needs to happen from my point-of-view. At the end of the day yesterday, we ran Act Two. At the end of the day today, we will run Act One. I take lots of notes and then come home and write up each actor's notes on a separate piece of paper, which I then, in turn, pass out to them at the next day's rehearsal.
Next week there will be lots of run-throughs and at the end of that week, we move onstage. I can't believe how quickly the rehearsal process is going!
Happy Sunday.