That sneaky scamp, Scout, took over my blog yesterday! I don't know how she did it. But she's a Border Collie and they are very smart, indeed. Thank goodness I've taught her some manners; she responded to all your comments in her inimitable, slightly sassy, way.
I finished all the blocks yesterday, then, on a rehearsal break, laid them out on the carpet. Then I climbed on a chair and stood on the kitchen counter to take this photo: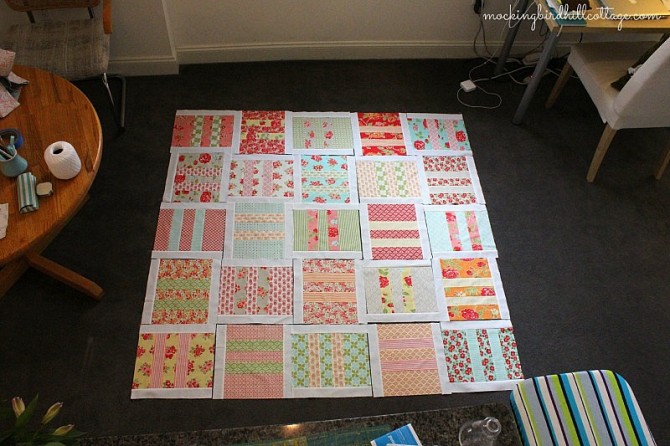 This is my home-away-from-home version of a design board. I've found that taking a photo helps me to see any problems with the layout.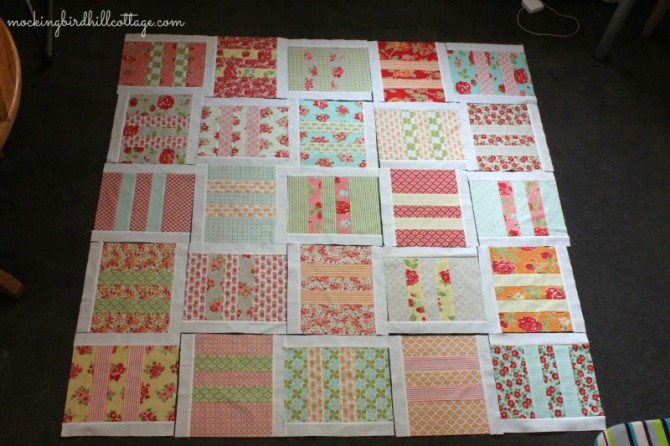 The nice thing about being in this apartment is that I can do something I never could at home. I can leave the blocks on the carpet. No dog hair, no curious Scoutie walking all over them. Since I don't have my own space at home that I can contain with a closed door, this is a refreshing treat! I kept glancing at the layout throughout the evening and found I didn't like the concentration of vivid red at the top of the photo, so I kept playing around with block placement. The vertical row of blocks on the left will actually be the top of the quilt.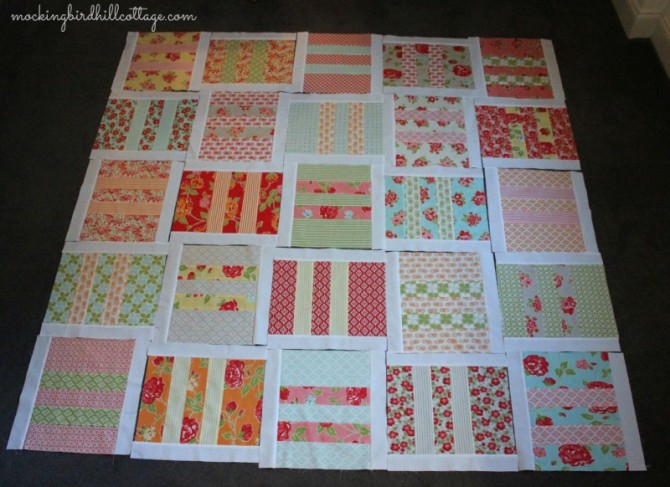 This is what I ended up with. Although now that I look at it here, I'm going to tweak a couple of blocks.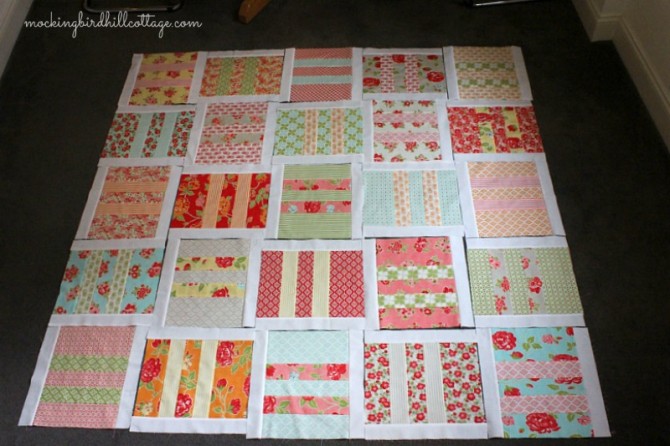 There. I tweaked it. It's almost impossible to get a good photo in this space, but this gives you an idea of the look I'm going for.
The finished quilt is supposed to measure 63 inches by 74 inches. As you know, we don't have a lot of wall space in our home, due to an abundance of windows and the sloped-attic-type walls upstairs. I started to wonder whether I should go with the 5 blocks by 5 blocks layout or make it 4 blocks by 5 blocks. Now is the time to make that decision. So I called Don and had him measure the  available space on the staircase wall. When we first moved in to the cottage, I had a quilt hanging there. It's sort of the perfect place for a quilt.
Turns out there is just enough room. I don't want this to be a throw. I really want to hang it because the colors are so wonderful and they really go with the colors in our living room and kitchen – as well as in my studio. And the great thing about hanging it in that space is that I will also be able to see it from my studio. I like the simple, graphic quality to it and the patterns and colors make me happy. (Hopefully, I'll still feel the same way when I've finished it!)
The next step is to start sewing the blocks together. Today, however, I will have to be at the theater most of the day. Final tech rehearsals in the afternoon and evening, then the first preview tomorrow morning. Morning, you say? Yes. For the life of me I cannot figure out why the first preview is a student audience at 10:30 in the morning. That means we lose another afternoon to run through the show before an evening preview. Believe me, if I was still an actor, I would not be happy about teching until 10 or 11 tonight and then having my first performance at 10:30 in the morning. For students. I do not know a single actor who likes morning performances.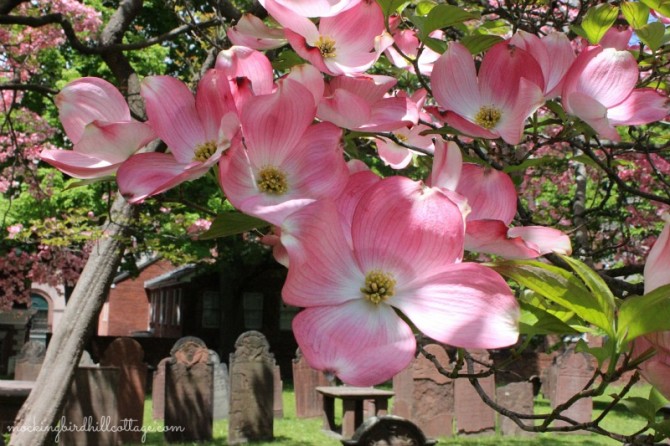 Tomorrow I will have a post about my visit to Hartford's Ancient Burying Ground, which was in use from 1640 to 1803. I took lots of pictures.
Happy Wednesday.