Hello! Can it be possible that we are on our 40th A Favorite Thing? That number sounds so solid, doesn't it? 40 weeks of this weekly get-together! It sure has been a delight for me to host this gathering of wonderful people. Thank you.
Let's look at some highlights from last week: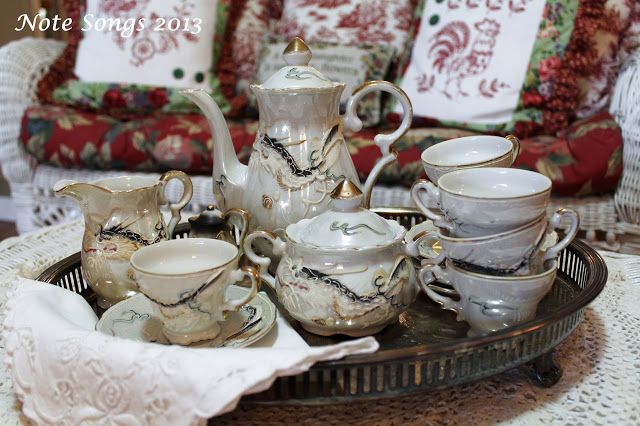 Sheila, of Note Songs, shared this gorgeous dragon tea set that is her mother's. Isn't it striking? It's been a part of Sheila's life since she was a little girl.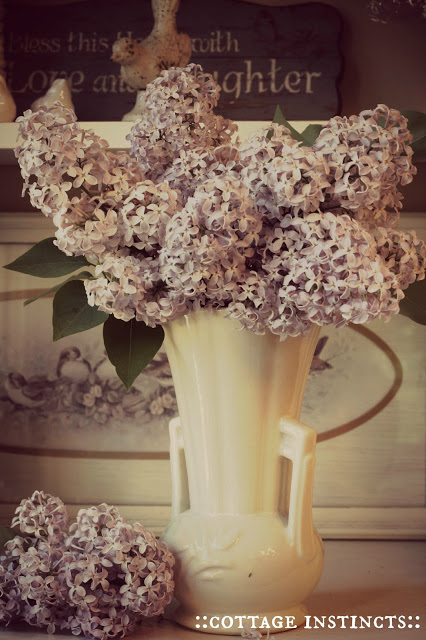 Cindy, of Cottage Instincts, found this piece of McCoy Pottery for – get this – $4.00. Anyone who reads this blog knows that I collect McCoy and I don't have this piece. Sigh. Lucky Cindy!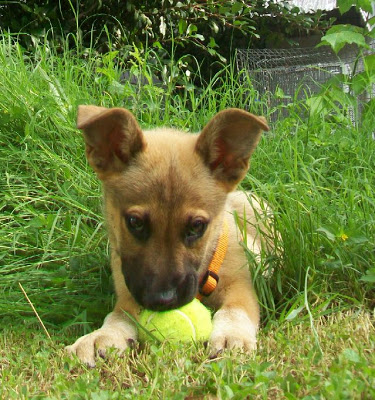 Pat, of Corn in My Coffee Pot, shared her newly adopted, adorable dog with us. The post was entitled 'Drop Off Dogs' – around her neck of the woods, people find a yard with toys in it and drop dogs off in the dead of night, hoping, I suppose, that someone will fall for the poor dog. Makes me crazy. When I lived in San Diego, people did the same thing but they dropped the dogs off in the canyons. I don't understand it. Why not take it to a shelter? Or a Veterinary Hospital? Even better, a no-kill shelter? Oh, don't get me going on this one. I'm just so glad that Pat and her husband were the ones to discover this adorable darling. His name is Buster. He now has a forever home.
This week my favorite things are: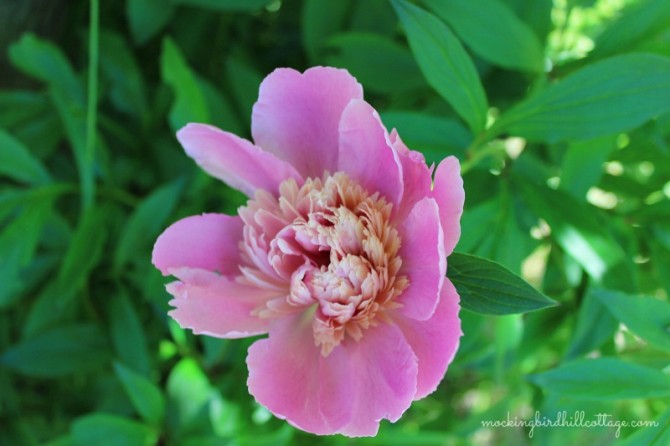 Peonies. Peonies are my absolute favorite flower. What's not to love? The blooms are lush, the scent is heavenly, and they only bloom for a short time in early summer, thereby keeping their mysterious elusiveness intact. The first week of June is always the bloom time for my peonies. We are getting SO MUCH RAIN, however, that I have to run out and rescue them when I can. Peonies don't stand up well to heavy downpours.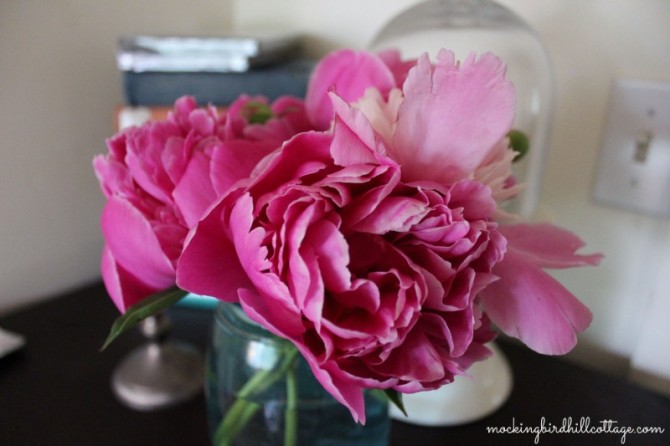 Now it's your turn!
You can link up anytime from this evening through Sunday. Make sure you enter the URL of your post. If you're unsure how to do that, just click on your post title after you've published it and copy the information in your browser address window. Come back here, paste the URL into your link entry and there you go! If you have any problems, drop me an email and I'll help you out. Please link back to this blog on your post. That way, those that read your post and are interested in reading more can do so.

One of my concerns about link parties is that the very reason for them has somewhat gone by the wayside. They've become so big and there are so many of them that many bloggers don't take the time to visit any of the other participants. Link parties are a way to meet new bloggers and share with each other and the only way to do that is to visit each other. So, please, take some time to visit everyone over the next few days. No rush. Stop by, introduce yourself, and leave a comment. It's the neighborly thing to do. It's also nice if you leave a comment here, as well.
Enjoy!