Welcome to A Favorite Thing #41! Off we go on another adventure, visiting our blogging friends and sharing our favorite things.
Let's look at some highlights from last week: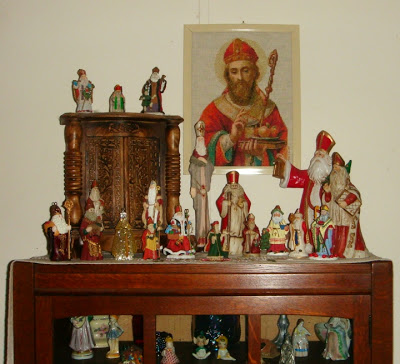 Lady Hawthorne, of Canterbury Cottage, shared her framed St. Nicholas with us. St. Nicholas was a cross stitch design and when it was finally finished, Lady Hawthorne found the perfect frame. Didn't she do beautiful work?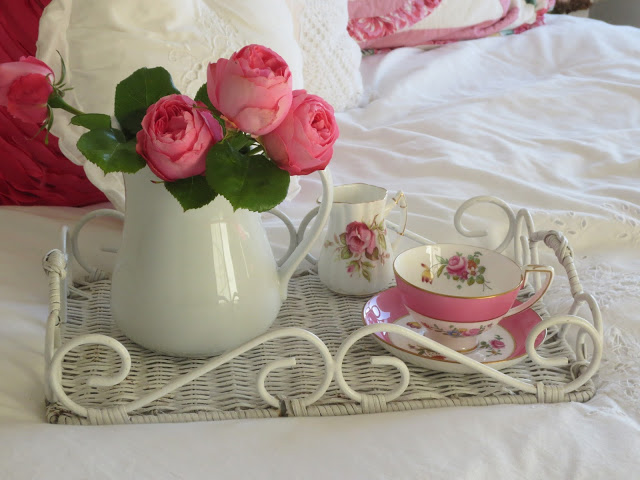 Karen, of Karen's Cottage and Castle, shared some lovely things, among them these beautiful pink roses from her garden. So pretty!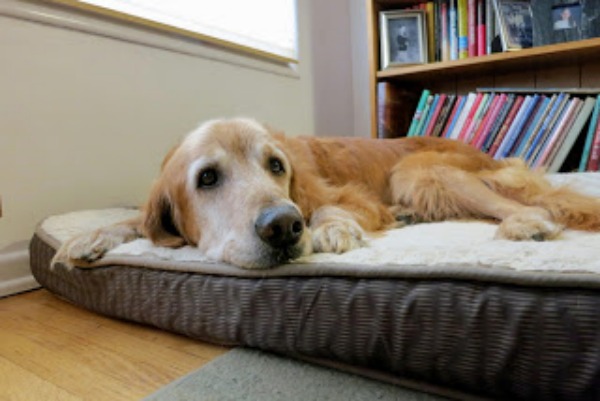 Sally Annie Magundy shared her beloved Georgie with us. Sally adopted him when he was 12 years old. Two months after adopting him, she found out he had inoperable cancer. He was supposed to live 3 – 4 more days. Six months later, he's hanging in there. He's happy. I love this story. Consider adopting an older dog. We all need to be loved.
This week I am sharing something simple. It's been lacking a bit around here lately but boy, when it's here, I revel in it.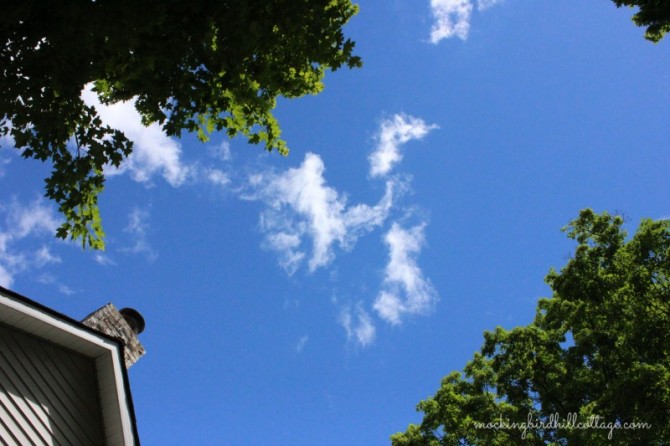 Sunlight and a beautiful blue sky with fluffy clouds. Ah…..this makes me happy. After a week of endless, heavy rain, this particular photo brings a smile to my face.
Now it's your turn!
You can link up anytime from this evening through Sunday. Make sure you enter the URL of your post. If you're unsure how to do that, just click on your post title after you've published it and copy the information in your browser address window. Come back here, paste the URL into your link entry and there you go! If you have any problems, drop me an email and I'll help you out. Please link back to this blog on your post. That way, those that read your post and are interested in reading more can do so.

One of my concerns about link parties is that the very reason for them has somewhat gone by the wayside. They've become so big and there are so many of them that many bloggers don't take the time to visit any of the other participants. Link parties are a way to meet new bloggers and share with each other and the only way to do that is to visit each other. So, please, take some time to visit everyone over the next few days. No rush. Stop by, introduce yourself, and leave a comment. It's the neighborly thing to do. It's also nice if you leave a comment here, as well.
Have fun!